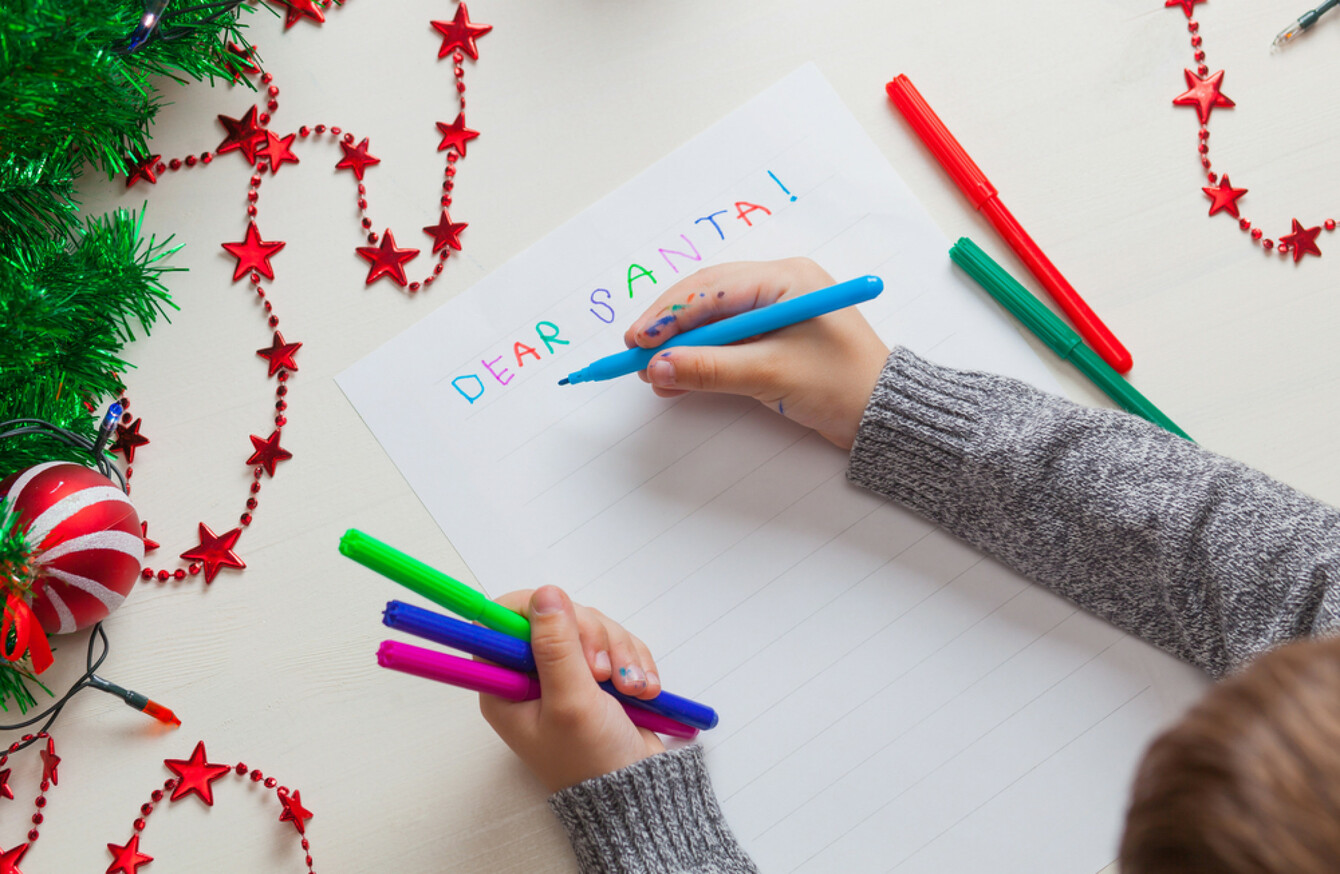 Image: Shutterstock/atsurkan
Image: Shutterstock/atsurkan
THERE'S A SWEET spot for Christmas magic and we hit it a few years ago when my kids were two, four, and six years old.
All three understood why there was a giant decorated tree in our living room, all three could stay awake for an entire Christmas film, and most importantly of all (if you're two, four, or six) all three knew about Santa.
"We need to make the most of this," my husband and I told one another. "In a few more years, they'll be out the other side."
And indeed, with my eldest now 11 and planning to test the area around the tree for fingerprints ("That way I'll know if it was really Santa or if it was you guys") we are staring, reluctantly, into a future with perhaps just a little less magic. Or is it just a different kind of magic?
There are certainly many more questions than there used to be. "How does he get down the chimney?" and "What if you live in an apartment?" and (in fearful tones) "When did Santa stop bringing you presents?"
The answers haven't changed since I was a child, I tell them. We always understood that Santa was magic and chimneys no obstacle. That he has a magic key if there's no chimney.
"I don't know if that's true or not," I shrug, "but that's what we always heard when I was small, and I suppose it must be true, otherwise how else would he leave the presents?"
As for when he stopped bringing gifts to me – not till I moved out of home – you're safe for another while, kids. 
Department store Santas are viewed with suspicion
Whatever about the real Santa, the department store version can be less enticing as kids get older. While my youngest, almost seven, is very happy to chat to any and every elf who comes his way, his big sisters are stuck in an awkward spot – not yet old enough to play along as adults do, but too old to join in with the genuine enthusiasm they had in earlier years.
They also struggle when asked what they've put in their letters to Santa (try repeating the words Project MC Squared Ultimate Spy Bag multiple times to an elf, then try explaining what it is) and they're way too old for sitting on Santa's lap.
But what I've found is that the ritual sustains the magic. Going to see Santa is part of the run up to Christmas; something they look forward to beforehand and talk about afterwards, even if they're beyond believing he's the real Mr Claus.
How can I keep them interested?
So far, that's more than enough to keep them happy. But what about when they're older again – how will we keep the magic alive?
Naomi Lavelle, whose three children are a little older than mine, says new traditions have evolved in her house, and her children particularly enjoy those that give a little age-related privilege.
"It could be anything, like a Christmas Eve trip into town, a meal, or a late night movie," she tells me:
Get them involved in keeping the magic alive for younger siblings and relatives; keep the non-present traditions alive and strong – even the simple stuff like putting up the tree, and The Late Late Toy Show. Or make a new tradition; for us it was Christmas Eve boxes, which they adore.
Mother of four Elizabeth McDonnell agrees, pointing out that there are many more rituals and outings possible now that her children are older:
Things like bringing mine to Dublin to see the lights, or shopping with them for their godparents – as opposed to me doing it myself – gives them more involvement in the build up.
Deborah Hadley has had a similar experience with her children.
"We always make a yule log on Christmas Eve," she says. "Ciara, who is 12, takes charge of this. We also give the kids some money and let them pick presents for each other and for their grandparents."
Ellen O'Keeffe remembers a lovely ritual from her own childhood – something her mother introduced when she was growing out of the traditions she'd loved as a younger child:
"She organised treasure hunts on Christmas morning that led to my big present or surprise of something I really wanted. I honestly loved it even more than the younger years."
Don't forget about the teenagers
And even in the later stages of the teenage years, there's still room for Christmas magic, says Tracey Smith, whose eldest is 17 and "still loves being involved" in the family's festive rituals.
"She'll watch Elf with us while putting up the tree, help to get the younger kids' Christmas pyjamas, watch Scrooged with me and and her dad on the 23rd, and help make stuffing on Christmas Eve."
Mum of three Lucy O'Connor sums up the magic of low-key family traditions neatly.
"I think having Christmas traditions outside of just Santa is what makes Christmas magical. We have this really simple one – we go into Dublin city centre on Christmas Eve, go to the live crib, and take a walk on Grafton street.
"We bring loads of coins we've collected during the year and give them out to all the charity collectors, then grab a bite to eat and head home on the train to get ready for Santa. I almost enjoy it more than Christmas Day itself!"
Even when children are small, Christmas isn't just about Santa, so the magic doesn't have to stop when the suspicious questions arrive later on.
For my kids, it's about the annual trip to town on the first Sunday in December. We look at the lights and the shop windows, pick one new decoration each for the tree, then celebrate with coffee and cake. (I don't think they'll ever be too old for cake.)
It's about watching The Snowman every Christmas Eve, drinking hot chocolate and breaking into the biscuits they baked for their grandparents, just to make sure they taste okay.
It's about staying over in Grandad's house on Christmas night and seeing their cousins. It's about lazy, pyjamas-till-midday mornings watching Christmas films, the same ones we watched when we were kids.
And I think it's a bit like that everywhere  the layers, the rituals, the "we always watch Scrooged on the 23rd" stuff. The hooves on the roof, even when they're way past believing in hooves on the roof.
The magic is there, shifting like sparkling sand, but firmly set too, in foundations set down when they were too small to think of anything other than the man in the red suit.
Want to win a two-night stay at the 4* Galmont Hotel and Spa? Enter our competition right here - and don't forget to subscribe to our Family Newsletter below!