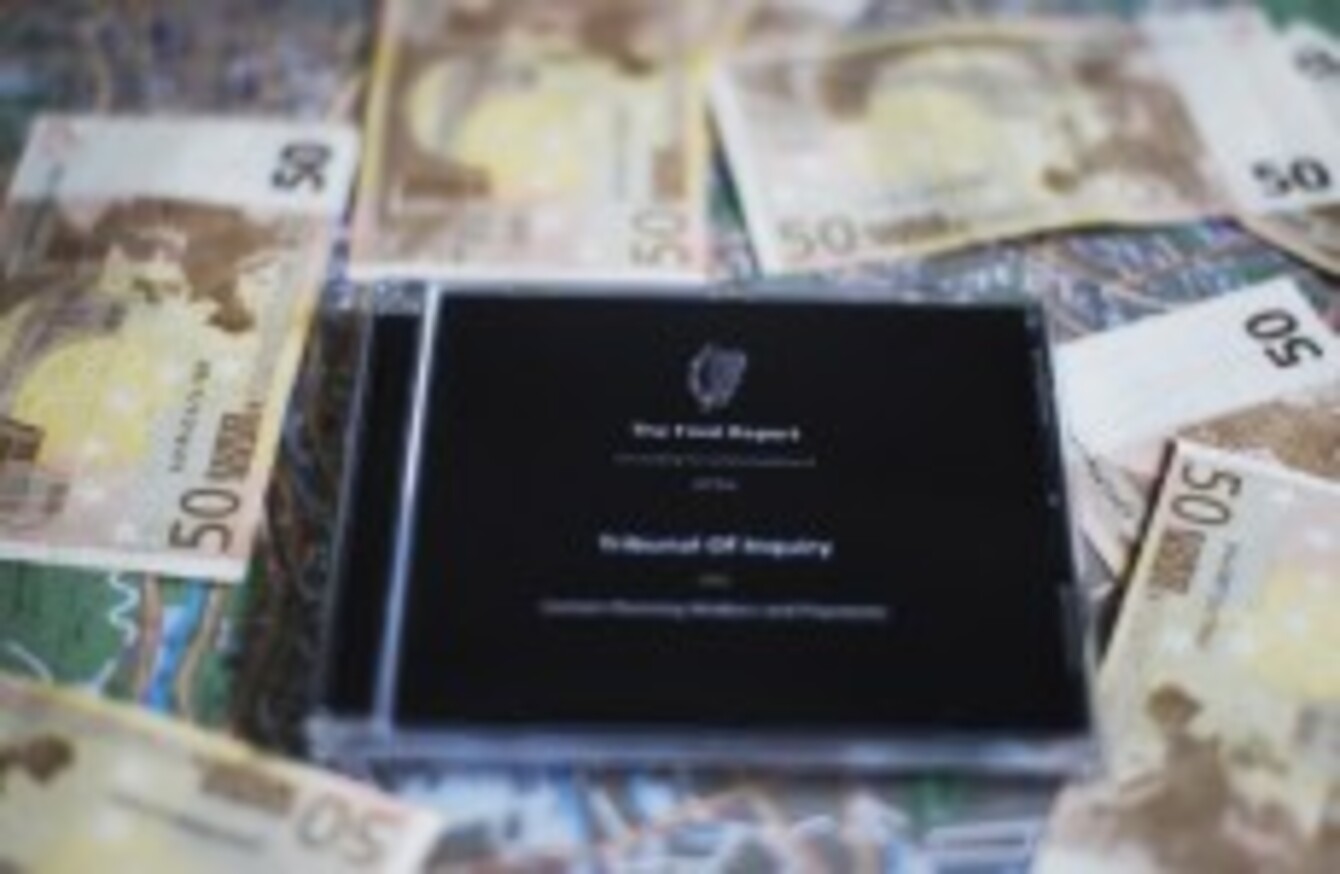 Image: Leon Farrell/Photocall Ireland
Image: Leon Farrell/Photocall Ireland
THE FINAL CHAPTER of the Mahon Tribunal report has been published today – so why did we have to wait so long for it?
This section of the report deals with development and planning issues in the Carrickmines area.
It was withheld due to concerns that it could have interfered with criminal proceedings involving a number of former Dublin politicians who were alleged to have received payments in return for council votes on the rezoning of land for development.
Alleged bribes
The four politicians were former Fine Gael TD Liam Cosgrave, Tony Fox (an independent councillor), former Fianna Fáil councillor Colm McGrath, and former Fianna Fáil Senator-turned councillor Don Lydon.
The four men denied the charges that they had received bribes in exchange for their votes to have 130 acres of lands in the Carrickmines Valley in South County Dublin rezoned.
Businessman Jim Kennedy, an auctioneer and property developer, had been accused of being the man who gave Frank Dunlop, former lobbyist and public relations consultant, the money.
While being cross-examined in early July, Dunlop told the Dublin Circuit Criminal Court that he could not remember getting over £1 million in payments from a developer in the 1990s. He testified that he had received £25,000 from Jim Kennedy in 1991 to give to councillors as payment for the rezoning of lands in Carrickmines, RTÉ reported.
As well as this, Dunlop testified that he paid £19,000 in total in bribes to the four above men. The men denied this.
The trial collapsed on 24 July due to a medical condition that prevented Dunlop from giving more information.
The State decided to enter a nolle prosequi in this particular case, meaning it would no longer pursue it. This paved the way for the Carrickmines section of the report to be published.
Dunlop had already been sentenced in May 2009 to two years in prison for corruption after admitting paying money to politicians over the Carrickmines land rezoning.
Concerns
The report states that the publication was delayed "because of the Tribunal's concern that it might prejudice the criminal trials of certain individuals who are the subject of adverse findings within".
The report states that at a public sitting of the Tribunal in 2000, Dunlop provided a list of the sources of monies he had received in 1991 – 1993 from the developers who had engaged his services. In a private interview with the Tribunal that same month, Dunlop alleged that he had paid a total of £15,000 in cash to eight named councillors in bribes. This was in return for their support as councillors for the rezoning of specific lands.
He also alleged that in 1997 he paid a further £10,000 in cash to two of those eight councillors in a further attempt to have the lands rezoned.
In October 2000, a statement to the Tribunal from Dunlop alleged that he was paid £25,000 in cash by Kennedy to bribe councillors to support the rezoning of lands. Kennedy denied paying Dunlop the £25,000.
Dunlop said that he was also offered £100,000 in cash as a 'success' fee if the lands were rezone during a review of the 1983 Development Plan by Dublin County Council.
You can read the full final chapter from the Mahon Tribunal into planning and payments HERE.