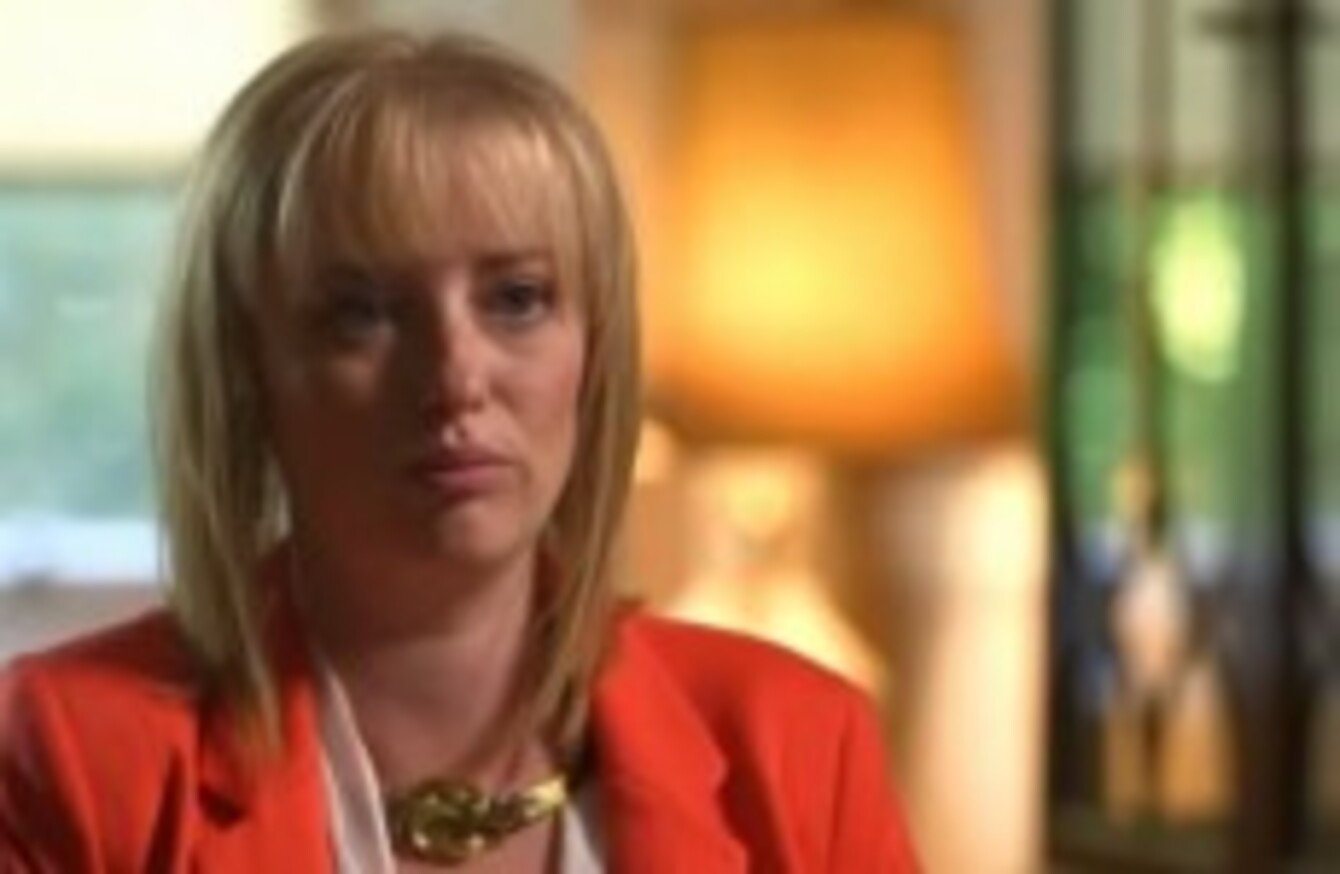 Image: YouTube via BBC Spotlight
Image: YouTube via BBC Spotlight
Updated 22.45pm 
THE TAOISEACH HAS described Sinn Féin's treatment of  Maíria Cahill, who claims that the IRA covered up her alleged sexual abuse, as "utterly despicable".
Enda Kenny was speaking as the controversy rumbles on, heaping further pressure on Sinn Féin and its president Gerry Adams over the issue of sexual abuse by republicans and how it was dealt with by the movement.
Speaking to reporters in Mayo, Kenny said there was a clear effort by the opposition party to discredit Cahill's story in recent days.
In comments this morning, Kenny questioned whether a blog post by Adams was "another part of an attempt to discredit a young woman who's telling a story from the inside".
"My understanding is that there are more to follow," the Taoiseach added, hinting that more cases will be revealed in the coming weeks.
However, Adams this evening slammed Kenny's remarks as "mischievous and clearly politically motivated".
The blog was a sincere effort to deal directly with the issue of how allegations of abuse had been handled in the past by republicans. The Taoiseach should not try to score cheap political points about these sensitive and serious issues.
"The Taoiseach also said in relation to people who have suffered abuse in the past that he understood more 'there are more to follow'," Adams continued, saying that if anyone, "including the Taoiseach", has any information related to child abuse should contact the proper authorities.
Cahill is due to meet Enda Kenny this week. The details of this meeting have not yet been publicly confirmed, but a government spokesperson said plans are under way for the pair to meet later this week.
"The Taoiseach is happy to meet Maíria and arrangements are being made," the spokesperson said.
'Beyond reprehensible'
Earlier, Cahill called on Sinn Féin president Gerry Adams to resign, saying his behaviour "is beyond reprehensible".
Chaill was responding to Adams last night acknowledging that the party "failed victims" in how it dealt with claims of sexual abuse in the organisation.
Cahill says she was abused and raped by a senior IRA member, and that members of the republican movement convened a 'kangaroo court' during which she had to face her alleged abuser. 
Speaking to Newstalk Breakfast, Cahill was scathing of Adams and Sinn Féin's deputy leader Mary Lou McDonald for their comments in recent days and said they were still denying her claims about her abuse ordeal.
On Adams, she said: "I think his behaviour is beyond reprehensible now. I am calling for him to do the decent thing and step down."
'Vilified and demonised'
She said that Adams's statement was "finally some sort of admittance from Sinn Féin that the IRA investigated cases of child sexual abuse". 
Cahill continued:
This is something I have been trying to raise for years in terms of being able to protect children, and for years members of Sinn Féin, behind my back, said I was crazy, didn't know what I was talking about, that they never would have involved themselves in cases like that and I knew it to be true.
She said despite having been "vilified and demonised" she had now been vindicated and said she, her family, and every victim of abuse in the republican movement are owed an apology by Sinn Féin.
Speaking on Today FM's The Last Word with Matt Cooper, Cahill said she was repeatedly questioned over a six month period by Sinn Féin about her alleged abuse and on one occasion was forced to face her alleged abuser where he was allowed hurl insults at her.
Cahill added that after she went to the police in 2010 to report the abuse, she felt that her her life was in very serious danger.
Cahill was speaking ahead of a meeting with Northern Ireland's First Minister Peter Robinson today. She said the focus of her meeting would be getting services and support in place for abuse victims.
What Adams said
While Adams has disputed claims Cahill made about conversations he had with her, last night he penned a blog post about how republicans dealt with alleged abuse.
In it, he acknowledged that the IRA "failed victims" in how it approached this.
He said the IRA on occasion shot alleged sex offenders or expelled them, and that "while this may have been expedient at the time it was not appropriate" and that it left victims without the necessary social services support, and abusers without supervision.
It ultimately failed victims and the community alike. That is a matter of profound regret for me, and many other republicans.
Cahill told Matt Cooper that she is certain there are recordings out there between her and Adams that will prove her version of events. She has called on the British authorities to release those recordings.
'Falls short'
Responding to Adams's blog post last night, Fianna Fáil leader Micheál Martin said it fell short and called on the Louth TD to accept Cahill's testimony and apologise to her on behalf of his organisation.
"The Sinn Féin Leader needs to stop spinning and start facing up to his responsibilities to Mairia Cahill and those other victims that were failed by his organisation," Martin said today.
Meanwhile, Jobs Minister Richard Bruton said today that "clearly Sinn Féin have issues to deal with" and described Cahill as a "very credible witness".
Cahill said on Today FM that she has been inundated with calls from people since she went public, stating: "Sinn Féin have left themselves wide open".
- additional reporting from Hugh O'Connell, Daragh Brophy, Christina Finn, and Nicky Ryan
First published 8.54am