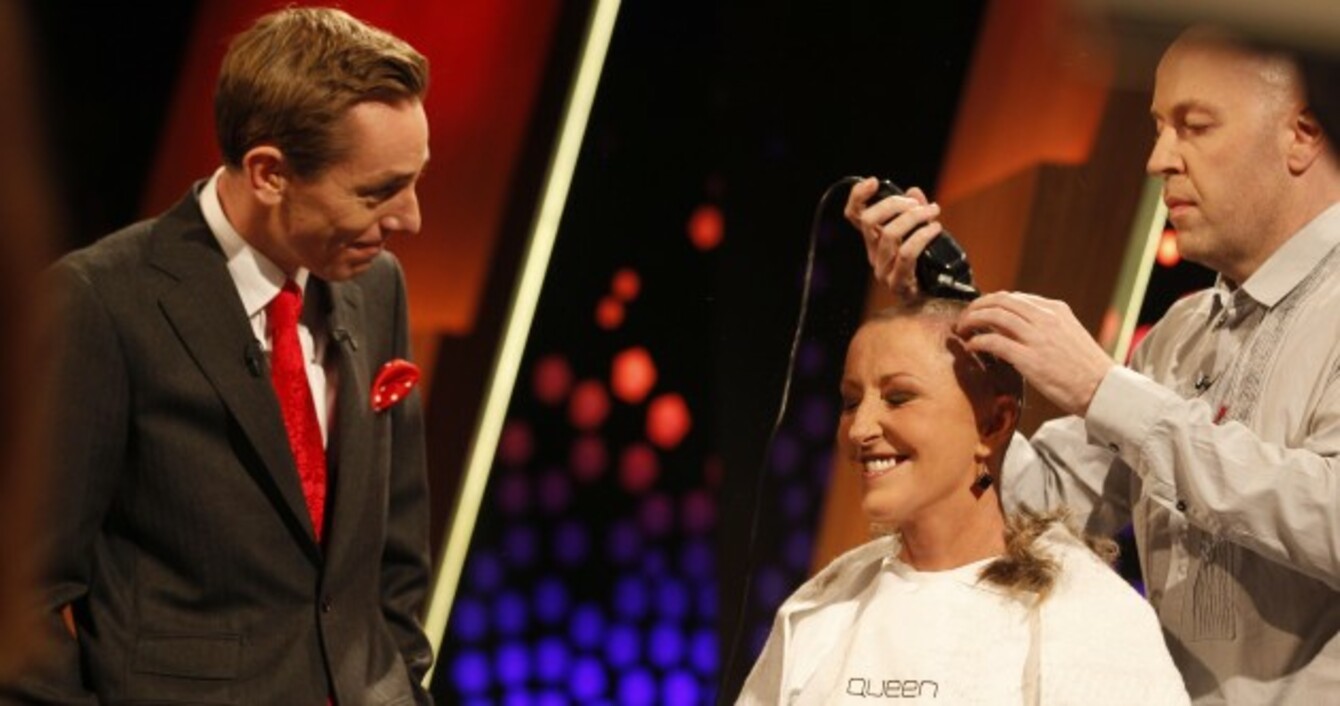 Majella O'Donnell on the Late Late Show last night.
Image: Andres Poveda
Majella O'Donnell on the Late Late Show last night.
Image: Andres Poveda
DANIEL O'DONNELL'S wife Majella O'Donnell appeared on the Late Late Show last night to have her head shaved for charity.
Majella was diagnosed with cancer this year and has started chemotherapy treatment. She said she wanted to "take control" of her hair loss and decided to have all her hair shaved off in aid of the Irish Cancer Society.
Viewers were urged to make their donations through the Irish Cancer Society (ICS), however, there was such an interest that their entire system collapsed. The ICS asked people to be patient and to continue to donate.
Raising awareness
Speaking to Ryan Tubridy while she was getting her head shaved she held back tears while she asked people to donate whatever they could to the cause. She said she felt she had "achieved something worthwhile" by raising awareness.
She had undergone one chemotherapy  treatment yesterday before the show and said she had five more rounds to go. Six and a half weeks of radiation follows and she may consider a mastectomy after that, she said.
Daniel was not with her on the night as he is touring the US, but Majella said she was sure he was watching.
Majella received a standing ovation from the audience for her achievement with one audience member shouting out "Sinead O'Connor, eat your heart out".
Shaved head
She said she did not want to see herself when her head was shaved, but would look at herself when she was wearing a wig.
When all her hair was removed, Tubridy asked: "How does it feel?" She answered:
Fab!
Speaking to TheJournal.ie, a spokesperson for the Irish Cancer Society said at this point they can not say how much was raised from last nights appeal, but said that before Majella even went on TV she and the Irish Cancer Society had already raised about €30,000.
Inundated with donations
The spokesperson added: "The response has been phenomenal. Our text line went down last night, so did our webpage and our call lines were jammed."
She added that there were some issues where some people were charged double for their text donation and others were not charged at all, but she said that they were dealing with that now.
The society apologises to anyone who experienced this problem and thanks the public for their overwhelmingly generous response to this appeal.
"The response has been overwhelming. Majella is so happy that she touched so many people. We are so grateful to Majella," she said.
The cancer registry in 2010 shows there were 33,700 cases of cancer in Ireland, of those 2,700 were breast cancer.
Here is Majella on the Late Late Show last night – what an inspiration:

(Via YouTube/RTE)
People can donate from today to Majella's Pink Appeal for the Irish Cancer Society, text 'Pink' to 50300 to donate €4 or CallSave 1850 60 60 60 to make a donation. For anyone concerned about breast cancer call the Irish Cancer Society's National Cancer Helpline on Freefone 1800 200 700.