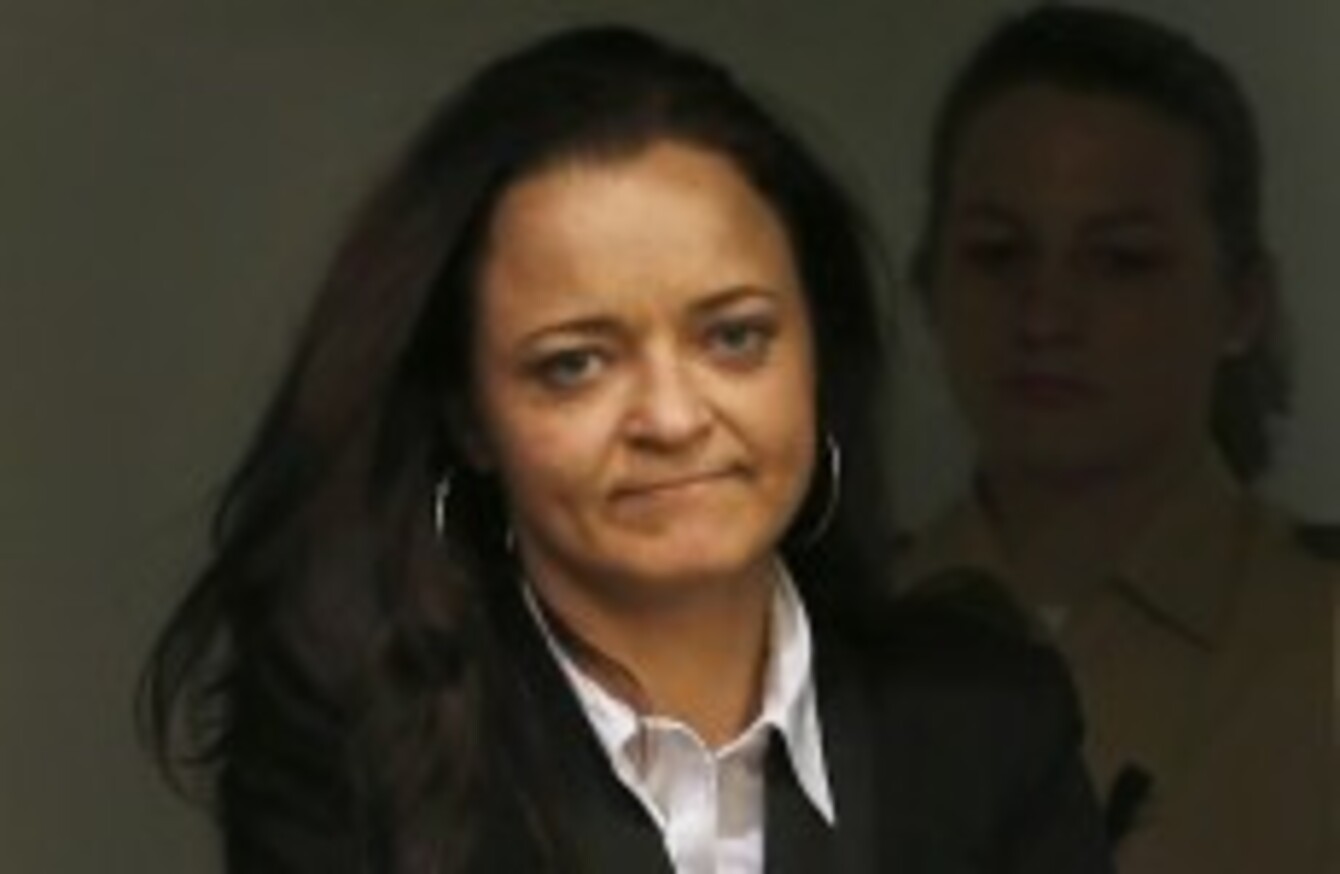 Beate Zschaepe, member of the neo-Nazi group National Socialist Underground (NSU) enters the court room before the start of her trial in Munich, southern Germany, Monday, May 6, 2013.
Image: AP Photo/Matthias Schrader
Beate Zschaepe, member of the neo-Nazi group National Socialist Underground (NSU) enters the court room before the start of her trial in Munich, southern Germany, Monday, May 6, 2013.
Image: AP Photo/Matthias Schrader
A MAJOR NEO-NAZI murder trial opened Monday in Germany over a killing spree that embarrassed authorities and shed a spotlight on the country's murky far-right scene.
Under a heavy police presence, chief defendant Beate Zschaepe, 38, entered the Munich court just before proceedings began, appearing relaxed and with her arms folded, while dozens of anti-racist protesters shouted slogans outside.
Since the middle of the night, people, many of them reporters, had lined up outside to claim one of the 50 free courtroom seats to follow the high-profile trial whose significance extends far beyond the murders.
Racially motivated murders
Zschaepe faces charges linked to 10 mostly racially motivated murders over a seven-year period as the last surviving member of a killer trio, most of whose victims were of Turkish origin.
The random discovery of the trio in late 2011 stunned and shocked Germans, exposed security flaws and forced the country to re-assess its image of having learnt the lessons of its Nazi past.
Chancellor Angela Merkel has called the case a "disgrace" for the country.
Outside emotions ran high with two women scuffling with police, while inside many of the victims' families were due to get their first glimpse of the accused in person at the southern German court.
Complicity in murder
Zschaepe is charged with complicity in the murders of eight ethnic Turks, a Greek immigrant and a German policewoman between 2000 and 2007 as a founding member of the far-right gang dubbed the National Socialist Underground (NSU).
She is also accused of involvement in 15 armed robberies, arson and attempted murder in two bomb attacks.
Her lawyers deny she was directly involved in murder.
Dressed in a black jacket, pressed white shirt and wearing large hoop earrings, Zschaepe entered the courtroom before the hearing got under way and stood with her back to the TV camera.
She has remained silent during her 18-month custody and has no plans to break her silence during the hearings which could last more than two years.
She faces life in prison if convicted.
Four male alleged accomplices are also due to go on trial accused of supporting the NSU.
Landmark trial
Germany has not seen a terror trial of this scale since members of the prominent left-wing militant group, the Red Army Faction, were sentenced 36 years ago.
Lawyers for Semiya and Kerim Simsek, whose father was the first victim, said in a written statement their clients who are co-plaintiffs would be seeking many answers from the trial.
"They want to know why their father was murdered. How they came upon the flower seller Enver Simsek? Did local neo-Nazi networks help in the victim selection?" they said.
Germans were stunned to learn in November 2011 that not foreign criminal gangs, as long suspected by police and the media, but home-grown racist killers were behind the unsolved murders.
Anger was stoked by revelations that the security forces failed to home in on the killers for more than a decade, and an admission that files had been shredded that could have helped the investigation.
Detected by chance
The case only came to light after Zschaepe's alleged NSU accomplices, Uwe Mundlos and Uwe Boehnhardt, were found shot dead in an apparent murder-suicide.
Zschaepe then allegedly blew up their shared home in eastern Germany.
A DVD with a film in the style of a "Pink Panther" cartoon, which the group had produced earlier claiming responsibility for the attacks, then emerged. Four days after the deaths, Zschaepe surrendered to police.
"I assure you that Germany will do everything necessary to shed light on the murders at all points and sentence the criminals to the punishments they deserve," Merkel said in an interview with Turkey's Hurriyet daily last week.
Berlin last month apologised before the UN Human Rights Council for mistakes in probing the NSU murders which the government's top official on human rights described as "one of the worst human rights abuses in recent decades" in Germany.
A controversy over the accreditation of journalists overshadowed the run-up to the trial after the court initially failed to guarantee Turkish media seats when it handed out reserved spots on a first-come, first-served basis.
This strained German-Turkish ties and forced a last-minute postponement when Germany's top court ordered it to allocate seats to foreign reporters, leading to the final 50 media organisations being chosen in a lottery.
Turkish media now have four seats but several leading German newspapers missed out.