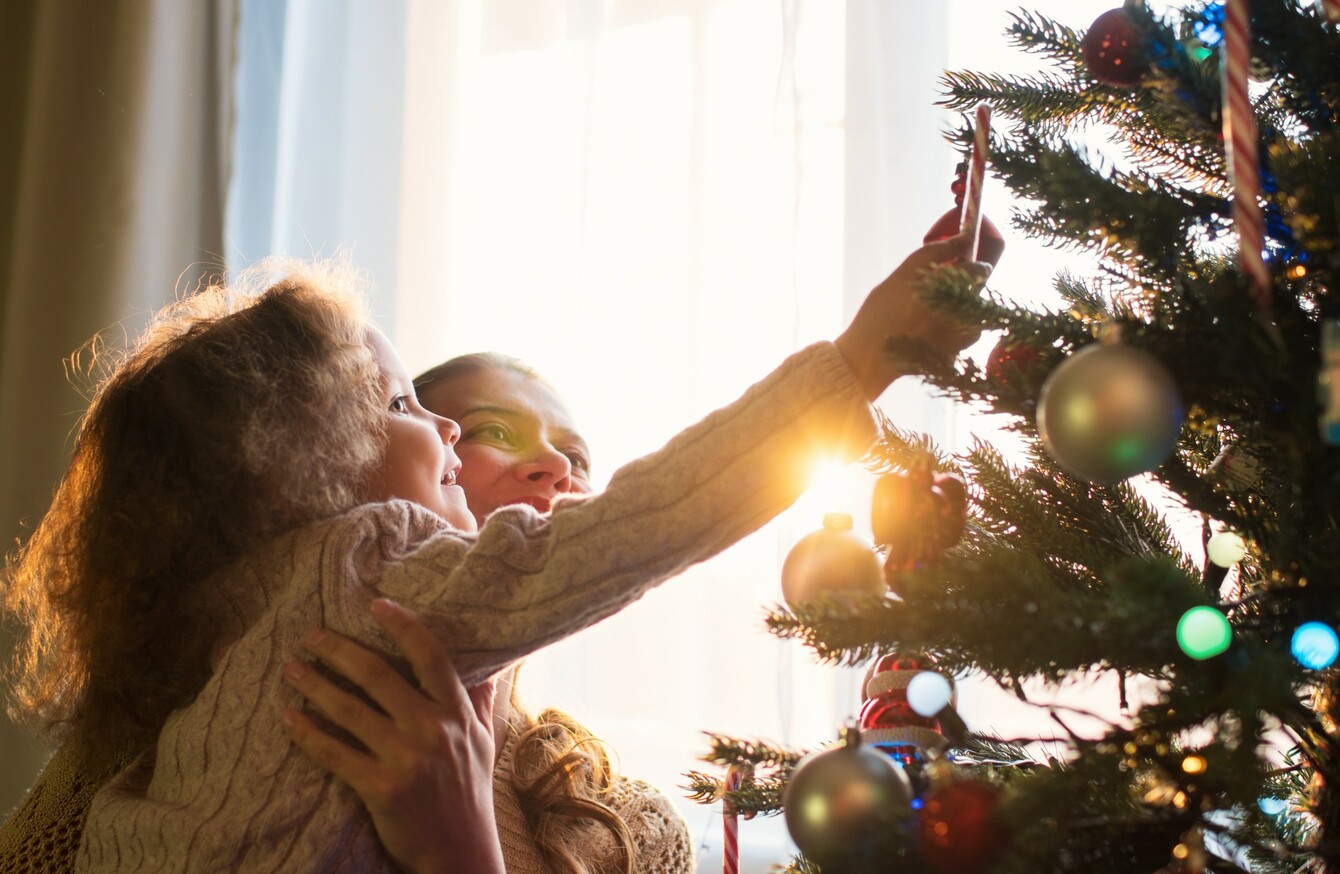 Image: Shutterstock/Anatoly Tiplyashin
Image: Shutterstock/Anatoly Tiplyashin
"OOH, THAT'LL BE bleak…" This was my husband's response when I said I was writing about Christmases growing up. "Is there a way you can spin it?" he asked, "Surely something nice happened?!"

Yes, there were moments of magic around Christmas. We were brought to Cornelscourt to sit on Santa's knee (and soak up his cigarette breath). The 'Christmas Suitcase' brimming with tinsel, random trinkets and the disembodied tree was always an exciting sight. Making mince tarts and the prospect of Funderland was thrilling.
And it was all wrapped up in the glimmer of hope that – this year – things could be different.
A look back at Christmas when I was little
It would always start the same way – with my elder sister confirming it was Christmas Day. Then we'd wait 'til 9am (the permitted time) before stealing out to see what Santa had left by the fire. There were a few occasions when he put presents at the end of our bed, which was nice, but we would still have to stay in our room until after 9am. God forbid we wake our parents.
I was rarely told how close it was to Christmas. There wasn't a daily countdown. No advent calendar. One year, I was watching Anything Goes, and Mary and Aonghus casually mentioned it was Christmas Eve. "Mum – it's CHRISTMAS EVE – TODAY?!" The response? "No, that's just a recording from last year…" It was always a closely guarded secret.
Mum didn't maliciously deny the magic of Christmas Eve, she was just beyond exhausted dealing with Dad. He was "fond of the jar", you see. That's 80s for "raging alcoholic." And alcoholics who haven't addressed their issues love Christmas. You can start boozing at noon, what's not to like?
Christmas traditions that won't be continuing
So either Mum was in denial that "the most wonderful time of the year" was nigh, or she just really, really liked sleeping. Either way, it was not ideal for memory making.
Speaking of which; once we'd endured waiting til 9am, we then got to go mass. After mass, it was mandatory to dance to Boney M's Mary's Boy Child or James Last before lunch. A little drink was had.
Then we opened the family presents. Another drink.
No sooner had we unleashed the gifts, we had to pile into the Datsun Cherry and go to Dad's sister's house. More drinks.
Dad swilling and us glancing at his glass. Then the five of us would herd back into the car and journey from Dundrum to Mum's family home – off the Navan Road. That's when the proper boozing began.
We'd have a laugh with the cousins, open more presents, and watch Indiana Jones and The Temple of Doom in the next room.
The great driving-home debate
Then, at around midnight, it would start: the great "I'm driving home!" debate. Dad would insist on driving the 30-minute journey. Sure, wasn't he used to captaining ships?! He was "jober as a sudge!" and we were just "hysterical women."
I'd be hiding out under the dining table wondering how it was going to end. It's OK, I can sleep here under the table. At least we'd have safety in numbers, something that wasn't guaranteed when we got home if his mood properly turned.
We would always get home in the end. Either he would "drive with one eye open… stops the blurred vision" (just one nugget of advice imparted during my childhood). Or he'd finally permit his wife to drive. Or we'd be ferried home by a dutiful uncle.
The following day, we'd do it all over again. Fun times. And I still get the fear when faced with the prospect of not being able to get home after a night out.
But now I get to make new traditions for my own kids
As childhood Christmases go, I'm sure mine pales when compared to some. After all, we had a roof over our head, a tree, presents, a lovely lunch.
Unfortunately, things would always go south after lunch. One man's bid to block out his own demons took precedence over his kids' childhoods.
Certain memories last a lifetime, but they don't have to dictate your future and that of your children, hence why my family – primary and extended – enjoy a very different Christmas now that we're all grown up. There is no rushing around, no arguments, no worries about how we're getting home, and no anxiety for our kids to soak up.
Below is my formula for our perfect Christmas – now that we're in charge.
#Open journalism No news is bad news Support The Journal

Your contributions will help us continue to deliver the stories that are important to you

Support us now
1. There will be a countdown
There is a danger of Christmas consuming itself well before December 25 – especially as Halloween is the only thing ensuring the festive season doesn't start in August. As with everything, however, it's about balance, and Christmas without the countdown is wrong. The suspense is everything. Therefore, we make a big deal about bringing out the Advent Calendar on December 1. Their little faces as the days go by are magic.
2. And the gifts from Santa will be wrapped
Half the wonderment is picking up your present and giving it a little rattle, before ripping it apart. Our presents from the big man were never wrapped, but my kids' always are.
3. We all get up together
It should be obvious, but it wasn't to my parents! We get up whenever the kids get up on Christmas morning – and, remarkably, that's never been before 7am. Seeing them peeking around the sitting room door to see what Santa's left is unmissable. Having kids of my own really calls into question why my parents made us wait 'til mid-morning. It's not as if they roused themselves then  to share the moment with us. 
4. I steal an hour alone to regroup
It's usually under the ruse of "making sure the spice beef doesn't boil over", when really, it's a chance to have a cry and eat mince pies. Self indulgent, yes, but why not – it's Christmas and it's an emotional time. For example, the first December 25 I spent in my own home saw me pawing the fireplace, sobbing in gratitude. Other years, it's been sadness for lost loved ones, or a skewed childhood. More recently, it's tears of happiness that I can be there for my kids. Then, I'm ready to face (or, *gasps*, even enjoy) the rest of the day.
5. Absolutely no driving

After Dad died I moved back to the locality, within walking distance of both sisters' houses. It wasn't premeditated, but it has been an unexpected blessing. From December  24 – 27 , they both set up camp in their respective homes and everyone's welcome. I've been lucky enough to spend great Christmas's in both their houses then, and most importantly, it's only a 15-minute stroll home. Bliss.
6. Check your own behaviour first

Listen, most people overdo it at Christmas, it's called the "silly season" for a reason. However, when your behaviour starts impacting negatively on those around you, that is when you need to take a long hard look at yourself. No one person has the right to set or dominate the mood of a room, especially during "the most wonderful time of the year."
Make the best of what you've got and go create some happy memories. Your kids will thank you (at some point).