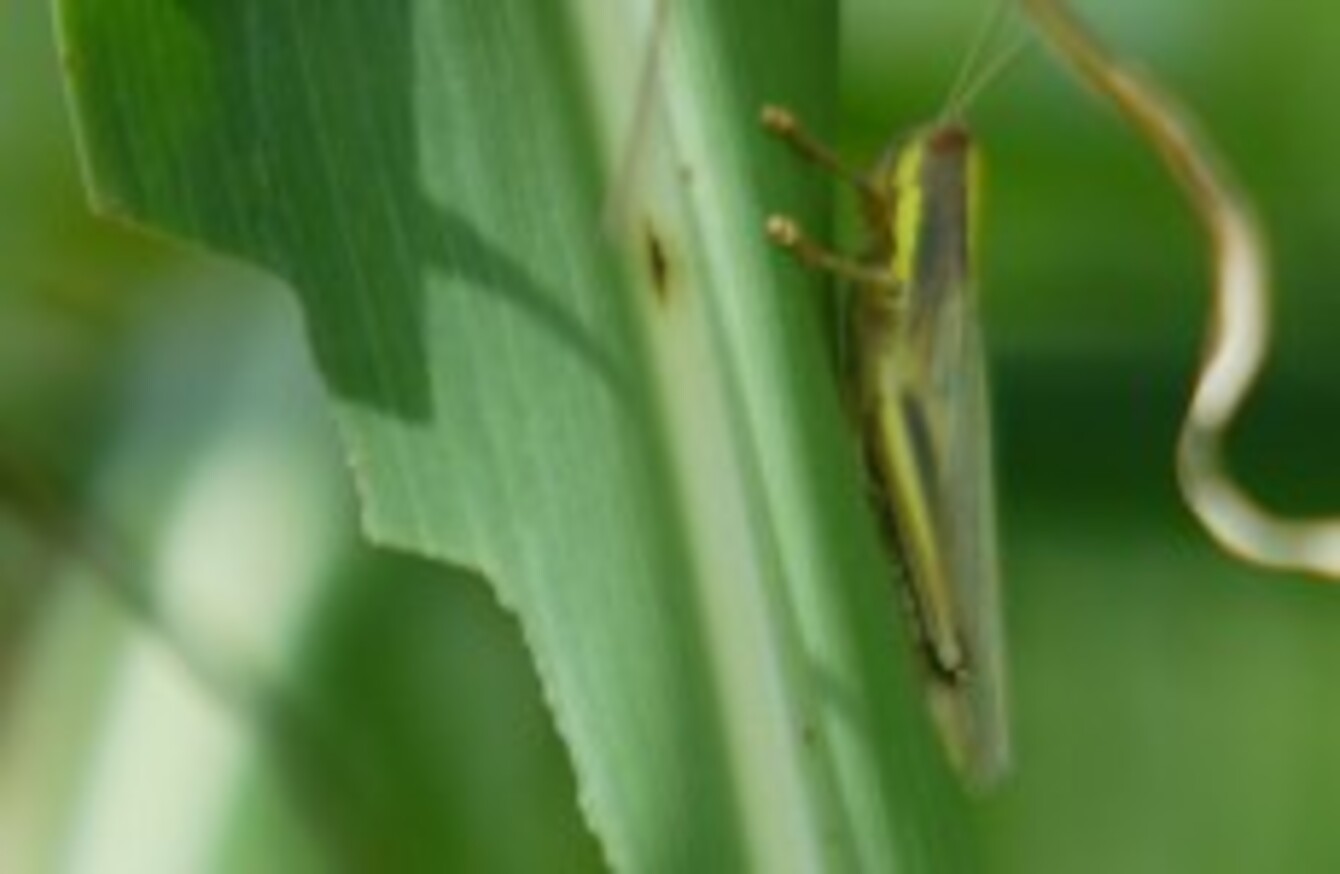 A locust featsing on a maize leaf
Image: SAURABH DAS/AP/Press Association Images
A locust featsing on a maize leaf
Image: SAURABH DAS/AP/Press Association Images
IT HAS RECENTLY undergone a military coup and is suffering from a food crisis, and now Mali could face a locust infestation.
According to the UN, there are fears that locusts could devastate the country, which has already suffered from drought, conflict and the displacement of hundreds of thousands of people.
The UN's role
Irin News, which is run by the UN office for the coordination of humanitarian affairs, said today that Kidal and Aguelhok have already been invaded by swarms of locusts. These two areas are in Northern Mali.
The locusts' breeding grounds are based in southern Libya and southern Algeria.
Keith Cressman of the UN Food and Agriculture Organisation (FAO) told The Guardian that infestations of the locusts were seen earlier this year than in previous years, and that insecurity in the areas means that FAO members have not had full access to them.
Manda Sadio Keita, a programme officer of the FAO in Mali, said:
It is difficult to know exactly how the situation is, as it is not safe to send scientific teams there. We cannot assess and fight locusts anymore.
In 2004, swarms of locusts devastated crops and land in areas from Senegal to Chad. Locusts can travel at a speed of 16km to 19km and fly with the wind.
Preparing for an invasion
Authorities had prepared for a possible locust invasion, said the UN, but when the rebels overran northern Mali, they looted warehouses where the chemicals were stored.  They also took over buildings at the centre for locust control, and it is not known where the chemicals are now.
According to the UN, the plan to combat the locusts includes spraying locusts with pesticides before they grown wings, but this might not be possible after the coup.
Instead, it says the country's agriculture ministry might begin operations to control locusts in northern Mali and along the border with Niger. But this would cost around UC$1.5million.
The Malian government discussed the possibility of carrying out the operation with the FAO, the Permanent Inter-State Committee against Drought in the Sahel (CILSS) and others last June.
Keita said that if there as an invasion, "it will be a catastrophe" during which crops and pasture would be destroyed and cattle would be lost.
Coup
According to Gulf News, the director of the National Centre for the Fight Against Locusts said that "the fight will be difficult" if the locusts advance.
In March, a coup was staged by soldiers calling themselves the National Committee for the Reestablishment of Democracy and the Restoration of the State (CNRDR).
Aid to Mali – except for emergency humanitarian funding – was cut off by the EU and the US and around a thousand Malians a day have been travelling to Mauritania, often in bad health, to escape the conflict.