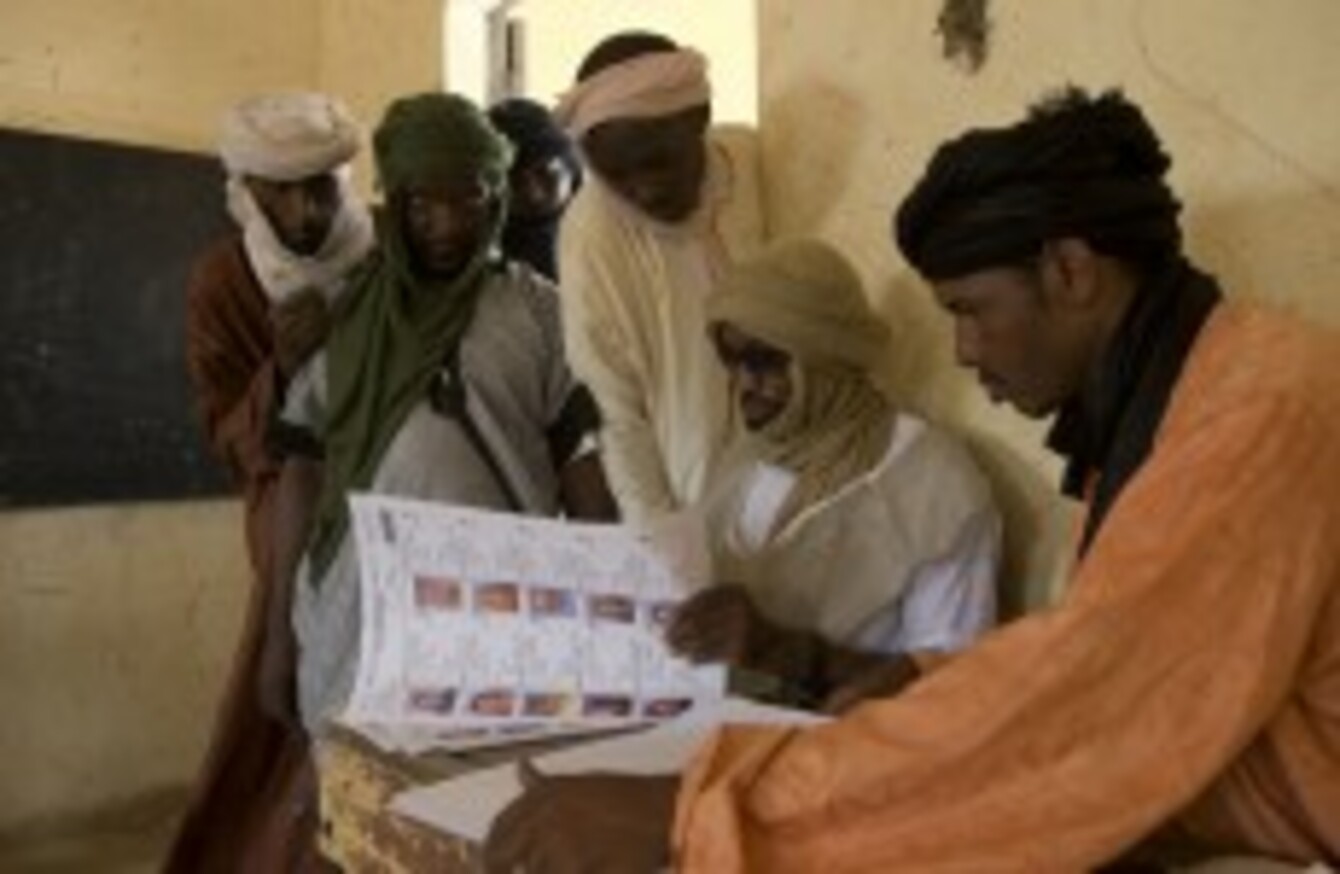 Image: Rebecca Blackwell/AP/PA
Image: Rebecca Blackwell/AP/PA
MALI VOTED TODAY for a president expected to usher in a new dawn of peace and stability in the first election since a military coup upended one of the region's most solid democracies.
Almost seven million voters have a choice of 27 candidates to lead the troubled nation from a crisis ignited by the mutiny which allowed Islamists to take control of its vast north before they were dislodged by a French-led military intervention.
The ballot opened at 8am under heavy security after one of the main armed groups linked to Al-Qaeda in northern Mali said Saturday it would "strike" polling stations.
(Image: Rebecca Blackwell/AP/PA)
"The polling stations and other voting places for what they are calling the elections will be targeted by mujahedeen strikes," the Movement for Oneness and Jihad in West Africa (MUJAO) said in a statement carried by neighbouring Mauritania's ANI news agency.
It did not specify what form the attacks would take but the group warned Malian Muslims to "stay away from the polls".
Acting president Dionounda Traore called on all candidates to respect the outcome after casting his ballot in Bamako, without revealing whom he had picked.
"I am very satisfied with the general conditions in terms of the organisation of the elections. I think that as far as Malians can remember, this is the best-organised election since 1960," he said.
The APEM Network, an independent Malian organisation that deployed 2,100 observers across the nation, said in a statement issued halfway through the voting that 96 percent of polling stations covered by the observers had opened on time.
APEM said "a large voter turn-out was found", noting however a north-south divide, with turnout healthier in the south, home to 90 percent of Mali's electorate.
In a polling station at a school in Mali's capital, hundreds of voters had been queueing for more than an hour to cast their ballots.
"We are tired of bad governance. I'd urge the candidates to accept the results of our vote," said machine operator Kalifa Traore, 56.
Polling stations in the restive north opened in an atmosphere of calm, although the campaign has played out in the shadow of violence that has raised doubts over Mali's readiness to deliver a safe and credible election.
(Image: Rebecca Blackwell/AP/PA)
Much of the worry ahead of the polls has been focused on Kidal, occupied for five months by Tuareg separatists until a ceasefire accord allowed the Malian army earlier this month to provide security.
Clashes between Tuaregs and black Africans in the run-up to the election left four people dead.
And gunmen thought to be from the National Movement for the Liberation of Azawad (MNLA) kidnapped five polling officials 200 kilometres (125 miles) north of Kidal.
Voting opened late in many parts of the town.
At one polling station, each voter was being searched by soldiers from the United Nation's peacekeeping mission, which is charged with ensuring security Sunday and in the months after the election.
'Mali will be the real winner'
The ballot is the first since the military mutiny in March last year that toppled democratically elected president Amadou Toumani Toure. The ensuing confusion helped the MNLA, MUJAO and other groups allied to Al-Qaeda to seize northern Mali.
The UN deployment, which will reach 12,600 by the end of the year, allows France to start withdrawing most of the 4,500 troops it sent to Mali in January to stop the Islamists from advancing towards Bamako.
Haidara Aichata Cisse, the only woman in the race, goes head-to-head with 26 men, including past premiers Ibrahim Boubacar Keita (pictured below), Cheick Modibo Diarra, Modibo Sidibe and Soumana Sacko.
#Open journalism No news is bad news Support The Journal

Your contributions will help us continue to deliver the stories that are important to you

Support us now
(Image: Harouna Traore/AP/PA)
Keita is seen as the main frontrunner alongside Soumaila Cisse, a former chairman of the Commission of the West African Monetary Union.
"Mali will be the real winner. This election will help us forget the nightmare. We will have a head of state elected without ambiguity," Keita said after voting, adding that he felt "confident" of success.
Cisse urged Malians to "turn the page" and "restore peace peace to republican institutions".
In Gao, northern Mali's largest city, dozens lined up to vote in a school near Independence Square, which was renamed "Sharia Square" during the Islamist occupation.
"I hope that with my vote, my candidate is elected and will think about developing my region, which has long been abandoned," said Issoufou Cisse, a 50-year-old in a blue robe and white turban after casting his ballot.
(Image: Rebecca Blackwell/AP/PA)
Small crowds gathered at two polling stations in the northern desert town of Timbuktu were already reporting problems as the election began, however, with many unable to find their names on voting lists.
"I will do everything I can to vote, to elect a president who will save Mali, who will reconcile the north and the south, who will reconcile all Malians," English teacher Oumar Diakite told AFP.
- © AFP 2013.