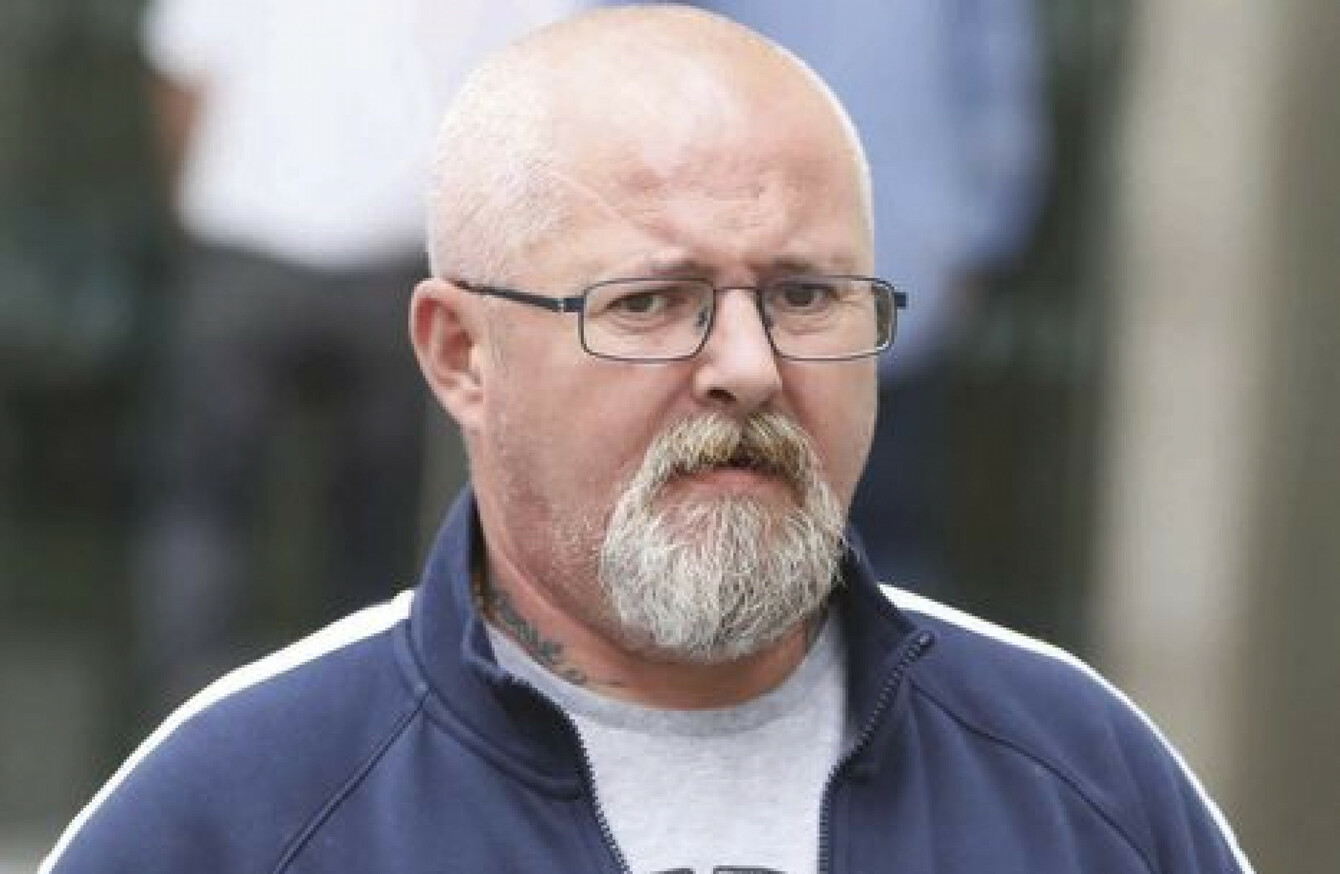 Alan McNamara, pictured, was sentenced to life imprisonment today for the murder of fellow biker Andrew O'Donoghue.
Image: Leah Farrell via RollingNews.ie
Alan McNamara, pictured, was sentenced to life imprisonment today for the murder of fellow biker Andrew O'Donoghue.
Image: Leah Farrell via RollingNews.ie
A LIMERICK BIKER was sentenced to life imprisonment for murdering a member of a rival motorcycle club in a territorial dispute.
The dead man's family said the deceased is a "hero" who will never be forgotten.
Alan 'Cookie' McNamara, a 51-year-old from Mountfune, Murroe, Co Limerick was found guilty last July of the murder of Andrew 'AOD' O'Donoghue at the gates of the Road Tramps motorcycle club at Mountfune on 20 June, 2015.
McNamara's stepson Robert Cusack (28) of Abington, Murroe, who pleaded guilty to impeding his stepfather's apprehension, was sentenced to six years in prison with 18 months suspended.
Justice Paul McDermott said the maximum sentence would be ten years and he felt that Cusack's crime, of taking the murder weapon and hiding it, was at the higher level.
He set the appropriate sentence at seven years but taking into account Cusack's late guilty plea and his cooperation with gardaí he reduced that to six years.
He suspended the final 18 months for two years on condition that he commit no further crime, saying that it is necessary to balance punishment with rehabilitation. The judge backdated the sentence to 14 August to take into account time spent in custody before the trial.
'He's our hero'
During the sentencing hearing prosecuting counsel Michael Delaney SC read out a statement written by members of the deceased man's family. They said that he had developed a love of bikes in the 1980s and was a founder member of the Road Tramps.
He met his life-long partner Kate around this time and together they moved to New York where they had a daughter and a "wonderful life". In 2002 they returned to Ireland and O'Donoghue rejoined his old friends in the motorcycle club.
His family described him as a great dad and the person you would go to for advice. He was well-read and adored his daughter, with whom he had a wonderful relationship. His last words to his wife and child were: "I'll be back soon."
The statement concluded: "He is our hero and he will never be forgotten."
McNamara had also penned a letter to the court in which he said he was "truly sorry" for bringing so much sadness to his victim's family and his own. "I'm sorry Andrew died," he said. "I will regret this for the rest of my life."
'Tension between clubs'
Sergeant Ted Riordan told Delaney that McNamara had been a Road Tramp some years earlier but left and in 2015 joined the Caballeros. There was tension between the two clubs and in June 2015 tensions flared when McNamara was seen in a pub in an area considered to be Road Tramps' territory.
Three members of the Road Tramps confronted McNamara, punching him and taking the waistcoat with a Caballeros patch sewn into it. When interviewed by gardaí McNamara claimed that three Road Tramps later pulled up to his house in a car and, in front of his wife and children, threatened to kill him and burn down his home. He said he was terrified.
The following day McNamara received a phone call from his stepson, Robert Cusack, who told him he was in a car with two other Caballeros following a member of the Road Tramps, later identified as Seamus Duggan, along the rural roads near Mountfune. The pursuit started in Doon with the cars getting up to speeds of 100mph.
Duggan was driving towards the Road Tramps clubhouse where other members of the club were planning to let him in the gates and then close them against his pursuers.
#Open journalism No news is bad news Support The Journal

Your contributions will help us continue to deliver the stories that are important to you

Support us now
McNamara meanwhile loaded a shotgun, got in his car and drove to the Road Tramps' clubhouse. When he arrived he saw O'Donoghue and told gardaí he thought the deceased was holding a gun, so he shot him.
Sergeant Riordan said McNamara could then be seen on CCTV trying to reload the gun before his stepson and others pulled up.
Sergeant Riordan agreed that following the shooting Cusack told gardai that he took the gun from his stepfather and traveled to his mother's house, wrapped the gun in black plastic and concealed it in some pine trees. Gardaí found it as it had been described by Cusack.
Remorse
Sergeant Riordan told defence counsel Andrew Sexton SC that Cusack had expressed remorse during interviews and has complied with bail conditions. At the time of the incident he had just commenced work after being out of work for some time. He also agreed that Cusack had a limited social circle.
He asked the judge to take into account Cusack's guilty plea although he accepted it had come "very late". Cusack pleaded guilty on Day 8 of the trial.
The hearing also heard that McNamara had 11 previous convictions. One was for assault, for which he received a three month prison sentence. He was also convicted under sections 3 and 5 of the Misuse of Drugs Act at Limerick District Court for which he was given a six month suspended sentence. His other convictions were for road traffic offences.
Cusack has three previous convictions for road traffic offences.
Mr Justice McDermott imposed the mandatory life sentence on McNamara, backdating it to Dec 1, 2015.