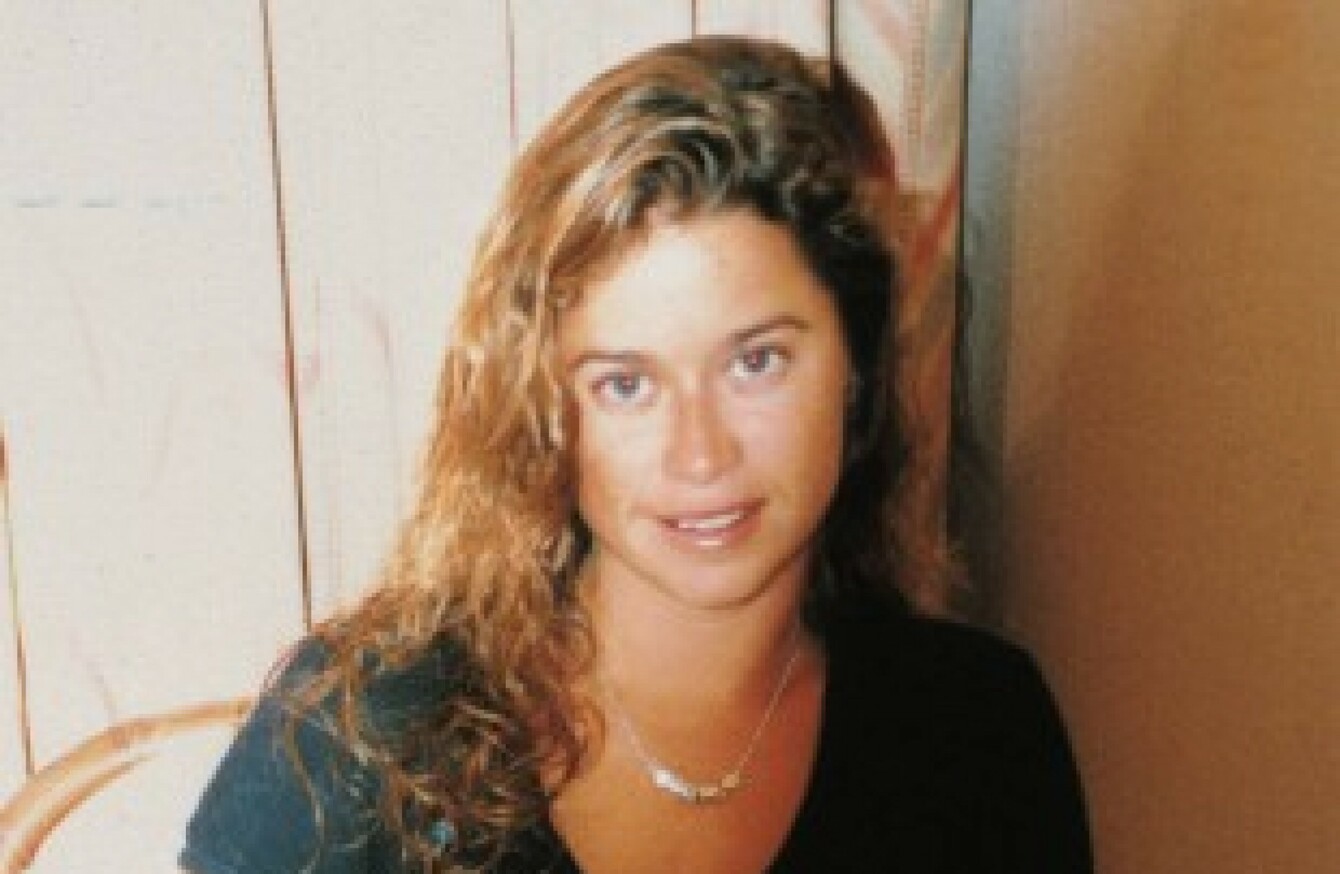 Ciara Glennon.
Image: AAP
Ciara Glennon.
Image: AAP
Updated Sep 25th 2020, 11:15 AM
A 51-YEAR-OLD MAN has been found guilty of murdering an Irish woman and an Australian woman, but was acquitted of killing a third woman still missing, after one of Australia's longest and most complex police investigations spanning 20 years.
Bradley Edwards, aged 51, denied abducting and killing secretary Sarah Spiers, aged 18, childcare worker Jane Rimmer, aged 23, and solicitor Ciara Glennon, aged 27, after they each spent nights out with friends in affluent Claremont between 1996 and 1997.
Irishwoman Ciara Glennon moved to Australia with her Irish family when she was five years old. She disappeared in March 1997 at the age of 27. Her father Denis, who is originally from Co Mayo, gave an emotional statement following the verdict.
"Crimes such as these inflict unforeseeable collateral damage," he said.
The past is unquestionably engulfed by sadness. As a family, the past is transcended by the fond memories of Ciara… by her spirit, her friendship, and above all, her courage.
Yesterday, Justice Stephen Hall delivered the long-anticipated verdicts, finding Edwards guilty of murdering Ciara Glennon and Jane Rimmer, but not guilty of murdering Sarah Spiers.
The bodies of Ciara and Jane were discovered in bushland weeks after they were killed, but Sarah's body has never been found.
Edwards, a confessed rapist and ex-Telstra technician, faced a marathon seven-month trial in the Supreme Court of Western Australia which concluded in late June. He shook his head when the guilty verdicts were delivered.
There were emotional scenes after the hearing concluded, with prosecutor Carmel Barbagallo and Police Commissioner Chris Dawson embracing members of the victims' families – including Sarah's parents Don and Carol.
"We will never give up trying to locate Sarah," Dawson said outside court.
Justice Hall said the evidence showing Edwards' propensity for violent abductions "makes it more likely" that he was Sarah Spiers' killer.
But he said it could not be proved beyond reasonable doubt in the absence of any other evidence about her killer's identity.
The police investigation into Sarah Spiers' death remains open and detectives intend to speak to Edwards again in the hopes he will disclose anything he might know.
Edwards was charged with the murder of Ciara Glennon and Jane Rimmer after a raid on his Kewdale home in December 2016. He was charged with Sarah Spiers' murder in February 2018.
The evidence
Justice Hall concluded Edwards had abducted both Ciara and Jane and that a violent struggle had ensued with both women before he used a knife or another sharp object to fatally stab or slash them.
The judge said there were significant similarities between their disappearances and deaths, but similarities with Sarah Spiers' case were more general in nature.
Edwards had insisted he was not the notorious predator who stalked women in Perth's wealthiest suburbs in the mid-1990s.
Justice Hall spent almost three months considering the evidence which included testimony from more than 200 witnesses.
It took him about 20 minutes to deliver a verbal summary of a written judgment spanning more than 600 pages.
Hundreds of people queued outside the WA District Court building from 4am, packing the courtroom and two overflow public galleries.
Edwards committed his first known attack on women in 1988, breaking into the Huntingdale home of an 18-year-old acquaintance and indecently assaulting her as she slept.
It provided the crucial piece of evidence homicide detectives needed to arrest him almost 29 years later.
He'd left behind a semen-stained silk kimono stolen from a washing line and when it was finally tested in November 2016, DNA matched swabs taken from a teenager he abducted from Claremont then raped at nearby Karrakatta Cemetery in 1995.
It also matched cellular material found under Ciara Glennon's fingernails.
"I am satisfied … it got there in the course of a violent struggle that occurred sometime shortly before her death," Justice Hall said.
#Open journalism No news is bad news Support The Journal

Your contributions will help us continue to deliver the stories that are important to you

Support us now
Fibre evidence established that both the murder victims had been in Edwards' Telstra work vehicle shortly before their deaths, he added.
Ciara Glennon's father Denis gave an emotional statement following the guilty verdict.
When Ciara was deemed a missing person, I appealed for help to find her, in a press conference like this, in this very same room. And through tears I said 'She would fight for her life because of the way she was brought up'.
And little did we know then how prophetic these words would be: as she fought to save her life she left us the vital DNA clues.
He said that he has lived with the images of Ciara's "gruesome" fatal injuries inflicted on her by her murderer for 23 years.
Speaking on behalf of the Glennon family, he said they had no criticism of the police or scientists, and no critique of those involved. "They did the very best they could," he said.
He also criticised some media reports of the case, of "dramatic headlines" and "subjective content" of some articles that "cast doubt on the work of police and scientists".
He said that they served "little or no legitimate public interest, value or purpose", and "inflicted needless additional suffering on my family". 
He also said that there were well-crafted reports that sensitively handled the case, and he twice thanked those reporters for their "balanced" reports.
Jane Rimmer's sister Lee said she was pleased to see Edwards brought to justice.
"It means that I can hopefully get on with the rest of my life without all this stuff," she said.
Barbagallo, who led the prosecution, and Edwards' defence counsel Paul Yovich both declined to comment on the verdicts.
The police murder investigation was the longest-running in the country, dealing with almost 18,000 suspects.
Edwards will return to court for sentencing submissions on 23 December.
With reporting from Gráinne Ní Aodha. Comments are closed as sentencing is still due.