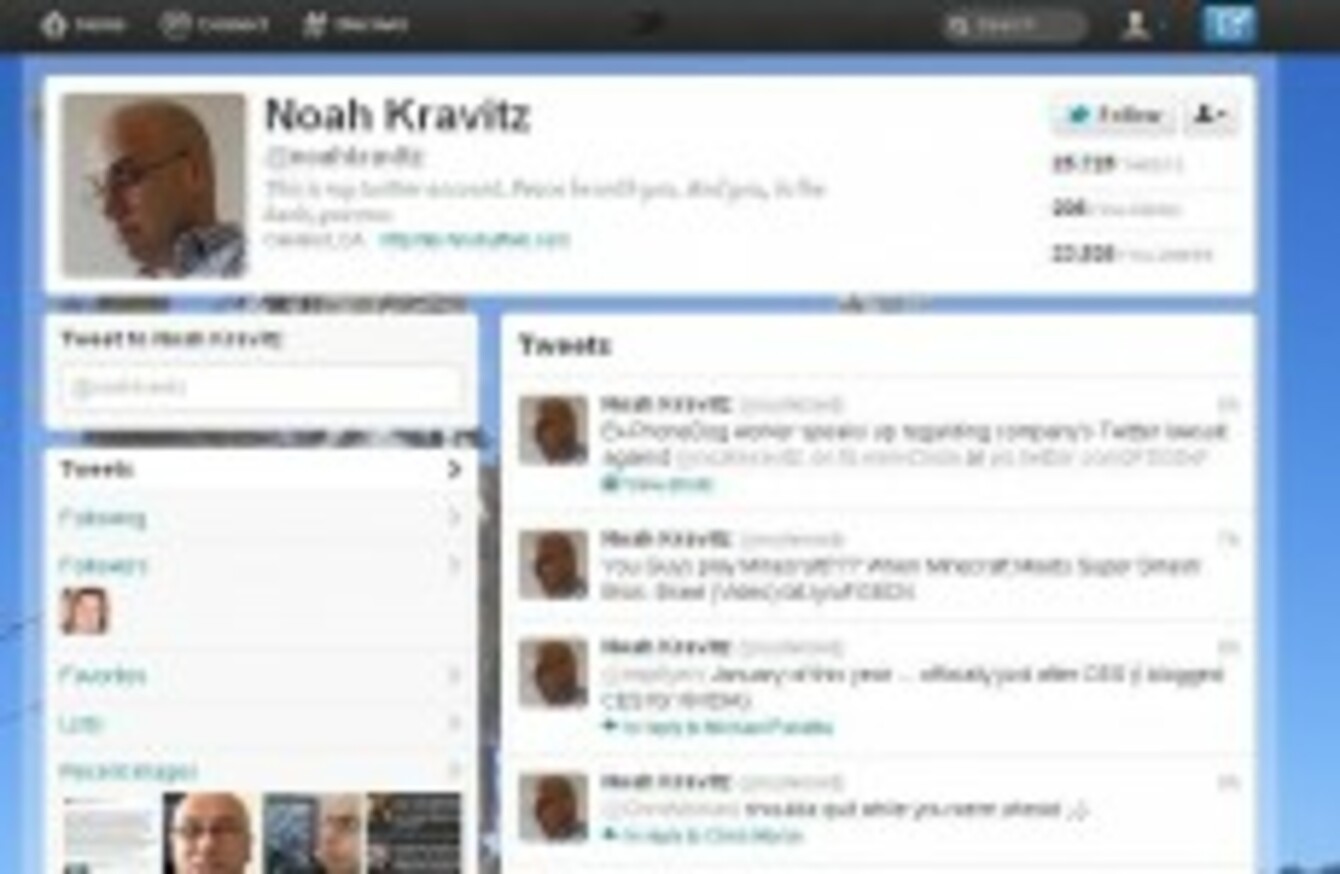 Noah Kravitz's Twitter page as it is now.
Image: Screengrab via Twitter
Noah Kravitz's Twitter page as it is now.
Image: Screengrab via Twitter
A MAN IS being sued by his former employer for keeping Twitter followers that he attracted while working for the US website.
Noah Kravitz tweeted for Phonedog, a mobile phone news and review website, under the name @Phonedog_Noah but when he left the company last year he changed his Twitter username and took the 17,000 followers he had amassed with him. (This has since risen to some 25,700 at the time of writing)
The company is now seeking damages of $2.50 (€1.91) from Kravitz per Twitter follower which comes to around $370,00o (€325,000), claiming that the followers constitute a customer list which is theirs.
Kravitz claims that Phonedog told him he could keep the account when he left the company so long as he tweeted on their behalf "from time to time".
"I said sure, as we were parting on good terms," Kravitz told the New York Times but eight months later the company sued him.
He claims it is because of his entitlement to 15 per cent of gross ad revenue from the site as a vested partner as well as back pay related to his work as a video reviewer and blogger.
The company has remained tight-lipped but claims that it asked Kravitz to let go of the account when he resigned in October 2010. It said in a statement: "We intend to aggressively protect our customer lists and confidential information, intellectual property, trademark and brands."
The case could have far-reaching consequences for company employees and their social media accounts.
One intellectual property lawyer told CNN that ownership of social media accounts being used for work purposes will now be "in play" because of this case. Henry J Cittone said that main issue will be why the account was opened – was it for to communicate with Phonedog customers or for Kravitz's own personal use?
Writing on the website of a Chicago-based law firm Partridge Jessica Godell said that Phonedog needs to establish that Kravitz's list of Twitter followers constitute a trade secret.
"Can a public account, with a 'followers' list compiled of public Twitter members actually be considered confidential?" she asks.
BBC News reports that intellectual property solicitor Leigh Ellis believes Phonedog may have the upper hand because the original Twitter username had the company's name in it.
"If you're a follower, who are you following? You might be following Noah, but it's PhonedogNoah. There's a very good argument that the reputation accrued is to the company, rather than the individual," he said.