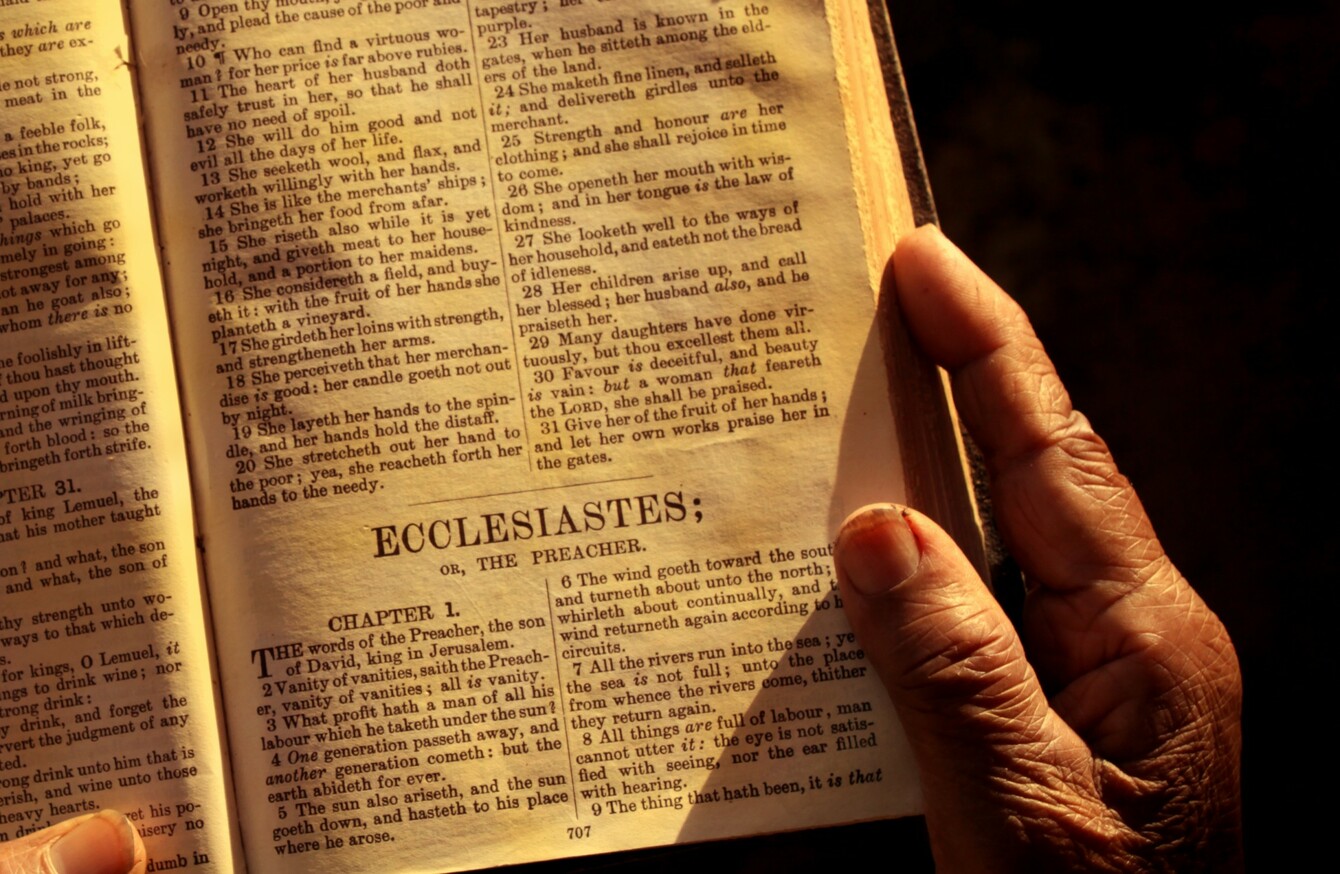 File photo
Image: Shutterstock/Janaka Dharmasena
File photo
Image: Shutterstock/Janaka Dharmasena
A MAN PREVIOUSLY jailed for damaging a Monet painting worth €10 million has been found guilty of possessing 67 stolen antique books, including an extremely rare King James Bible.
Andrew Shannon (51) was accused of illegally handling the books which originated in the library of Carton House in Kildare, the historical family seat of the FitzGerald family.
The books, including a 1660 edition of the King James Bible of which only six exist, went missing after they were put in storage during the restoration of the country house.
Gardaí say they were later found in Shannon's house during a search. Shannon told investigators that he bought the books at a fair or feté for about £300 (punts) and was using them to decorate his house.
Shannon of Willans Way, Ongar, Dublin pleaded not guilty at Dublin Circuit Criminal Court to possession of the books at his home while knowing or being reckless as to whether they were stolen on 3 March, 2007.
After a five-day trial and just under four hours of deliberation the jury returned a unanimous verdict of guilty.
Under the new EU directive on victims, transposed into Irish law last November, Judge Petria McDonnell invited the owners of Carton House to provide a victim impact report for the sentence hearing next April.
Shannon is on bail on this matter and was remanded on the same conditions. He is in custody in Shelton Abbey prison where he is serving a prison term after he was convicted in December 2014 of criminal damage to a €10 million Monet painting in June 2012.
In 2011 he was convicted of handling stolen property involving maps dating from 1651 with a value of €6,000.
After his arrest Shannon told gardaí that he buys lots of books and that the ones gardaí were concerned with "are of no real value" but that they looked good so he used them to decorate his house.
He agreed with them that the books originated from Carton House but said he had bought them at a market fair or feté many years ago.
I only bought them for the landing. If they were so valuable why didn't I sell them on?
Conor Mallaghan gave evidence during the trial. He has worked at Carton House since 1994 overseeing its restoration after his father's company bought the estate in 1977. He said that before restoration work began, he put all items in the house, including the library books, into storage.
He said he photographed each book before storing it.
Identified by the FitzGerald family crest
The books remained in boxes until 2006 when the process of restoring them to the library began. Mallaghan said it was then he noticed the missing books and went to the gardaí.
He agreed with counsel that in 2007 he went to the garda station with his father to identify several books which had been found.
Mallaghan was shown three of the antique books in court including a large edition of the King James Bible. He told counsel he identified them by the FitzGerald family crest which was on their spine and inside the cover.
He explained that the crest featured a monkey that, according to legend, saved one of the FitzGeralds after waking him up in a burning building.
Mallaghan said some of the books dated from the middle of the 17th century "and beyond". He told counsel that his family had never sold or lent out any of the 67 books nor had they given anyone permission to remove them from the house aside from the storage company.