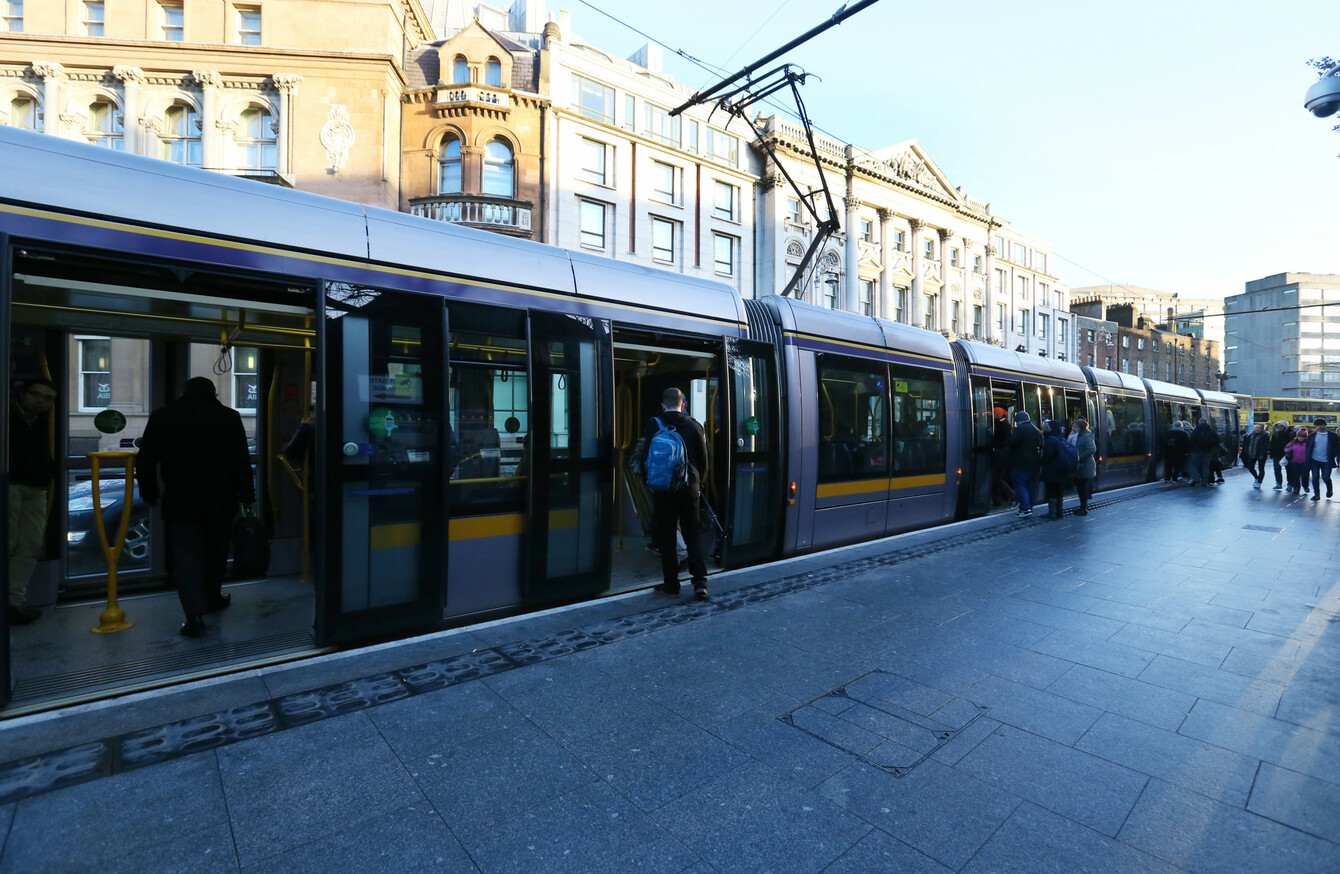 Image: Sam Boal
Image: Sam Boal
A YOUNG FATHER-OF-SEVEN who slashed a Luas passenger in the face with a flick knife has been sentenced to five years in prison with the final 18 months suspended.
Alan Tuite (28) of Ennel Park, Artane, Dublin , pleaded guilty to assault causing harm and production of a knife at Rialto Luas stop, James' Walk on 3 July 2017.
Passing sentence at Dublin Circuit Criminal Court today, Judge Melanie Greally said it was ironic that Tuite's actions were a "warped manifestation" of his devotion to his family.
The court heard that the victim had just boarded the Luas when Tuite slashed his face in what his counsel described as a "moment of madness" over a previous alleged altercation between their respective children.
Judge Greally said the victim suffered a facial injury requiring six stitches and had to leave his job because of the attack.
She condemned what she described as a premeditated, serious offence which has left the victim with lasting physical scarring and psychological effects.
The court heard that the attack took place in front of the victim's wife and two children, one of whom, a two-year-old girl, had been asleep and woke up to see blood and her mother screaming.
A victim impact report submitted by the injured party said he spent between €8,000 and €10,000 on medical costs after the attack. He said he continues to suffer anxiety and is fearful whenever he takes the Luas.
Previous evidence
At an earlier court hearing, the prosecuting garda told Fiona McGowan BL, prosecuting, that the victim had boarded the Luas at Rialto on the day with his family.
The garda said the victim couldn't get a seat and was on his phone when he suddenly heard the tram door closing and felt a scratch on his face. The victim had his back to his attacker and was not able to identify him.
CCTV footage played in court showed the victim and his family waiting to board the tram, while Tuite and a co-accused watched them from inside the carriage.
Tuite and the co-accused were then seen disembarking the tram. The co-accused handed something to Tuite, who reached in and slashed the victim's face before fleeing the scene.
Tuite was arrested and identified himself on CCTV running down by the canal after the assault.
He told gardaí that he and the victim lived in the same sheltered accommodation and that there had been an altercation between their children.
"My hand was shaking. I flicked open the knife and sliced him; it happened so fast," Tuite told gardaí.
I feel like a scumbag, but at the time I did not have control over what I was going to do.
Tuite accepted that he had caused harm and said he regretted it happening in front of the victim's family.
"You won't ever hear a story like that about me again," he said.
Judge Greally set a headline sentence of five years but suspended the final 18 months due to mitigating factors including the fact that Tuite was a devoted family man with a large number of dependents.
She ordered him to comply with Probation Services for 12 months on his release and attend all appointments relating to the areas of victim empathy, training and employment.
The sentence was backdated to 21 September, when Tuite went into custody.