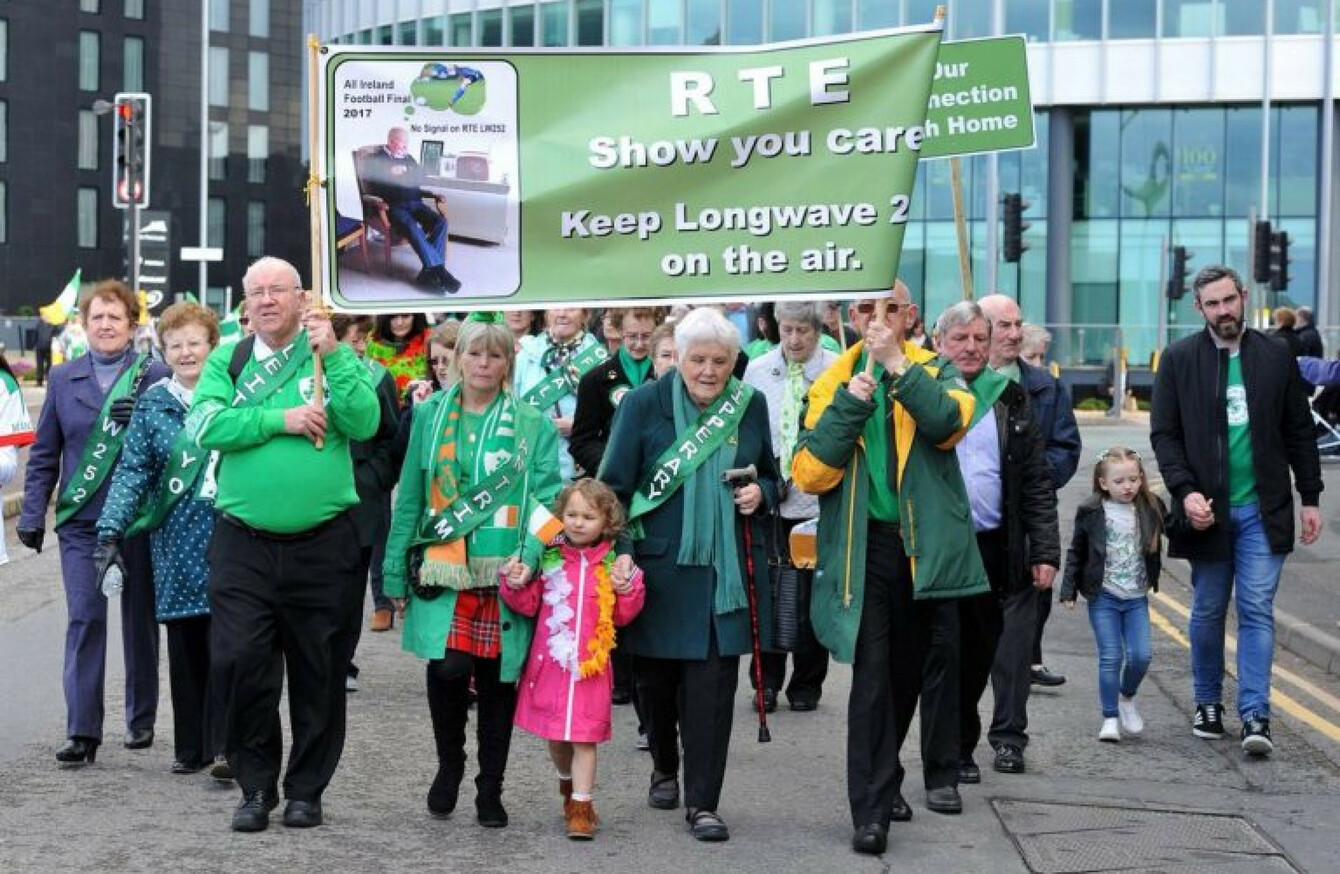 Campaigners marched in the St Patrick's Day parade in Manchester this year to highlight their causes.
Campaigners marched in the St Patrick's Day parade in Manchester this year to highlight their causes.
A GROUP OF elderly Irish expatriates based in Manchester are on a mission to save the longwave radio service that enables them to stay connected to what is happening back home.
Myra Butler, one of the people spearheading the campaign in Manchester, first heard of the plan to shut down the station in 2014 and said she was "dumbfounded".
That September, RTÉ had given just a few weeks' notice that they could close Radio One on LW252 at the end of October that year. At the time, Head of RTÉ radio Tom McGuire said this would provide an "opportunity for the listener to rune into the varied output of RTE Radio One in a new way".
"I went down the Irish Cultural Centre in Manchester that same day and got a pad and pencil and immediately started a petition to save the wavelength broadcast," Butler said. "The petition grew and grew. My friend, Margaret Golden, came on board and she gathered signatures in South Manchester. As a combined effort we got 1037 signatures, mainly from the elderly Irish."
A month later a delegation of ten travelled to Dublin and Myra handed the petition over to RTÉ officials. The group also met with then Minister for Communications Alex White to discuss the issue.
In an Oireachtas Communications Committee hearing in 2014, Senator Paschal Mooney read out correspondence from Irish people living abroad, with one man describing the move as "a smack in the face".
Source: Enda O'Kane/YouTube
There were three extensions, with a deadline now set for June 2019 and RTÉ is planning to launch a replacement service on DAB+ digital radio. However, campaigners in the UK are concerned that this change after 2019 will cut off many older Irish people who depend on the service.
"They are not, or never will be, conversant with internet technology. Can you just imagine the comfort of the little portable radio. Just picture it on the bedside table, on the kitchen windowsill, in the conservatory and out in the garden," Butler told TheJournal.ie.
"Not to mention the radio transmission when travelling. As soon as I sit in my car, RTE 252 goes on. It is my travelling companion. Having said that, I have two sons who travel the motorways of Britain every day and they tune in to it regularly."
Click here if you have trouble viewing the video
Enda O'Kane, a former ex-pat, no in his 80s and living back in Dublin, has played a significant role in this campaign. "I was an emigrant myself and I saw the need and the loneliness solved by some degree by having a voice from home in London," he said.
Many older Irish people over there are lonely, they're in their 70ss, many living in poor conditions. This is a voice from home. Many have never really integrated and they're in bedsits or hospitals or old folks' homes
He said that aside from the fact that the commitment to keep the LW252 is only in place until 2019, there are issues with the current service as it frequently cuts out late at night and is replaced by French-speaking station.
#Open journalism No news is bad news Support The Journal

Your contributions will help us continue to deliver the stories that are important to you

Support us now
"There is space there to move it into, they could fix it overnight. If Comreg issues a licence to RTÉ, they can move the channel away from that interference. A channel change is a near zero cost overnight solution," he explained.
"A digital service to our diaspora will have them abandon their working radios to the landfill for no valid reason and an unaffordable spend of perhaps £30 for a new one – if they are even within range of the proposed digital system which would be limited to certain UK cities."
Myra Butler said the loss of the service in 2019 will have a devastating impact on older Irish people living in the UK – it is a connection to a home that many will not return to before the end of their lives.
We rely on it for GAA matches. The Mass and other religious broadcast Sunday mornings is so comforting. The fact that the Mass is broadcast from all different regions of Ireland each Sunday is a bonus. Many a tear-stained wrinkled face lights up when they hear the Mass being broadcast live from their little church back home in Ireland. The little church where they were baptised or made their first Holy Communion in.
Back in March, then Minister of State for the Diaspora, Joe McHugh, said he was delighted there was a "way forward that takes into account as much as possible the views of older members of the Irish community in Britain".
He said research funded by his department "made clear that RTÉ is a fantastic resource for Irish people in Britain."
RTÉ told TheJournal.ie it is committed to the outcome of the consultative group in March – to launch a digital replacement service and shut off LW252 in 2019. It said it remains engaged with this group on the issue.