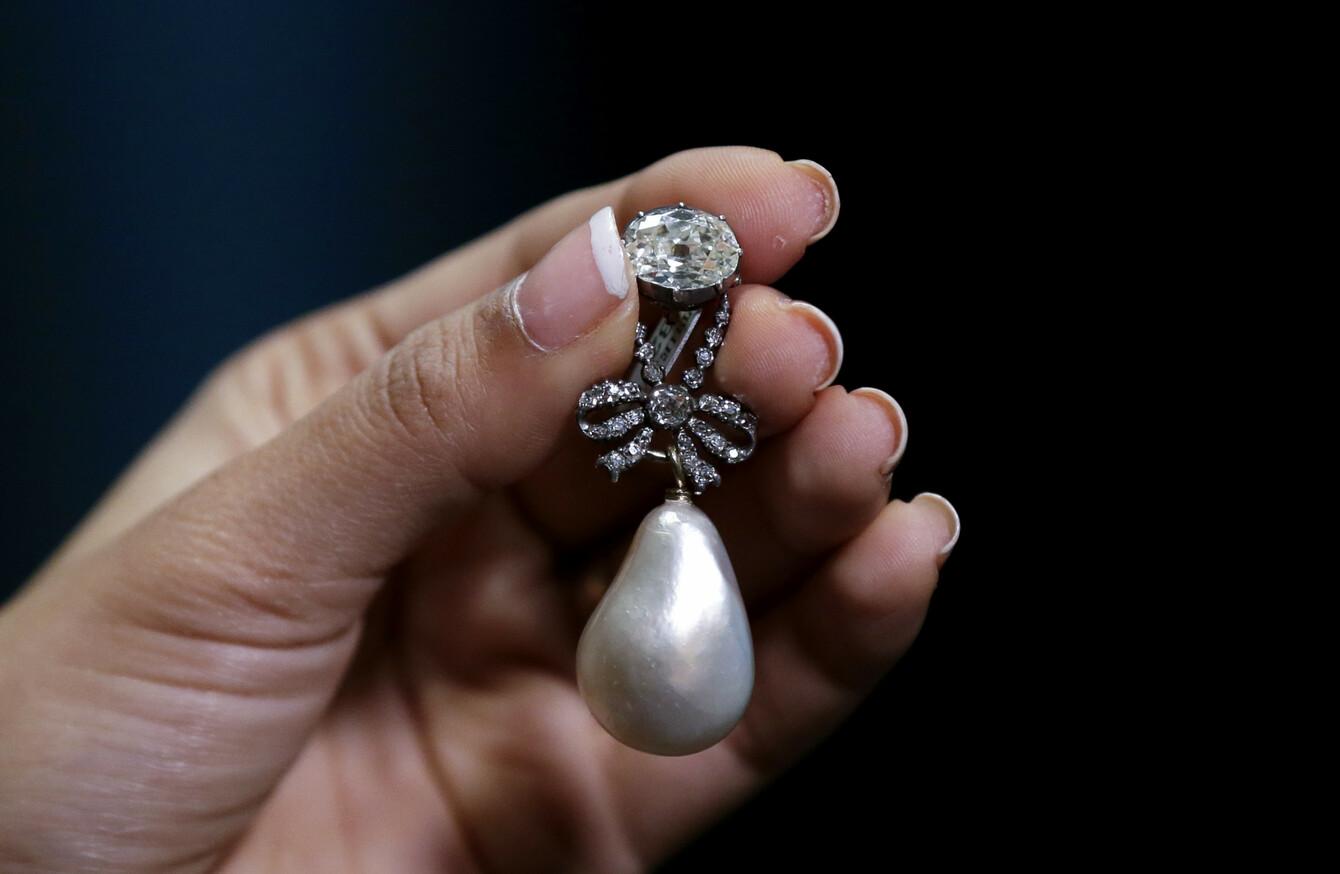 The oval diamond and drop-shaped pearl
Image: UPI/PA Images
The oval diamond and drop-shaped pearl
Image: UPI/PA Images
A PEARL AND diamond pendant owned by Marie Antoinette before she was beheaded during the French Revolution sold for €31.8m at an auction yesterday, shattering its pre-sale estimate of up to €1.75 million. 
The Sotheby's auction at an ultra-luxurious hotel on the banks of Lake Geneva saw feverish bidding for a 10-piece collection owned by the ill-fated queen, featuring jewels unseen in public for two centuries.  
The 10 items, which had been estimated to fetch a total of roughly €2.5 million, sold for a combined sum of nearly €37 million, Sotheby's said. 
A diamond brooch pegged to go for roughly €70,000 sold for €1.5 million, excluding fees, one of several pieces that brought in more than 20 times its estimated worth. 
But the highlight was the pendant featuring an oval diamond and drop-shaped pearl, which Sotheby's said went to an anonymous, private buyer, without giving further details. 
Sotheby's also said the pendant set a new record price for a pearl jewel sold at auction. 
"Marie Antoinette's pendant is simply irreplaceable and the price it fetched is about far more than the gem itself," Eddie LeVian, the chief executive of jewellers Le Vian, said in a statement. 
It captures everyone's imagination.
"This is the ultimate proof, if it were needed, that the world's ultra high net worth individuals love rare, natural fancy coloured diamond and pearls jewels as investments, and especially those with royal provenance."
Journey through Europe 
Marie Antoinette's treasures were the centrepieces of a sale featuring 100 jewels held by the Italian royal House of Bourbon-Parma. 
Sotheby's, which had billed the event as one of the most important royal jewellery auctions in history, said the night did not disappoint. 
The 100 lots earned a total of nearly €47 million – compared to a pre-sale estimate of €3.5 million – a performance that bested a previous record set in 1987 when Sotheby's sold a collection of jewel's once held by the House of Windsor.  
Marie Antoinette, who historians say was reviled by much of the French public over her lavish spending in the midst of a national financial crisis, was guillotined in Paris in October 1793 at the age of 37. 
After her death, her jewels followed a winding path highlighting European power dynamics in the 18th and 19th centuries. 
#Open journalism No news is bad news Support The Journal

Your contributions will help us continue to deliver the stories that are important to you

Support us now
According to accounts written by the queen's lady-in-waiting, Madame Campan, Marie Antoinette spent an entire evening in the Tuileries Palace wrapping all her diamonds, rubies and pearls in cotton and enclosing them in a wooden chest.
They were sent to Brussels, governed by her sister Archduchess Marie-Christine, before being sent on to the French queen's native Austria, and into the safe-keeping of her nephew, the emperor.
In 1792, the royal family was imprisoned in Paris. The king and queen were executed the next year, and their 10-year-old son died in captivity.
Only their daughter, Marie Therese of France, survived. She was sent to Austria in 1796, where she was given her mother's jewels.
She had no children herself, but passed on the treasures to her niece and adopted daughter, Louise of France, Duchess of Parma, who in turn left them to her son, Robert I (1848-1907), the last ruling Duke of Parma.
They have been privately owned by relatives ever since.