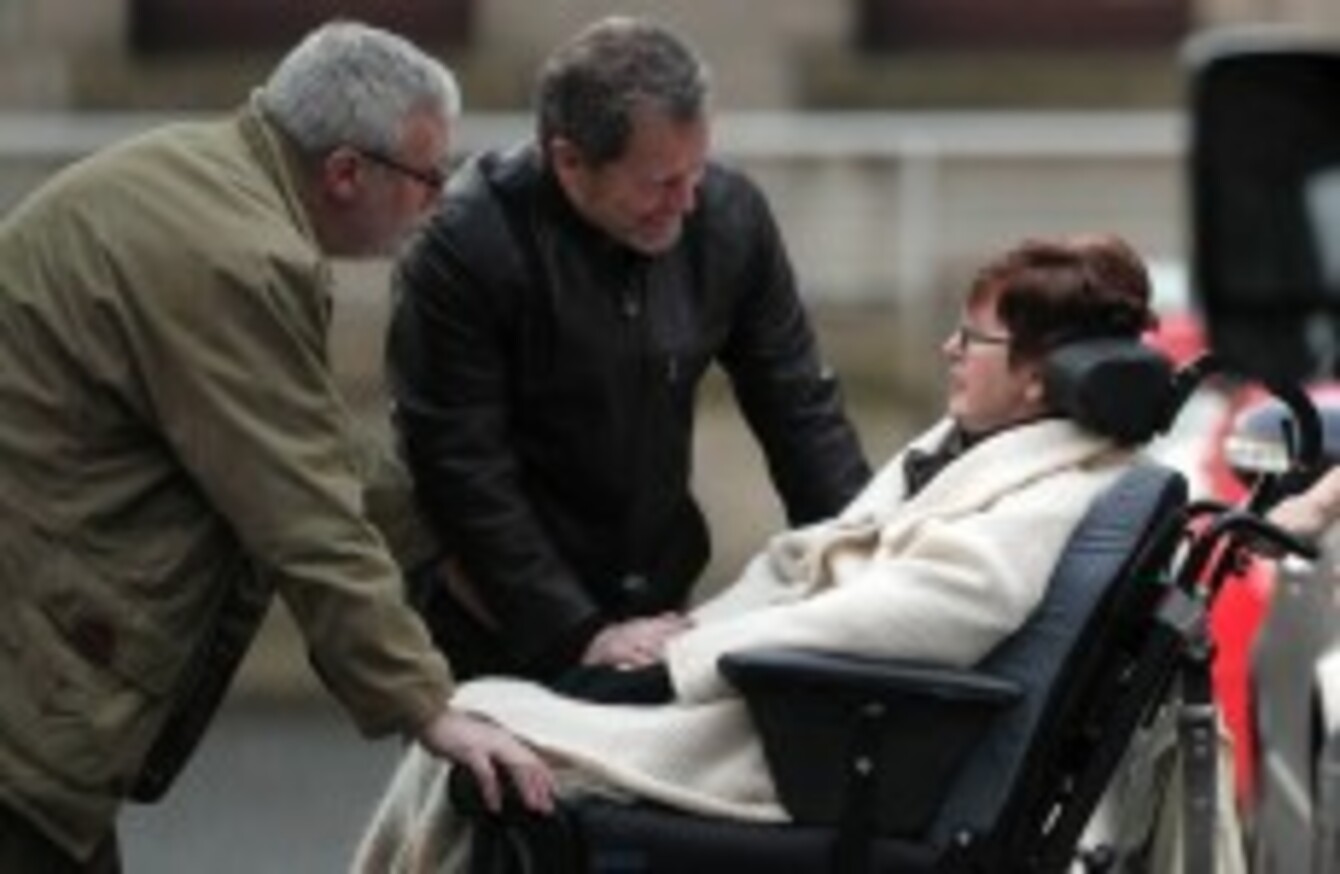 Marie Fleming (r) leaves the High Court in Dublin in January after losing her case
Image: Niall Carson/PA Wire
Marie Fleming (r) leaves the High Court in Dublin in January after losing her case
Image: Niall Carson/PA Wire
Updated 11:02
THE SUPREME COURT has dismissed an appeal from a seriously ill woman with multiple sclerosis (MS) who had sought to establish a constitutional 'right to die'.
The seven-judge court found that the Constitution did not give Marie Fleming a right to die, ending her hopes of being allowed to have her partner assist her in ending her life without the prospect of criminal sanction.
The Chief Justice, Susan Denham, described the circumstances of the case as "very tragic".
Delivering the ruling, Mrs Justice Denham noted that Marie Fleming had laid the foundation of her case on the express right to life in Article 40 of the Constitution, but said that the right to life does not import a right to die.
She said that there was no constitutional right to take one's own life or to arrange for one's life to be ended at a time of your choosing.
In delivering the ruling, the Supreme Court noted that there was nothing to stop the Oireachtas from legislating to allow for assisted suicide in such cases, once it was satisfied that appropriate safeguards were put in place.
Marie Fleming was not in court for the ruling.
The case would have had major implications if the judges had ruled in favour of the 59-year-old former UCD lecturer.
Fleming experienced her first episode of multiple sclerosis in 1986 when she was 32 years old, and was diagnosed in 1989 .
She has said that she considered travelling to a Dignitas assisted suicide clinic in Switzerland in 2008 but postponed her decision due to the location of the clinic and because of the wishes of her partner Tom Curran.
The Supreme Court noted that Fleming regrets not ending her own life before she lost the use of her arms.
In January, Fleming unsuccessfully argued at the High Court that the current laws were invalid under the Constitution and is a breach of the European Convention of Human Rights.  She also sought to ensure her partner would not be prosecuted if he were to help her end her life.
Her partner had agreed to assist her, but the couple would only proceed with their intentions if it was legal to do so.
Suicide has been decriminalised in Ireland since 1993, but helping someone to end their life remains a criminal offence and is punishable with up to 14 years in prison.
In the High Court ruling in January which found against Fleming's challenge, High Court president Mr Justice Nicholas Kearns wrote that there is a "profound difference between the law permitting an adult to take their own life on the one hand and sanctioning another to assist that person to that end on the other".
Additional reporting by Gavan Reilly