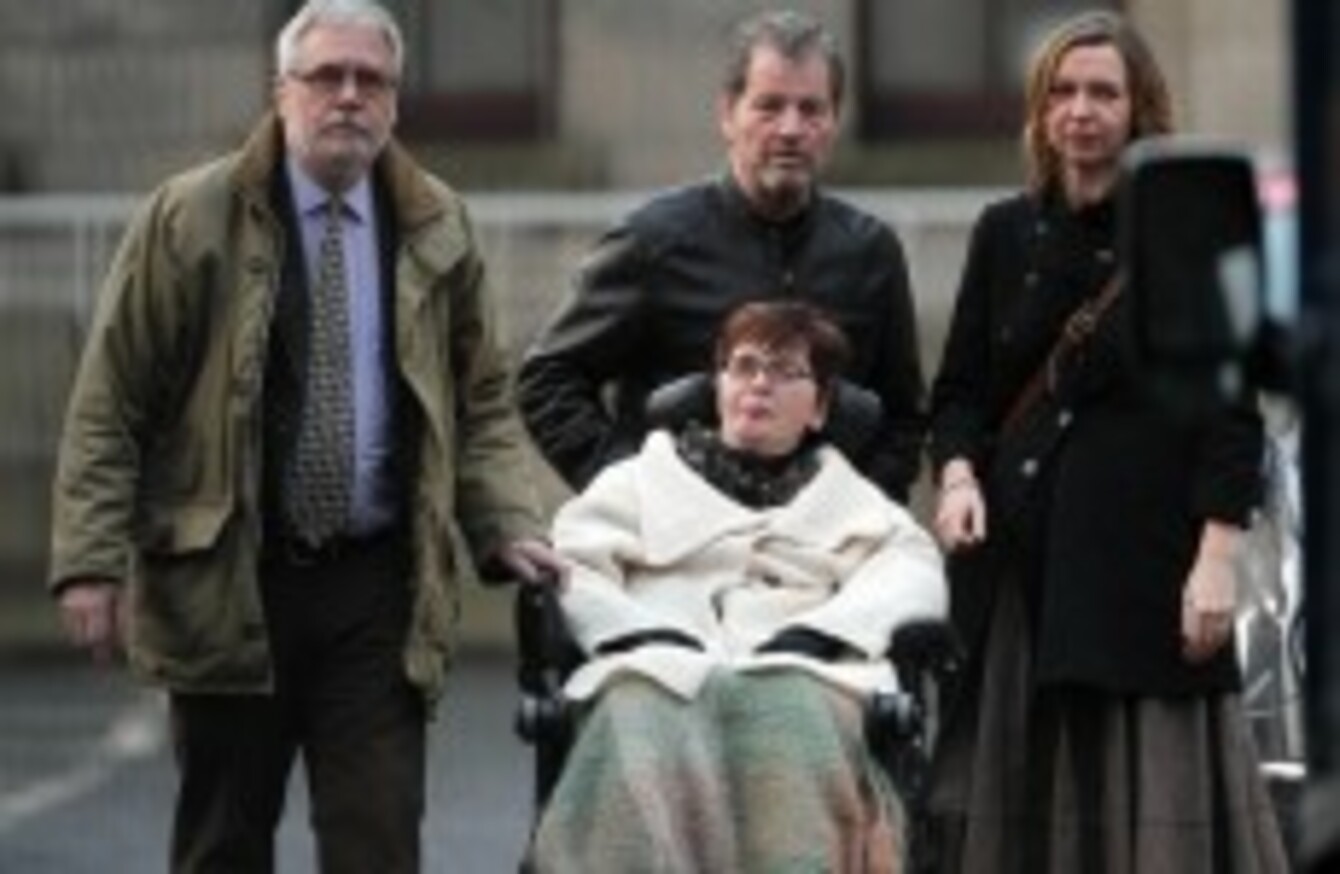 Marie Fleming at the High Court in Dublin in January with her partner Tom Curran (left), family friend Brian Gainey and daughter Corrina Moore.
Image: Niall Carson/PA Wire
Marie Fleming at the High Court in Dublin in January with her partner Tom Curran (left), family friend Brian Gainey and daughter Corrina Moore.
Image: Niall Carson/PA Wire
IN THE END, it took less than 10 minutes.
Marie Fleming was not in court yesterday morning as seven judges of the Supreme Court gave the final say from an Irish court on whether she would be able to end her own life with help from her partner.
There was standing room only in the small courtroom as the judges filed in just after 10.36am.
Chief Justice Susan Denham began by explaining what had led the former lecturer to bring the case.
Fleming, who is 59, experienced her first episode of multiple sclerosis (MS) in 1986, when she was just 32 years old, explained Denham. She was diagnosed in 1989.
Over the past 24 years, her condition has deteriorated significantly. A consultant neurologist who testified before the High Court in January said that he had found Marie Fleming to be about an 8.5 on a scale used to measure the progress of MS,  meaning that she is bed-bound for most of the day and has some use of her limbs.
However the Supreme Court noted that Fleming believes she has deteriorated since this assessment and is now a 9 or a 9.5 on the scale. The final point of the scale is 10, which signifies death from the disease.
There is no cure for the advanced stages of MS and there are no drugs to treat it.
Fleming gave evidence that she suffers frequently from severe pain which is at times unbearable. She can no longer control her electric wheelchair, needs help to eat and drink, and has to be washed, dressed and repositioned in her wheelchair. She is also losing her ability to swallow.
However, her cognitive functions remain unimpaired, and the court heard that there is no underlying mental illness which is affecting her decision-making capacity.
Mrs Justice Susan Denham told the court that Marie Fleming had considered travelling to a Dignitas assisted suicide clinic in Switzerland five years ago. However she postponed the decision because the location was so far away, and because of the wishes of her partner, Tom Curran.
"The appellant now claims that she would end her life if she were able to do so and regrets not doing so before she lost the use of her arms," said the Chief Justice.
Her wish is to have assistance for a peaceful dignified death in the arms of her partner with her children present.
However, she does not wish to leave a legacy behind where her partner or children would be prosecuted.
The ruling
Mrs Justice Susan Denham echoed the earlier findings of the High Court, which had dismissed Fleming's case in which she had sought to overturn the ban on assisted suicide on the grounds that it was invalid under the Constitution and argued that the ban breached the European Convention on Human Rights.
Fleming had also sought clarity from the Director of Public Prosecutions on whether there would be any discretion on prosecutions in cases such as hers.
Suicide was decriminalised in Ireland in 1993, but it remains a criminal offence punishable with up to 14 years in prison for anyone who helps someone else to end their life.
However, Mrs Justice Susan Denham told the court:
While suicide has ceased to be a crime, the fact that it has so ceased does not establish a constitutional right.
She said that Fleming's argument that she was being treated differently to the majority of the population because she was unable to take her own life due to her ill-health was rejected by the court.
#Open journalism No news is bad news Support The Journal

Your contributions will help us continue to deliver the stories that are important to you

Support us now
"The appellant laid the foundation of her case on the express right to life in Article 40.3.2," said Mrs Justice Susan Denham. "However that right to life does not import a right to die."
"Accordingly the Court concludes that there is no constitutional right  to which the State, including the courts, must protect and vindicate, either to commit suicide, or to arrange for the termination of one's life at a time of one's choosing."
Summing up, the judge said what had become evident to all in the room: the court was dismissing the appeal.
"In conclusion, for the reasons given, the Court would dismiss the appeal of the appellant in this very tragic case," she said.
There was silence in the courtroom. Marie's family, seated on the back bench of the small room, did not visibly react.
Mrs Justice Susan Denham  said there was nothing to stop the Oireachtas from legislating to deal with cases such as this once it was happy that appropriate safeguards could be introduced.
By 10.43, less than ten minutes after they began, the seven judges left the courtroom.