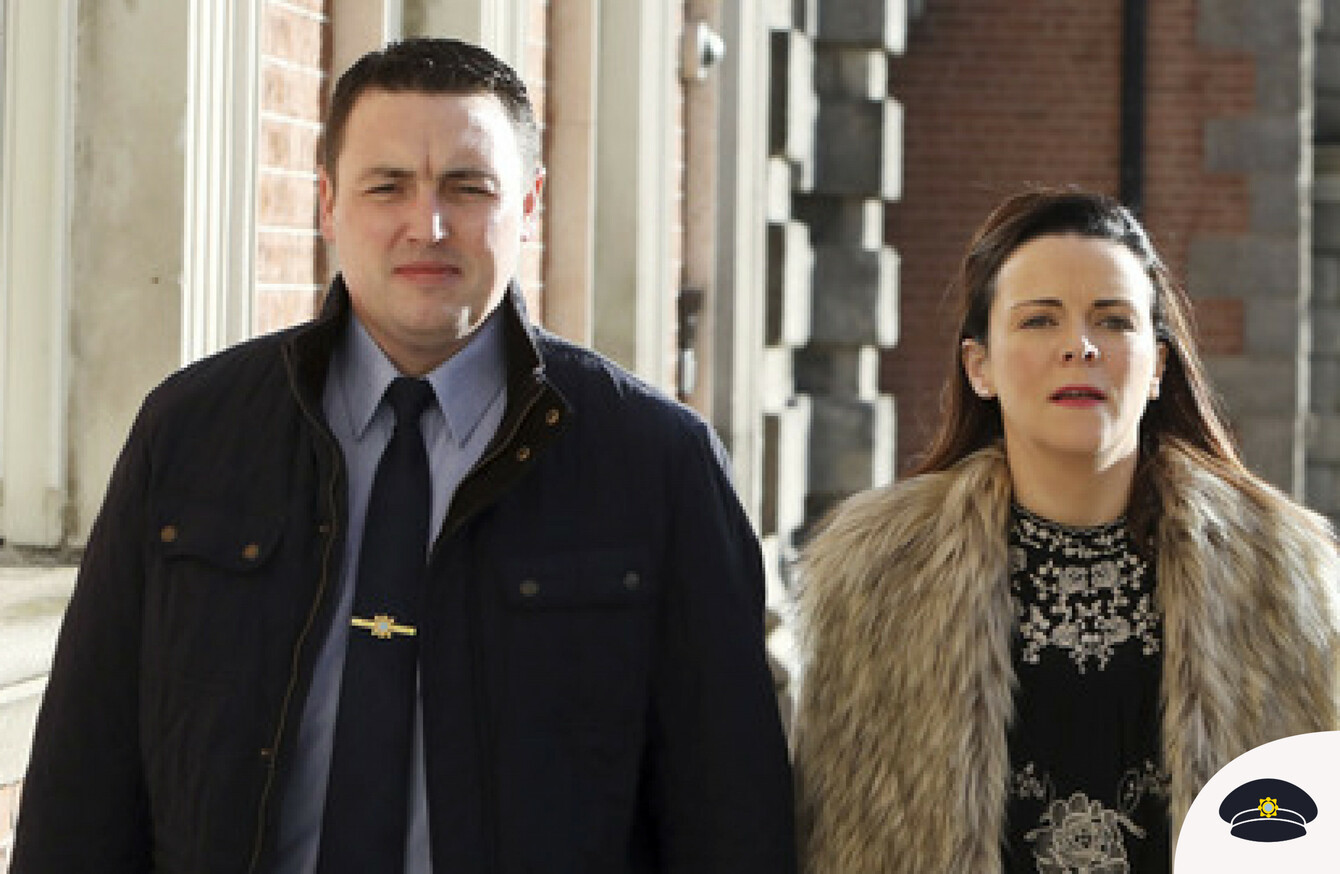 Garda Keith Harrison with his partner Marisa Simms.
Image: Leah Farrell/Rollingnews.ie
Garda Keith Harrison with his partner Marisa Simms.
Image: Leah Farrell/Rollingnews.ie
THE PARTNER OF a garda who says he was targeted for making a protected disclosure has told the Charleton tribunal that Garda Keith Harrison did not want "the fame of being a whistleblower".
Mark Harty SC, representing Garda Harrison, asked Marisa Simms what she made of suggestions that her partner was motivated by "attention seeking, jumping on the bandwagon and looking for fame in making a protected disclosure in May 2014″.
Simms said anyone who would suggest this was "not in possession of the full facts".
In the current module the Tribunal is looking at contacts between gardaí and the HSE/Tusla relating to Garda Harrison, which he alleges amount to an abuse of power.
The tribunal has not yet heard details relating to the protected disclosure.
"This, Tusla, is not even a snippet of what we have endured," Simms said today.
Simms said she had been followed into Dunnes Stores by garda cars flashing blue lights, that garda cars drove by her home slowly, and that she and Garda Harrison had received death threats.
"Absolutely no way was this for fame. No way," Simms said.
Statement
Tribunal chairman Justice Peter Charleton said the Tribunal was looking at how a statement was taken from Ms Simms in October 2013, and was not interested in "prurient exploration of anybody's private life".
"I don't believe that anybody giving evidence here has been in any way mistreated," the chairman said.
Garda Harrison, who gave evidence last week, told the Tribunal on Friday that he believes visits to his home by a social worker were due to inappropriate contacts with child welfare services by members of An Garda Síochána.
He said that he was told by Simms that social worker Donna McTeague apologised for having to make a home visit in February 2014, and said the visit was carried out because her superior had been in contact with An Garda Síochána.
However Tribunal counsel Pat Marrinan SC told him that Simms was no longer pursuing an allegation that McTeague had said she was under pressure from a superior who was under pressure from the gardaí.
The previous October, Simms had made a statement of complaint to gardaí about Garda Harrison, which she withdrew in January 2014.
Gsoc 
In today's proceedings, Simms said she first became aware a complaint had been forwarded to Gsoc, the Garda Ombudsman Commission, on her behalf on 8 October, 2013, when she received a telephone call from Gsoc case officer George O'Doherty.
Simms said she was in hospital at the time, and Gsoc was the furthest thing from her mind.
Simms denied she changed her mind about the complaint she had made in a garda statement on 6 October after she spoke with her partner.
"There was never any serious threat to begin with. There was never any sea change," she said.
Simms denied she was pressurised into changing her mind by Garda Harrison.
She said the statement she made to gardai was intended "for the chief's eyes only".
Garda Harrison told the tribunal that he believed the referral to Gsoc was motivated by malice towards him.
He said this stemmed from activities while he was stationed previously in Athlone, and because he was in a relationship with Marisa Simms, whose brother was charged with the manslaughter of Buncrana garda, Gary McLoughlin, following a car collision.
Social worker
The Tribunal also heard evidence from social worker Una Coll, who, she said, received an anonymous letter regarding the Simms family in 2012.
She then contacted Sergeant Brigid McGowan to get an accurate postal address for Simms as she did not recognise the address in the anonymous letter.
She said that she had given Sergeant McGowan a copy of the anonymous letter when it was requested. She said Sergeant McGowan was the Garda children's welfare liaison and not "some random person".
#Open journalism No news is bad news Support The Journal

Your contributions will help us continue to deliver the stories that are important to you

Support us now
She told the inquiry she was at a strategy meeting in October 2013, and she was told afterwards by Sergeant McGowan that a referral had been sent for the Simms children.
The tribunal chairman asked Coll how she would feel about gardaí "directing" an investigation should be carried out.
"That had never been something I have come across in my work with the gardaí," Coll said.
Coll said the welfare services consulted with gardaí, but "they do not direct us".
I wouldn't accept that any member of An Garda Siochana would see fit to direct how we carry out our job.
Principal social worker Gerry Hone told the tribunal he received a notification from Superintendent Eugene McGovern about the Simms children on 10 October, 2013. The notification identified Sergeant McGowan as the point of contact on the case.
Hone said the form "provides a mechanism to ensure there's a way to inform the HSE about any concern that emerges about a child's welfare".
Hone said a letter on 16 October from the HSE to gardaí updating them on the status of the case meant social workers needed more information before they could do anything, not that the case was closed.
"A box had been ticked on the form, indicating emotional abuse, but that was all," Mr Hone said.
Further information needed to be shared between the agencies if any action was to take place.
The Tribunal has previously heard that social worker Donna McTeague met with Ms Simms and Garda Harrison in February 2014, after which the case was closed.
Asked by the Tribunal chairman about the possibility that garda officers would direct social workers to look at a particular case, Hone said he had "never heard of that happening and I would be extremely concerned if I heard of it happening".
"I would never have experience of an outside agency trying to direct us in how to do something," Mr Hone said. "We make our own decisions."
Hone said that it would be "highly inappropriate" and that he would bring up any attempt to direct an investigation with gardaí.