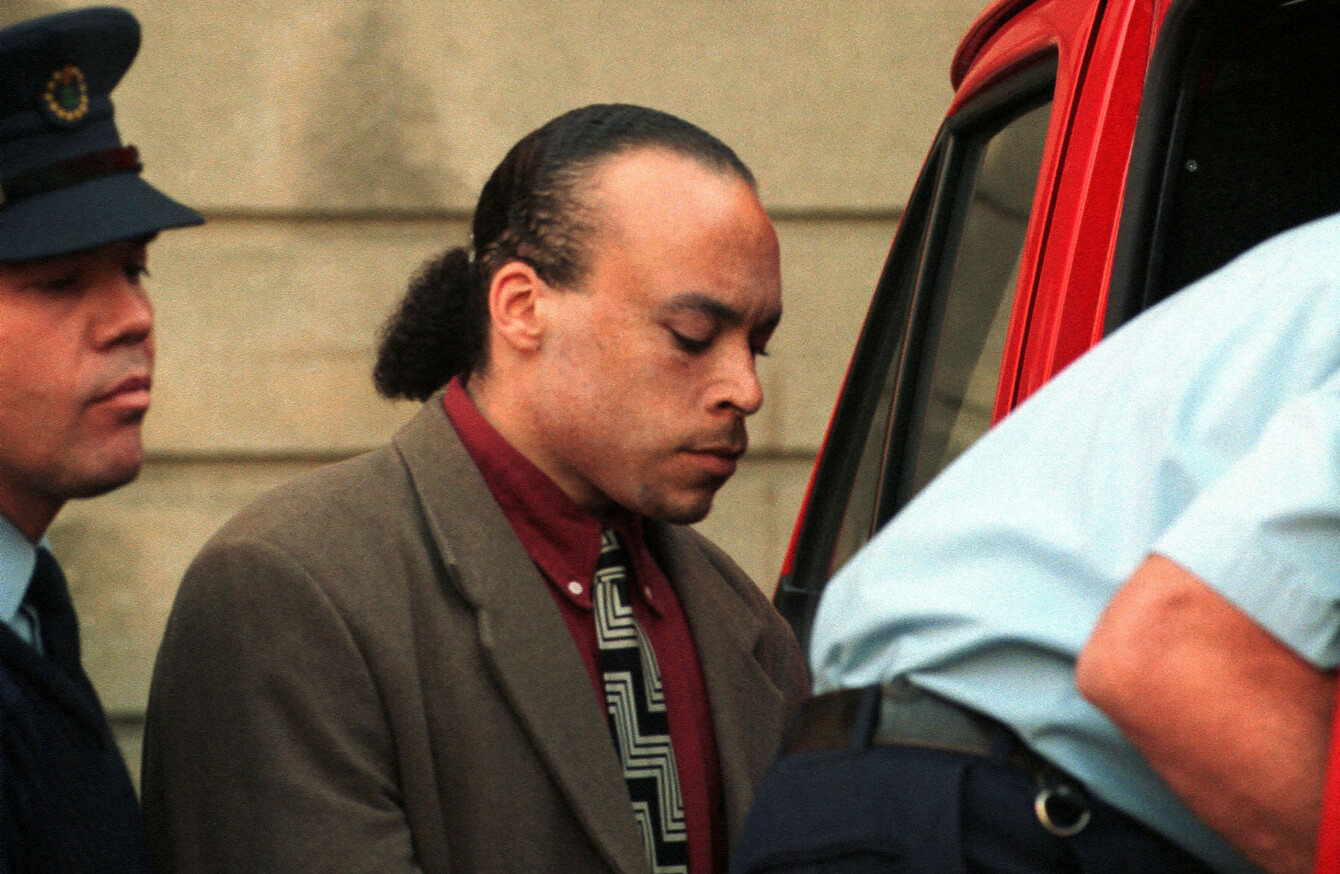 Mark Nash being led away from court in 1998.
Image: Leon Farrell/Rollingnews.ie
Mark Nash being led away from court in 1998.
Image: Leon Farrell/Rollingnews.ie
SERIAL KILLER MARK Nash has opened an appeal against his conviction for killing two women in what has become known as the Grangegorman murders.
Nash was found guilty in 2015 of the "cold case" murder of two women, whose mutilated bodies were found in sheltered accommodation in Grangegorman in Dublin twenty years ago.
The 44-year-old, who is originally from England but has last addresses at Prussia Street and Clonliffe Road in Dublin, had pleaded not guilty at the Central Criminal Court to the murder of Sylvia Sheils (59) and Mary Callanan (61) between 6 and 7 March 1997.
A Central Criminal Court jury found him unanimously guilty after deliberating for just over four hours and Mr Justice Carroll Moran accordingly gave him the mandatory life sentence on 20 April 2015.
Nash had already been serving a life sentence since October 1998 for murdering two people in Ballintober, Castlerea in Roscommon and leaving a woman seriously injured in mid-August 1997.
Opening an appeal against his conviction for the double murder today, his lead senior counsel, Hugh Hartnett SC, told the Court of Appeal that it was an unusual case and "in some senses extraordinary".
Shortly after the double murder, Hartnett said garda attention turned to a Dean Lyons as a result of things he was alleged to have said to other people.
Lyons was arrested and in a number of interviews "he confessed" not only in custody but to his parents and various other people, Hartnett said, before adding that Lyons' admissions were allegedly corroborated by factual evidence from the ground.
A short time later, he said Nash, who was in detention on foot of another double killing, made admissions to having carried the Grangegorman murders. Hartnett added that there were inconsistencies between the account he gave and what was found on the ground.
This lead to a very difficult situation for the gardaí and the DPP, Hartnett said. Various senior officers were tasked with examining what was going on.
A "tremor" had gone through Garda Headquarters when two people were confessing to these murders, the court heard.
Hartnett said Lyons died in 2000. Prior to that he had been visited by two senior gardaí but they never asked him how he had such significant knowledge of the scene of the crime such as details of the murder and how the deceased had been stabbed and died.
He said the DPP were no longer in a position to proceed with a prosecution. The case against Mark Nash was discontinued and he was not charged.
A jacket had been seized from Nash's house and there were issues around the admissibility of that. It was tested. Nothing of probative value was found. There was no evidence of blood staining.
At the time, Hartnett said a lot of material – something the size of a fifty pence piece – was required in order to get a DNA profile.
Nearly ten years passes and science advances. It was now possible to get DNA from material that was invisible to the naked eye, he said.
Hartnett said DNA was found around the button threads of Nash's jacket but it was not possible to say whether it was a tiny piece of blood, hair or a skin cell. It was a tiny speck and on that basis, Hartnett said, the DPP decided to prosecute.
The appeal continues before the three-judge Court of Appeal this afternoon.
Comments have been closed for legal reasons