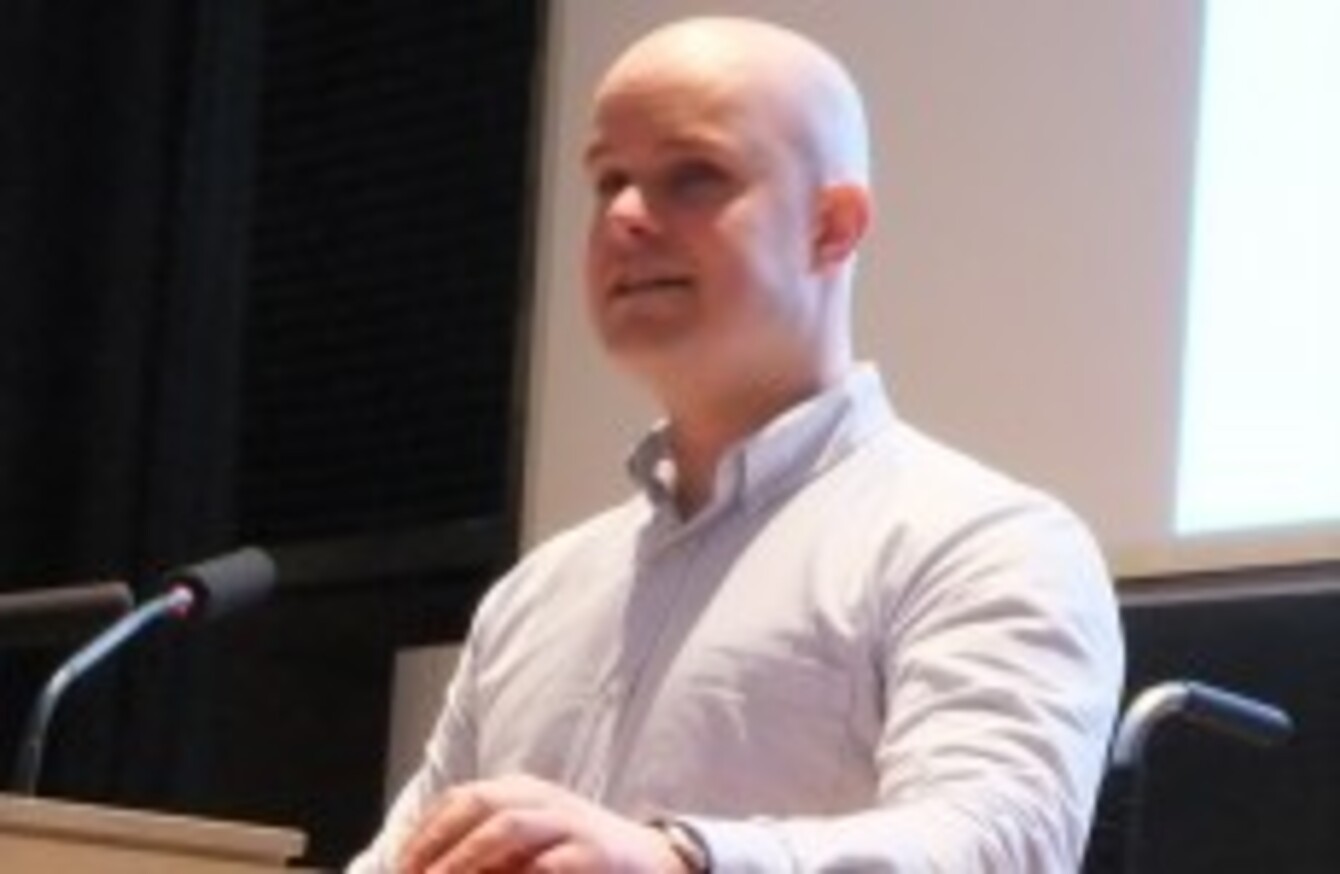 Mark Pollock speaking at his talk in TCD this week
Image: Paul Hyland via TheJournal.ie
Mark Pollock speaking at his talk in TCD this week
Image: Paul Hyland via TheJournal.ie
ADVENTURER, AUTHOR AND motivational speaker Mark Pollock has described how he hopes to defy conventional wisdom and walk again, two years after he broke his back in a fall.
At a talk in Trinity College Dublin earlier this week, Pollock spoke to the audience about the subsequent trials and tribulations he has faced since the accident.
Pollock had attended TCD and had been months from finishing his degree in 1998, after having already captained the college's rowing team to success and with a graduate job lined up in London.
At 22, however, he lost his sight, leaving him "blind, with no degree, no (rowing) crew and no job."
Between 1998 and 2008, he took part in numerous adventure races, aided by people who were "prepared to think differently about what was possible for me, what was possible for us" and doing it all "not because I was blind, but because I wanted to race again, to compete again."
The list of events was near endless, including the Commonwealth Games, Ironman Switzerland, the North Pole marathon. the Everest marathon, the Dead Sea ultra marathon, 6 marathons in 7 days in the Gobi Desert and the Round Ireland yacht race before finally coming "from the lows of the blindness to the highs of the South Pole."
The adventures were put on hold in 2010, however, when a fall from a second floor window left him paralysed from the waist down. Describing the immediate aftermath to the TCD audience, Mark described his initial feelings of helplessness:
As I had moments of clarity, peppered with hallucinations from the morphine that I was on, I wondered to myself whether dying would be a better outcome than what was happening.
Reconciliation with what had happened finally came, however:
I didn't choose to have the accident, I didn't choose any of it, the injury, the consequences, none of it, but I've come to accept that sometimes challenges choose us.
Looking back on his South Pole achievement before his fall, Mark joked that "now that I'm in a wheelchair I'd have to push myself there."
Questioning conventional wisdom
While vowing to "stay fit, get on with life, but at the same time accept being in a wheelchair for life," Mark is already trying to walk again.
Continuing his trialling of robotic legs with Ekso Bionics in Berkeley, California, Mark revealed that after ten trips he can now walk using these with the help of just one other person.
#Open journalism No news is bad news Support The Journal

Your contributions will help us continue to deliver the stories that are important to you

Support us now
Cautious but hopeful, Mark is determined to keep trying, with hopes of healing himself "from the inside out" by attempting "reroute the nerves around the injuries".
What happens if conventional wisdom is wrong? I'm starting to move things below the level of my injury which conventional wisdom says I shouldn't be able to.
While qualifying his progress with more humour – "I won't be tripping the light fantastic anytime soon" – Mark continues to look forwards instead of backwards.
Face up to now because now keeps changing and now keeps getting better.
The talk, organised by the charity Acorn Ireland, raised funds for both Special Olypmpics Ireland and the Mark Pollock Trust.
Mark Pollock

Mark Pollock

Mark (left) before the Everest Marathon

Mark Pollock

Mark (right) in the Gobi Desert

Mark Pollock

Mark taking a breather in the Gobi Desert

Mark Pollock

Mark (left) kayaking in the Irish Sea

Mark Pollock

Taking part in Ironman Switzerland

Mark Pollock

Mark (left) taking part in Ironman Switzerland

Mark Pollock

Mark (center) in his Trinity rowing days

Mark Pollock

Mark (right) crevasse training in preparation for the South Pole

Mark Pollock

Mark Pollock

Mark Pollock

Mark at the South Pole with his flag containing the images of those who sponsored him
(All images courtesy of Mark Pollock)