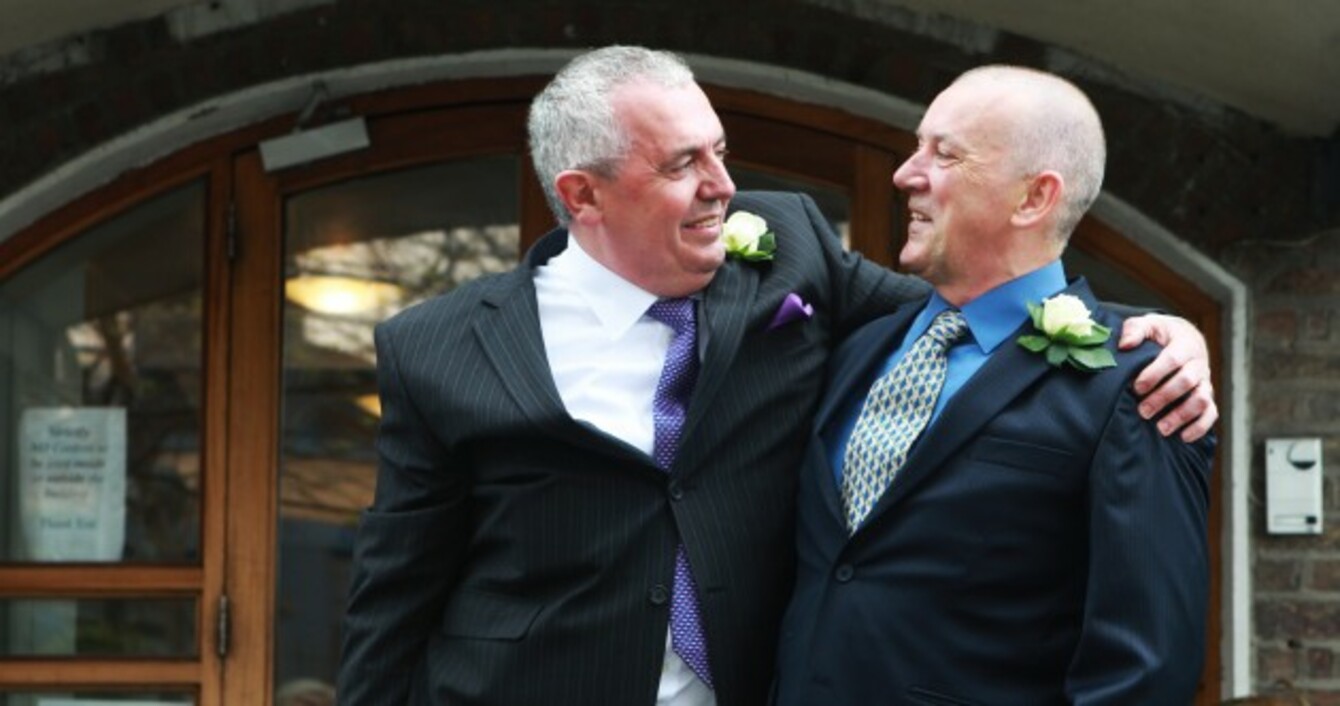 Thomas Cahalan and Nicholas Nelson became the second male couple in Ireland to enter into a civil partnership in 2011.
Image: Leon Farrell/Photocall Ireland
Thomas Cahalan and Nicholas Nelson became the second male couple in Ireland to enter into a civil partnership in 2011.
Image: Leon Farrell/Photocall Ireland
Updated: 15.43
THE GOVERNMENT HAS released the wording that people will vote on in the Marriage Equality Referendum due to take place in May.
Justice and Equality Minister Frances Fitzgerald briefed opposition TDs on the wording this afternoon, after the Cabinet finalised it earlier today.
People will be asked to decide whether the following new wording should be added to the Constitution:
'Marriage may be contracted in accordance with law by two persons without distinction as to their sex.'
Fitzgerald also confirmed that the Government is separately preparing an Implementation Bill which will address the changes to legislation that will be needed if the referendum is carried.
This will include changes to the Civil Registration Acts to remove the impediments preventing same-sex couples from being able to marry. The Minister will bring the General Scheme of the Implementation Bill to Government in February.
Speaking today, Fitzgerald said:
"The issue is one of equality, Marriage Equality. It is about removing the barriers which deny some couples the chance of marrying and of having relationships that are constitutionally protected."
The question is whether or not a new category of couples can have an equal right to marrying and to enjoying the protection of marriage afforded by the Constitution.
"Ultimately it is for the people of Ireland to decide. I hope we can have a constructive and respectful debate which will help to inform and engage citizens on this important issue. I would encourage everyone entitled to vote in these referendums to participate fully in our democracy by ensuring that they are registered to vote and to go to the polls in May."
Labour TD Ciara Conway said Ireland has the "historic opportunity to become the first country in the world to introduce marriage equality by way of popular vote".
It is important that all those in favour of marriage equality up the ante now in campaigning for a 'Yes' vote. The polls show that a significant majority of Irish people are in favour of marriage equality. However, we cannot become complacent. There is still a long campaign ahead of us.
Fianna Fáil's equality spokesperson Niall Colllins said the party is "happy to support the upcoming referendum" and welcomes the "clear and concise" wording.
He said Fianna Fáil will be engaging in a "very robust campaign" nationally in favour of a 'Yes' vote.
No one 'becomes gay'
Collins said that, if passed, the Bill will "afford people of the same sex the protection of the Constitution and recognise their marriage the same as man-and-woman marriage".
He said the upcoming law that covers gay couples jointly adopting children is a separate issue, but one he supports.
If gay or lesbian couples wish to adopt, absolutely, I have no issue with that whatsoever.
Sinn Féin leader Gerry Adams said today's announcement marks "a very significant step in the road to equality" as it deals with "a very necessary human right for citizens".
Both Collins and Adams called for a "respectful" debate.
"This can only make this State a better place," Adams stated.
No one becomes gay, you're born gay – it's just giving these people the rights they're entitled to as part of  their birth right.
Marriage Equality Chair Gráinne Healy said the upcoming campaign will explain "why marriage matters to lesbian and gay couples".
"Irish people rightly take constitutional change very seriously and our job over the next four months will be to engage in a national conversation with the citizens of Ireland to understand and assuage any concerns, and to encourage people to have their voices heard on the day" Healy stated.
Originally published: 13.41