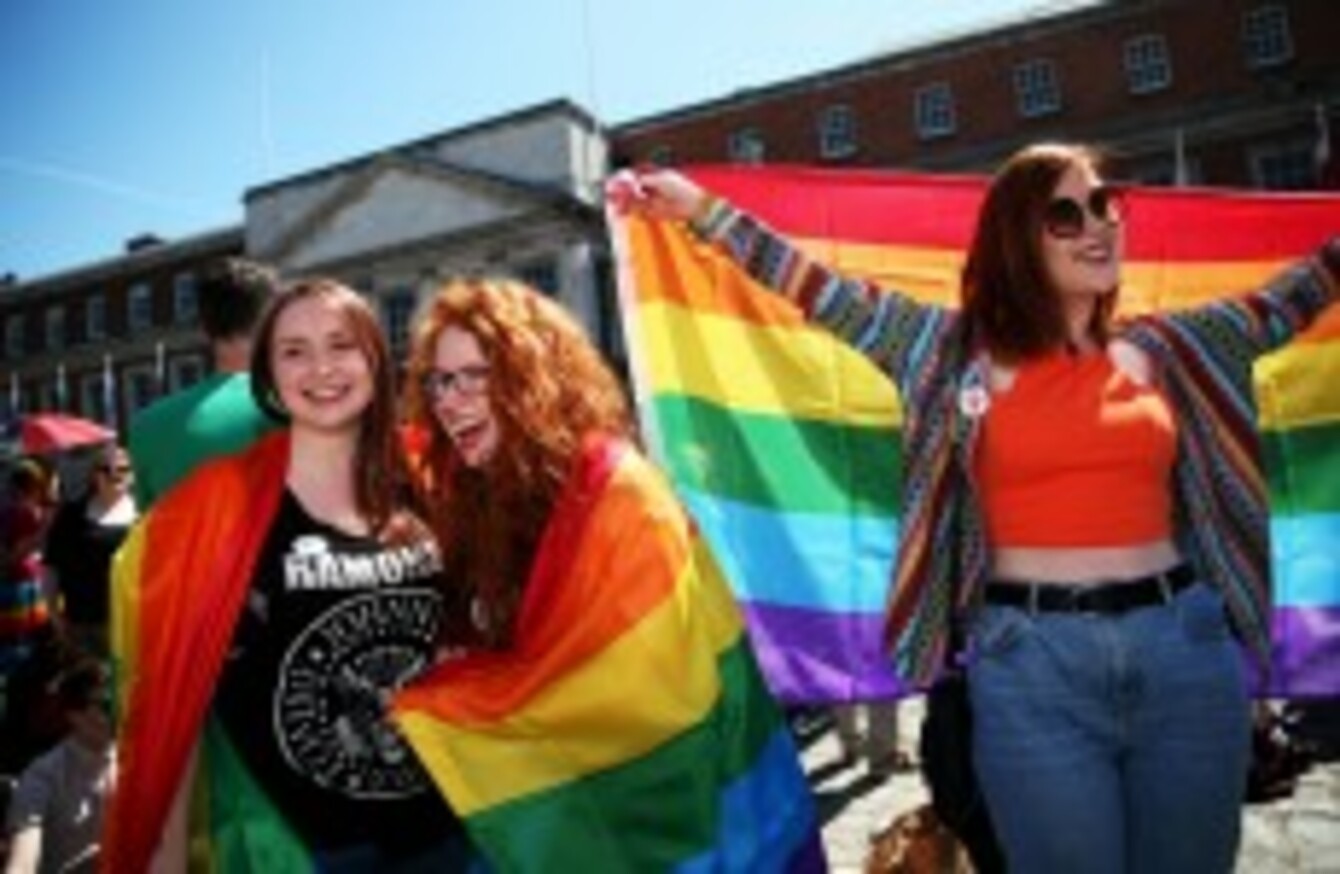 Image: PA WIRE
Image: PA WIRE
Updated 4.36 pm
THE HIGH COURT has denied two applications to challenge the result of the marriage equality referendum.
Rejecting the applications, President of the High Court Nicholas Kearns said that, in order to allow leave for an appeal, there must be reasonable grounds to believe that the matters raised affected the result the referendum.
"A matter doesn't turn on strongly held objective views, no matter how sincerely held they are," he said.
The court had heard from Gerry Walshe and Maurice Lyons who were both seeking leave to appeal the referendum.
Walshe, an electrician from Co Clare, said that "this is not an anti-gay issue, it's a failure of the referendum process."
Making his own submissions before Kearns, Walshe outlined a number of grounds for his request for a challenge.
Questions over posters
He said that the Irish people were entitled to a "fair and impartial referendum" and cited the McKenna judgment, arguing that spending on the campaign must be balanced on both sides.
He claimed that Yes posters were 7-10 times more numerous than No posters around the country.
"These were not free," he argued.
He said that at one particular shopping centre in Co Clare there were nine Yes posters, six from Fine Gael and three from Labour.
"I take it as an accepted principle that the government are not allowed to fund a campaign to achieve a particular result," he said.
At this point, Justice Kearns said that it was central funding that is not allowed to be used for funding a particular side of a referendum.
Walshe said that he had concerns about the monitoring of government funding.
He also made a number of other arguments to back up his concerns, questioning the availability of the proposed bill at Post Offices.
Judge Kearns said that this was no longer an legal requirement and he told Walshe that this could easily have been checked by him online before he came to court.
Walshe said that the internet access is poor in his area and that it frequently "cuts out".
He also questioned the the secrecy of the ballot in the referendum.
He made reference to serial numbers on ballot papers and CCTV monitoring near polling stations. These could be used together to match voters with individual votes, he argued.
In rejecting the application from Walshe, Justice Kearns said found 'no grounds' to allow an appeal to go ahead.
Repugnant
The second application was being brought by Kilkenny gardener Maurice Lyons. He sought to challenge the result on a number of Constitutional grounds.
He argued that the proposal was repugnant to the constitution because it brought uncertainty to it.
Lyons said that the referendum would require a number of statutes to be introduced and that these were not seen by the people ahead of the vote.
He also argued that the referendum was passed by only 37% of the Irish citizens who are registered to vote.
The decision by those to 'stay at home' and not vote should be considered a desire to maintain the status quo, he argued.
In rejecting the appeal on this argument, Justice Kearns said that this was a "very radical submission".
The State, namely the Attorney General and Referendum Commission, argued that the referendum was passed by the Irish people with a "thumping majority".
Justice Kearns made reference to this and said that the size of a majority "has been identified by the Supreme Court as a fact that can be considered significant."
Costs were also awarded against both men with the judge adding that he "may have taken a different view had any substantive arguments been made." This was not the case.
Urgency
Earlier, both applicants had requested that the proceedings be adjourned to allow them time to review responding submissions from the State.
Justice Kearns refused this request for the adjournment saying that "this is a matter of urgency".
"There could be couples with serious illnesses with plans that could be put on hold," he said.