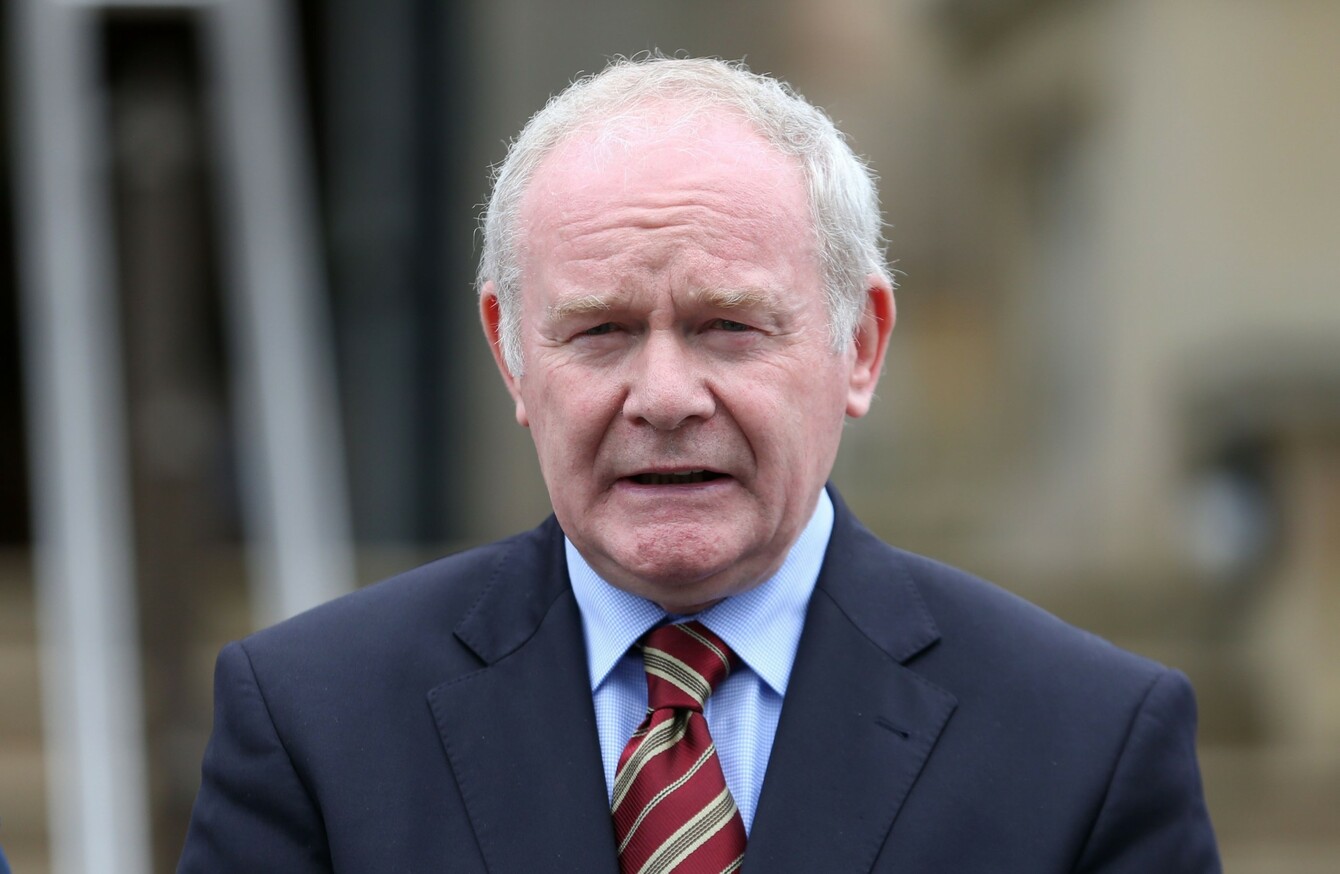 First Minister Martin McGuinness.
Image: Liam McBurney
First Minister Martin McGuinness.
Image: Liam McBurney
FORMER NORTHERN IRELAND deputy first minister Martin McGuinness has died aged 66.
The news comes after a period of ill-health for McGuinness, who resigned in early January from the role of Deputy First Minister over the 'cash for ash' scandal.
He announced on 19 January that he was stepping down from politics, saying he was not "physically able to continue in my current role".
Sinn Féin released a statement this morning saying that McGuinness had died in Derry during the night.
McGuinness said in January that he had always planned on stepping aside in May of this year, 10 years after he became Deputy First Minister, but that his "health and the current crisis" had overtaken this planned timeframe.
"Over the last ten years I have worked tirelessly to make power-sharing work," he said at the time. He also spoke of the impact of his illness:
But I want to be open and honest with my friends and colleagues in Sinn Féin, with the electorate of Foyle and with the wider community beyond my own constituency. I also want to be fair to my family and to the teams of carers who are doing their best to provide me with the treatment I now require to deal with this very serious medical condition which I am very determined to overcome.
He was replaced in his role by Michelle O'Neill, a long-time Sinn Féin member.
McGuinness's resignation led to an election in Northern Ireland, which resulted in the DUP being left with just 28 seats - one ahead of Sinn Féin.
It also meant that, in a post-McGuinness era, unionist parties would no longer command a majority in the Assembly for the first time since the establishment of the power-sharing executive in 1998.
"Throughout his life Martin showed great determination, dignity and humility and it was no different during his short illness," Adams said.
"He was a passionate republican who worked tirelessly for peace and reconciliation and for the re-unification of his country. But above all he loved his family and the people of Derry and he was immensely proud of both.
"On behalf of republicans everywhere we extend our condolences to Bernie, Fiachra, Emmet, Fionnuala and Grainne, grandchildren and the extended McGuinness family.
I measc laochra na nGael go raibh a anam dílis.
Northern Ireland
To look back at Martin McGuinness's career is to look back at a history of modern Northern Ireland and the compromises that had to be made to bring about peace.
The tributes he received after the announcement of his resignation were proof of how much had changed - Ian Paisley Jr wished him well, saying:
I think it's important to reflect on the fact that we would not be where we are in Northern Ireland in terms of having stability, peace and the opportunity to rebuild our country if it hadn't have been for the work that he put in, especially with my father, at the beginning of this long journey.
The elder Paisley's unexpectedly jovial relationship with McGuinness is one of the hallmarks of how things had changed in Northern Irish politics in the past number of decades.
Born into a Roman Catholic family in Derry in 1950, McGuinness became involved with the Republican cause at a young age. By 21, he was the second-in-command of the IRA in his home city.
As a youth, he witnessed the burgeoning civil rights movement in Derry, such as the pivotal 1968 housing march. Footage of the march – which, along with all parades on the day, had been banned – showed RUC members striking unarmed civilians with batons.
But in 1973, during the Troubles, he found himself being jailed after being arrested near a car that contained explosives and ammunition.
He was also convicted in the Republic of Ireland for IRA membership.
After being released from prison, McGuinness stepped up his work with Sinn Féin, and was elected to represent Derry in the then-Northern Ireland Assembly in 1982.
Questions about McGuinness's IRA past continued to be a focus throughout his career. He refused to be drawn on whether he actually pulled the trigger to kill a British soldier or police officer. In 2015, when asked this question by journalist Eamonn Mallie, he said:
I never talk about shooting anybody but I do acknowledge I was a member of the IRA and as a member of the IRA I obviously engaged in fighting back against the British army.
"You mean killing, Martin, don't you?" Mallie asked him.
"What I am not going to do is give people a sensational headline by saying on such a such a night I was involved in a gun battle with the British army and 25 British army soldiers were killed. I am not going to do it and I'm not getting into that," came McGuinness's reply.
"I would have felt ashamed if I had not been part of the resistance and part of fighting back against the forces of the State. And remember, the forces that I fought against were armed to the teeth with the most modern weapons imaginable…".
McGuinness said in the same interview that, 40 years on, he was still proud that he had been a member of the IRA. For him, it was about having a "responsibility" to "fight back" for people in his own community who "were being treated like second- and third-class citizens".
It was about sending a "powerful message" to London about what was going in the north of Ireland, but McGuinness acknowledged that the Troubles did involve a vicious cycle of conflict and deaths of innocent civilians.
McGuinness's past was also brought to the fore during the Bloody Sunday inquiry.
He rejected a suggestion in the inquiry's 2010 report that he was probably armed with a sub-machine gun on the day.
In a 1993 documentary, The Cook Report, McGuinness was accused of not leaving the IRA in the early 1970s, and instead of continuing his work within it. McGuinness denied the claims. Michael McDowell, the then-Tánaiste, claimed that McGuinness was one of the members of the IRA Army Council in 2005 – again, this was denied by McGuinness.
As the Independent reported at the time:
The allegations have given new life to Unionist arguments that Sinn Fein should be banned because it is no more than a front for the IRA. On the programme, Sir John Hermon, former Chief Constable of the RUC, said the two organisations were 'inseparable' and Mr McGuinness had long been 'very central to what is going on'.
In an interview in the 1980s he spoke about Republican activists facing the penalty for "going over to the other side" – death.
In later years, McGuinness would play a key role in the Northern Ireland peace process, taking on the job of chief negotiator for Sinn Féin in the talks that led to the Good Friday Agreement.
When the peace process eventually led to the setting up of a power-sharing executive, he first took the role of Minister for Education, later ascending to become Deputy First Minister in 2007 – with the DUP's Ian Paisley taking on the First Minister role.
This came after the St Andrews Agreement, which finally brought devolution of power to Northern Ireland and saw longtime foes the DUP agreeing to share power with Sinn Féin.
In 2011, McGuinness ran in the Irish presidential election – despite the fact he was unable to vote in it himself.
Twists and turns
McGuinness's career took some unexpected twists and turns. In the 1970s, little could he have imagined shaking the Queen of England's hand – never mind having a private meeting with her.
But both of these happened, signalling a change in Sinn Féin's approach to compromise.
Asked by Jeremy Paxman what "on earth" he was doing "breaking bread with the head of an occupying power", McGuinness said:
I have many reasons why I shouldn't meet with Queen Elizabeth, but she too has many reasons why she shouldn't meet with me. But we both thought it was an important thing to do.
There was also his unexpectedly friendly relationship with Ian Paisley, leader of the DUP, when he was First Minister.
"I have a working relationship with Peter [Robinson]," McGuinness told The Nolan Show in 2014 of Paisley's successor.
I mean, I'm in a position of Deputy First Minister for seven years now, and it all started with the relationship with Ian Paisley and to the surprise of many people, Ian Paisley and I had not just a good working relationship but a good personal relationship, which has existed to this very day.
McGuinness said in the same interview that he was told one of the reasons Paisley had to go was his close relationship with the Sinn Féin member.
"I think that an essential phase of the whole process of conflict resolution is the importance of reconciliation between political opponents and between everybody in the community," said McGuinness.
Resignation
One of the biggest steps in his later career was to resign over the Arlene Foster 'cash for ash' scandal. In doing so, he left the power-sharing executive on shaky ground, with the prospect of a new election looming.
It was a decision driven by Sinn Féin and McGuinness's frustration with Foster's role in the scandal, and their claims that the DUP had never "fully" embraced the "equality, mutual respect and all-Ireland approaches enshrined in the Good Friday Agreement".
McGuinness had to pull out of a number of engagements late last year and early this year for health reasons, but said at the time that his health was not part of his decision to resign.
With reporting from Cormac Fitzgerald