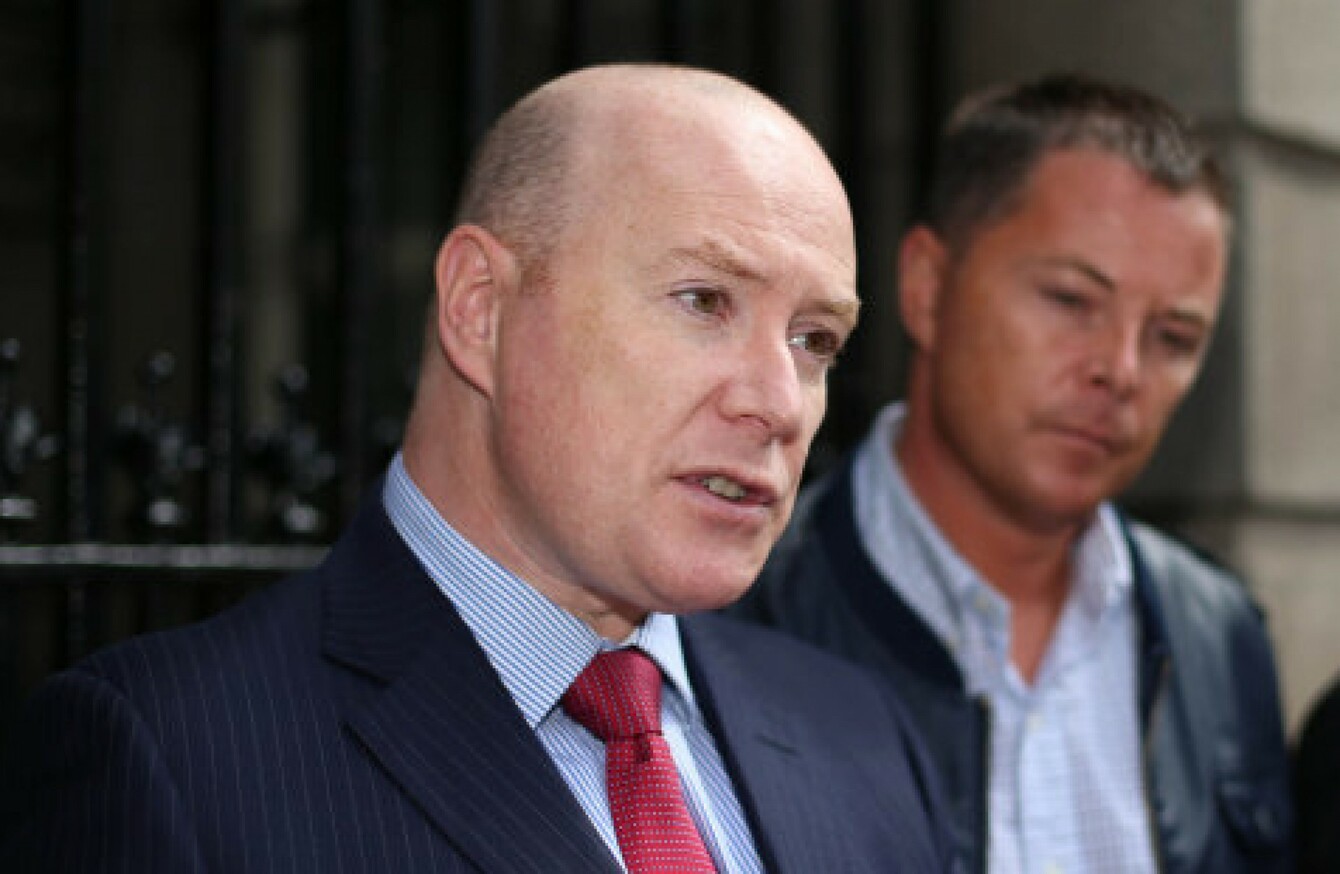 Image: Niall Carson
Image: Niall Carson
AUSTIN STACK, WHOSE father was killed by the IRA, said the wording on the headstone of Martin McGuinness is mind boggling and insulting.
The headstone, which was was unveiled at the republican plot at Derry City Cemetery on Easter Sunday, reads:
"In Proud and Loving Memory of Óglach Martin McGuinness, Óglaigh na hÉireann, MP, MLA, Minister, Died March 21st, 2017."
"Óglaigh na hÉireann" is the official name for the Irish Army but the IRA used it as its name for years, it translates to 'soldier of Ireland'.
Speaking to Joe Duffy on RTÉ Radio 1, Stack said, "When Sinn Féin and the Republican movement erect a headstone like that, that is again retraumatising, it's again rubbing our noses in it.
"It's absolutely mind boggling, particularly that Mary Lou McDonald would be the one to unveil this.
Sinn Fein are telling us they've moved away from this sort of activity and they've moved into a realm of democracy but yet we have a Deputy Leader of a political organisation and she goes up and unveils a headstone which clearly has Oglaigh na hÉireann on it.
"There is only one army and I would call on Mary Lou McDonald to say if she recognises Oglaigh na hÉireann as being the legitimate army of the state here?
"They obviously knew beforehand what the wording was going to be. It's very insulting."
 'McGuinness never reconciled with his victims'
Prison Officer Brian Stack was shot by members of the Provisional IRA as he left a boxing match in Dublin in 1983. No one was ever convicted of his murder.
Austin said, "My brother Oliver went to meet with IRA in 2013, they admitted they killed my father but crucially they tried to coax that by saying it wasn't sanctioned by the army council but we actually know it was and I have fairly concrete information in relation to that.
"Martin McGuinness was on the army council of the IRA when my father was shot, he never tried to reach out to myself or with David Kelly or other victims.
During the 2011 Presidential election, his mantra when he was approached and when the topic came up was that the victims needed to move on but I'm living with this everyday, these are the consequences.
#Open journalism No news is bad news Support The Journal

Your contributions will help us continue to deliver the stories that are important to you

Support us now
Duffy made the point that the Irish flag was flown at half mast over Government buildings and the funeral of McGuinness was attended by the Taoiseach and many ministers.
Stack said, "I was one of the people who criticised the media for the way that they fell into the trap and the way that funeral was choreographed … and it was very unseemly, while I would give Martin McGuinness praise for the way he reconciled with political unionism, Martin McGuinness never reconciled with his victims.
"He was Deputy First Minister in Northern Ireland, he never once tried to reconcile with the Enniskillen families, with the Claudy families, with the families down here in the South.
"For people, and the media in particular, to fawn over Martin McGuinness and to practically canonise the man … they only looked at the past couple of years of his life and they didn't reach and look at the whole legacy and he had a chance to do good and he didn't."
The comments section on this article is no longer open due to the high number of comments being flagged.