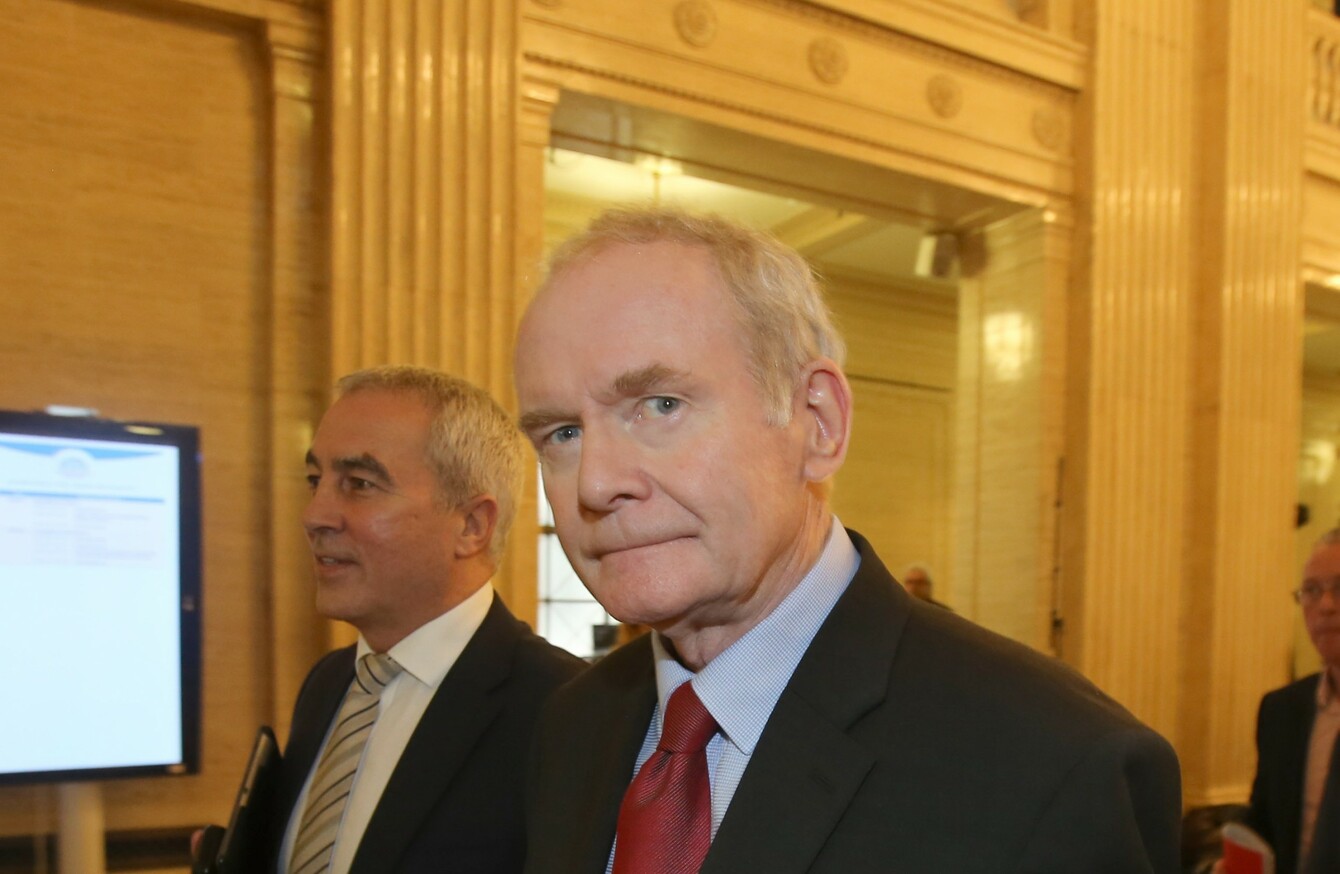 Image: Niall Carson/PA Wire
Image: Niall Carson/PA Wire
MARTIN MCGUINNESS HAS announced that he is stepping away from politics and will not run in the upcoming elections in Northern Ireland.
Confirming his decision tonight, the Sinn Féin MLA said the crisis in the Assembly and his current ill-health sped up his planned timeframe for retirement.
He noted that he was not "physically able" to continue in his current role.
"Last year, Gerry Adams and I confirmed that we had a plan in place for transition to a new leadership. For my part, it was my intention to step aside in May this year which would have marked 10 years since I entered government with Ian Paisley as joint leader of the northern executive," he explained.
Unfortunately, my health and the current crisis have overtaken this timeframe and I am stepping down from my role to make way for a new leader of Sinn Féin in the North.
The outgoing Deputy First Minister resigned his position on 9 January over the ongoing 'cash for ash' scandal which has embroiled the DUP leader Arlene Foster.
From that day, the two largest parties in the Assembly – Sinn Féin and the DUP – had seven days to reach a deal to save the power-sharing executive. The deadline of 5pm, Monday was not met as Sinn Féin failed to nominate a replacement Deputy First Minister.
Elections were subsequently called by Secretary of State James Brokenshire for Thursday, 2 March.
Today, McGuinness said he had worked "tirelessly" over the past decade to make power-sharing a success.
"After long and careful consideration, I have decided that it is time for a new generation of republicans to lead us into this election and the negotiations that will follow," he added.
On what he described as his "obvious health issues", he said, "I want to be open and honest with my friends and colleagues in Sinn Féin, with the electorate of Foyle and with the wider community beyond my own constituency.
I also want to be fair to my family and to the teams of carers who are doing their best to provide me with the treatment I now require to deal with this very serious medical condition which I am very determined to overcome.
"Unfortunately, I am not physically able to continue in my current role and have therefore decided to make way for a new leader.
"This election is the right time for me to move aside so I will not seek re-election to the Assembly."
The future
Contenders for the now-vacant role of leader of Sinn Féin in the North include Tyrone's Michelle O'Neill and Armagh's Conor Murphy.
Addressing the party's future, McGuinness spoke about its "constant development, renewal and evolution".
"Our struggle for freedom and equality stretches back to the United Ireland movement of the 1790s. I am deeply proud of the democratic influences that Ulster Presbyterianism contributed to the Irish republican tradition," he said in a statement.
It remains my own personal and political ambition to break the link with Britain and to unite all who share this island under the common banner of Irish men and women.
"I am deeply proud of the generation of Irish republicans that came before us. A generation that kept the vision of freedom alive through the difficult post-partition era when they faced unrelenting repression and persecution from the Ulster Unionist Party in an apartheid Orange state.
"I have been privileged to be part of the generation that broke that apartheid state apart and to have been part of a Sinn Féin leadership that delivered peace and radical change.
There are more republicans today than at any time in my generation.
"I look across the party north and south and see energy, determination, talent and potential new leaders emerging who, I am confident, will deliver equality, respect and Irish unity."
He said a new leader will now bring Sinn Féin into the elections and what will be fraught Assembly negotiations.
Reaction
A flurry of statements have been made in the wake of McGuinness making his decision public with Gerry Adams leading the tributes.
"I want to express my heartfelt thanks to Martin McGuinness. He and I first met over 45 years ago behind the barricades in Free Derry and we have been friends and comrades since that time," he said.
I also want to thank Bernie and the entire McGuinness family for the support they have given to Martin over many years and for allowing him to become the leader, the patriot, the peacemaker and poet that he is.
Referring to his health, the Sinn Féin president revealed he was also "shocked when we saw his appearance recently".
#Open journalism No news is bad news Support The Journal

Your contributions will help us continue to deliver the stories that are important to you

Support us now
"Thank God he is looking a lot better since then and responding well to the treatment he is receiving. However, he does need to take time out to get better for himself, for his family and for our struggle.
"As we now know he won't be standing in the Assembly election. That means we have to ensure that the election works for all of the people of the North and that we succeed in building on the progress that has been made since the Good Friday Agreement.
"Martin has said he wants to come back and be part of the process to end partition, build reconciliation, unite our people and achieve Irish unity. So on behalf of Sinn Féin and republicans everywhere I want to send him our best wishes. Give him the space to get better and increase our efforts so that when he returns the process of change has advanced."
Taoiseach Enda Kenny said that he was sorry to learn that Martin McGuinness would not be contesting the next election because of poor health, but that he was sure McGuinness remains "firmly committed to delivering a peaceful and prosperous society for all of the people of Northern Ireland".
While Martin and I may not always have seen eye-to-eye on every issue, I readily acknowledge the remarkable political journey that he has undertaken.
"I have appreciated working closely with Martin in recent years, including in particular in the work of the North South Ministerial Council."
I wish Martin and his family well for the future and I hope that his health will now be his absolute priority in the time ahead.
Foreign Affairs Minister Charlie Flanagan also paid tribute to his "unstinting personal efforts to secure the stability of the power-sharing institutions".
"Through word and deed, Martin sought to reach out to those who – for understandable reasons – would have regarded his past with fear, anger and suspicion," he added.
Flanagan said people would meet McGuinness's announcement with "an equal measure of understanding and disappointment".
"While those of us who have worked directly with Martin will wish him and his family well for the future, we will also miss his positive contribution to political discourse on this island.
"Martin and I come from very different, and indeed mutually critical, political traditions. Yet, in the two and a half years that I worked directly with Martin, I experienced a political leader who was determined to make the future of Northern Ireland, and its people, so much better than its past.
"I hope that Martin's political legacy – of a resilient and generous commitment to the interlocking institutions of the Good Friday Agreement – will encourage all of Northern Ireland's political parties to emulate his efforts to consolidate partnership government." 
Fianna Fáil's Micheál Martin called his political colleague a "constructive force" in trying to make the Good Friday Agreement institutions work, pointing to his "political pragmatism".