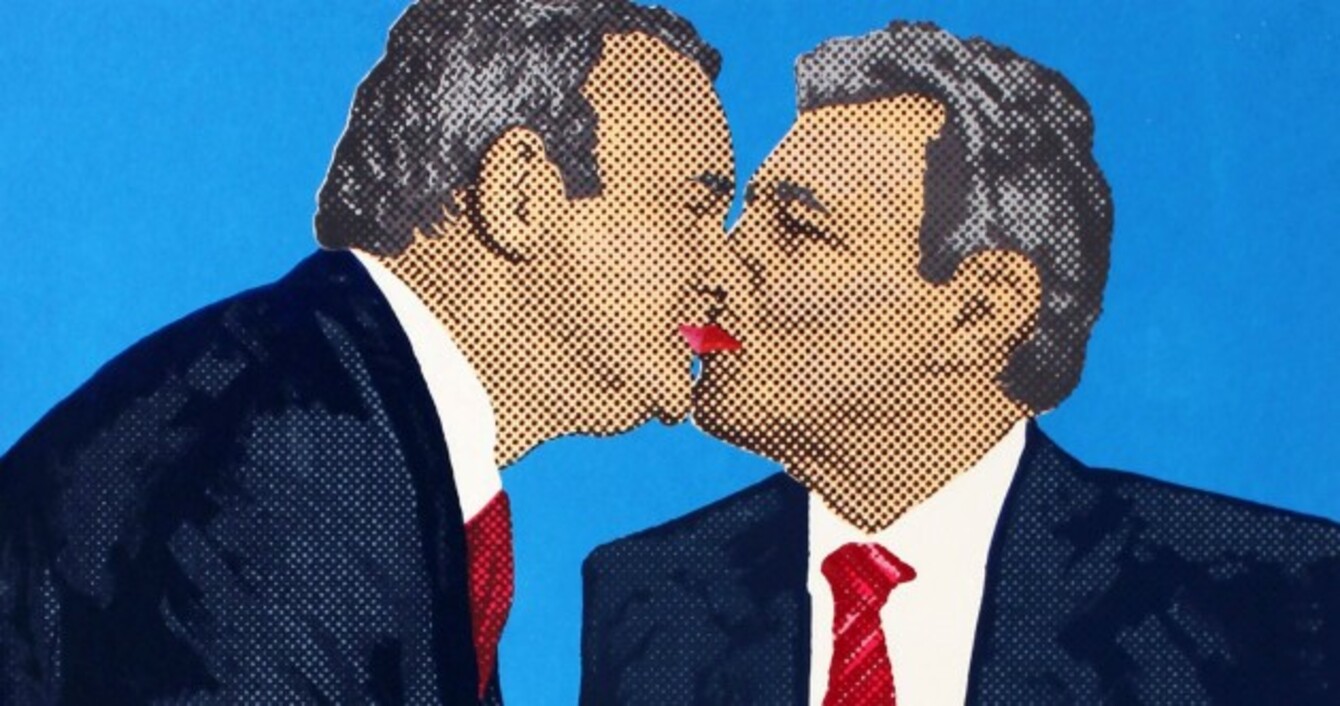 Image: Stuart Cannell
Image: Stuart Cannell
A NORTHERN IRISH artist has accused an Omagh arts centre of discrimination, after a sign was placed at the entrance to an exhibit featuring his mock-up of Martin McGuinness and Peter Robinson kissing.
The pop-art rendering of the Sinn Féin Deputy First Minister and DUP First Minister sharing a tender moment, is part of the "Images of Ulster" exhibition at the Strule Arts Centre in Omagh, Co Tyrone.
At the entrance to the exhibition, arts centre management has erected a sign offering visitors the following warning:
Please note this exhibition contains some artwork depicting violent or sexual images.
There had previously been a sign in front of the section containing Stuart Cannell's "The Kiss," which warned:
Some of the images in this section contain scenes of an adult nature and are not recommended for viewers under 18 years.
Cannell has accused the Strule Arts Centre of discrimination, feeling that the sign refers to his work.
Speaking to TheJournal.ie, the Belfast-based artist said, "If this was a man and woman kissing, there wouldn't have been an issue."
There is also nothing sexual about it. It's what the kiss represents that is important.
I only intended it to be a talking point.
A spokesperson for Omagh District Council, however, which runs the gallery, told TheJournal.ie today that the sign refers to the entire exhibition, which contains artworks that feature sexual or violent imagery, and not specifically "The Kiss."
This is not a warning sign. It is designed to inform our visitors that the exhibition contains images of a sexual nature or of a violent nature.
We have in the past placed similar signs in front of previous exhibitions.
The spokesperson firmly denied that there was any discrimination or censorship at play in the decision to erect the sign.
In an earlier statement, Omagh District Council addressed the question of whether it would ever issue a warning about a heterosexual kiss:
The decision would be taken on a case by case basis in view of how the image is portrayed.