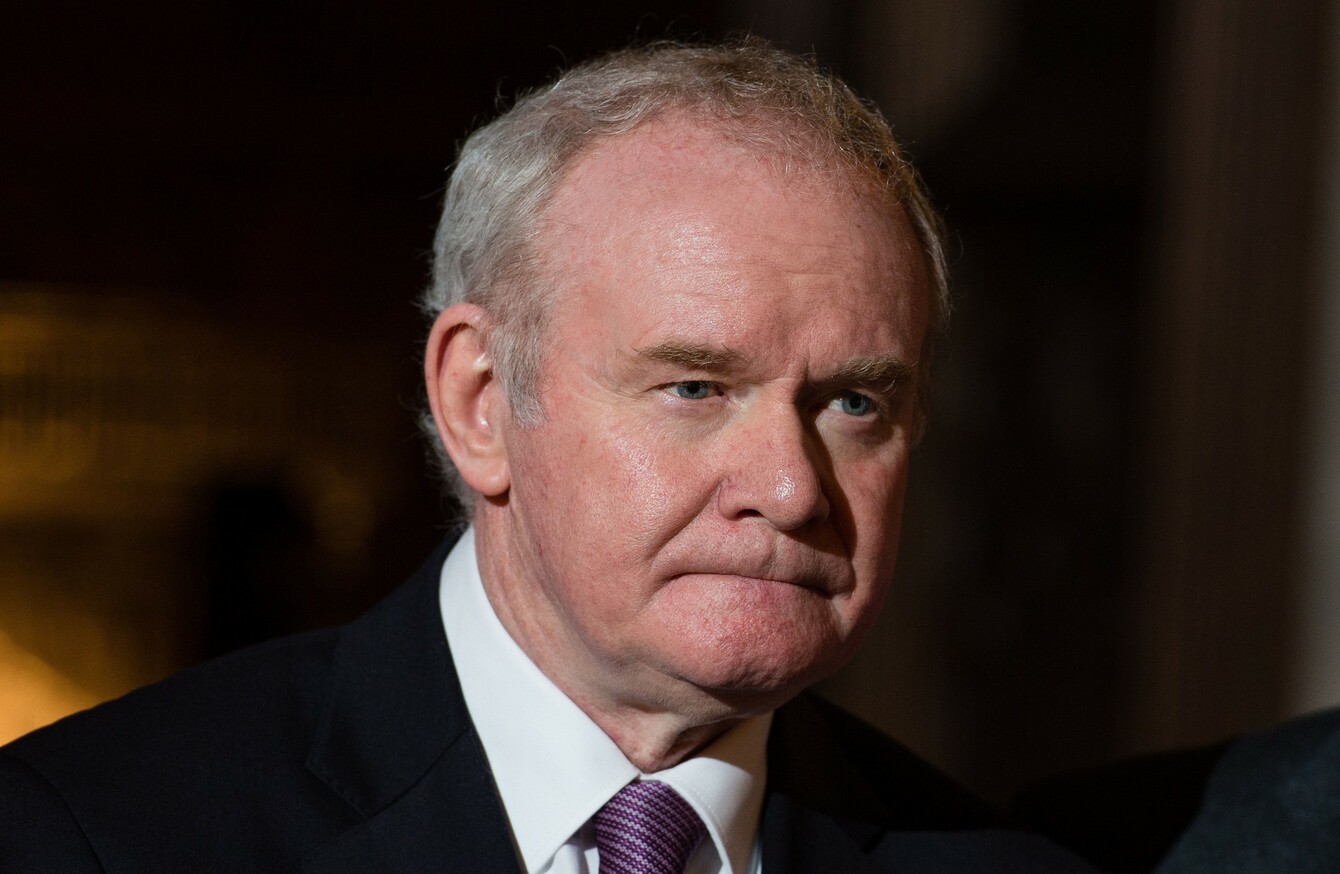 Image: Jeff Spicer/PA
Image: Jeff Spicer/PA
MARTIN MCGUINNESS HAS said the Irish Times is not respecting his privacy in relation to his health after the newspaper ran an article detailing his illness.
In a statement today, the Sinn Féin politician said he was "very disappointed" that the article was published, saying he believes it will distress his family.
McGuinness resigned from his position as Deputy First Minister for Northern Ireland on Monday over the DUP's response to the 'cash for ash' scandal. Questions were raised about his health when he made a televised address to confirm his departure from the role, which is likely to trigger an election in Northern Ireland.
In the broadcast, McGuinness appeared to have lost weight and his voice was markedly lower than usual.
McGuinness told reporters his health had not influenced his decision to resign and said he had been deeply involved in his party's response to the cash-for-ash affair.
Source: euronews (in English)/YouTube
"My health is absolutely nothing to do with this whatsoever," he said.
However, The Irish Times published an article today outlining the details of the illness which the newspaper said he is suffering from.
In a statement, McGuinness said:
I have always considered my health a private matter. The media in the main, has respected my privacy. I am thankful to them for that.  I am very disappointed that the Irish Times are not respecting that privacy and believe that this will cause my family distress.
Earlier in the week, Sinn Féin's Pearse Doherty said Martin McGuinness is getting the best of care and is expected to make a full recovery.
"He's had health problems, he's going through treatment. He's getting the best of care and I expect him to make a full recovery," Doherty, the party's finance spokesman in the Dáil, told Claire Byrne Live on RTE One.
"He's been involved with our negotiation teams right over the Christmas period – when many people were off he was still working," the TD said.
McGuinness had been engaged in the party's discussions on what to do about the rumbling 'cash for ash' controversy throughout the period, Doherty said.
He's still at it – up and running and doing what he's always done, which is leading from the front.