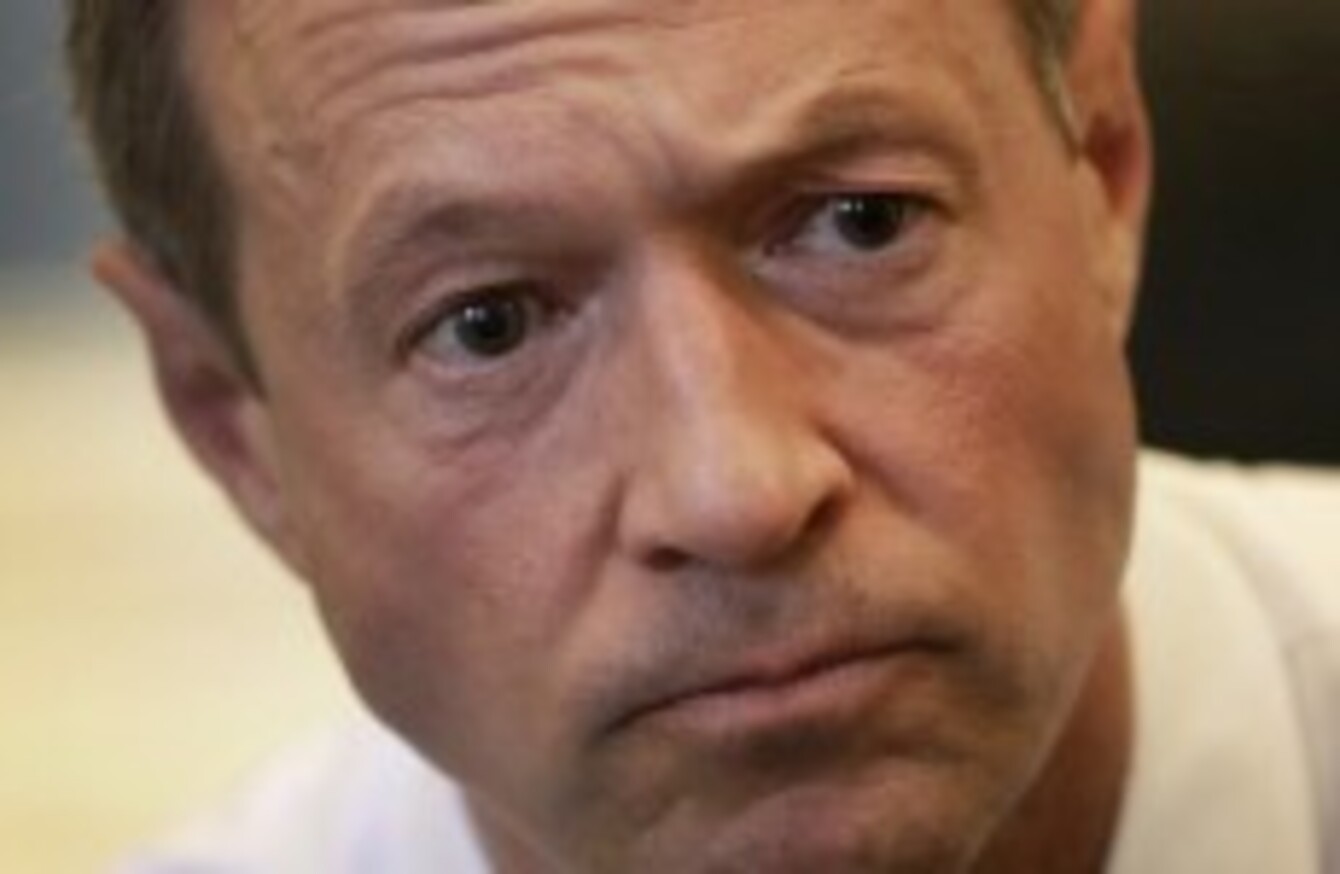 Martin O'Malley
Image: Patrick Semansky/PA
Martin O'Malley
Image: Patrick Semansky/PA
WHILE BARACK OBAMA'S Irish links are considered by some to rather tenuous the same does not apply to one US politician who is tipped to succeed him in the Oval Office in two years' time.
Maryland Governor Martin O'Malley has a more Irish sounding name for starters and so it's no surprise that he has strong Irish heritage as he told TheJournal.ie in an interview this week.
The Democrat, who has been open about his presidential ambitions, was in Dublin as part of a US delegation which included the iconic civil rights leader, John Lewis, who gave a lecture at the Department of Foreign Affairs last night.
"I really wanted to be here to hear John Lewis give this address," he said. "He's such an iconic figure in the United States.
"My daughter, Grace O'Malley, worked as an intern on Capitol Hill and I asked her: 'Honey, who's the coolest congressman in the House of Representatives?' And she said: 'John Lewis, definitely John Lewis'."
Lewis's speech focussed on the civil rights struggle in the United States and was part of the Frederick Douglass/Daniel O'Connell Project, named after the famous US abolitionist leader and the great Irish liberator.
O'Malley is a fan of both, but particularly Douglass. He explained: "He's from Maryland. He was born in Maryland, born into slavery on the eastern shore of Maryland, escaped to freedom from Baltimore in Maryland – a city that I governed as mayor for seven years."
O'Malley's Irish heritage can be traced back to his great-grandparents who, he said, came from the west of Ireland. His Dad's family are "100 per cent Irish people" while his mother's family are half German.
His great-grandfather, also named Martin O'Malley, emigrated to America in the late 1870s and Martin O'Malley junior has always been keen to maintain his Irish roots, visiting our shores on several occasions.
He said: "I've been here not enough times! I've been coming since I was 16, when I was in high school. I was raised in a house where we heard Irish music all through the year and not just on St Patrick's Day."
It was in his teenage years, and long before politics, that he took up a guitar and took to the stage as the lead singer of an Irish music band named 'O'Malley's March'.
"I fell into an Irish band with a group of older guys and so I always played music and the music kind of opens you to the culture and the history and makes it all come alive," he said.
He continues to play and sing to this day:
Source: Dual Cam Productions/YouTube
But what of those presidential ambitions? O'Malley was understandably reluctant to talk about the matter while in Ireland and away from the political bubble in the US.
"You're gonna ask me that question here when I'm out of the country?" he said only half-jokingly.
#Open journalism No news is bad news Support The Journal

Your contributions will help us continue to deliver the stories that are important to you

Support us now
However, he was good-natured in giving a fuller if still unclear response, saying: "You'll forgive me for the self-discipline in not talking about it.
"I've served a very good people in Maryland and in Baltimore and consider myself very blessed that we've been able to accomplish so much in the face of big problems and tough times.
"So on this trip, I am focussed primarily on doing everything that I can to forward that deeper understanding of our commonality and the fact that there's a lot more that unites us than divides us."
And what of the man who he could replace in the White House? Now well into his second term the 'hope' and 'change' promised by Barack Obama hasn't quite happened they many expected it would, but O'Malley is a staunch defender of his party colleague.
"I think he's accomplished a lot of very, very important things. These have been very difficult times economically," he insisted.
"No president inherited a bigger array of problems… But in the face of all those challenges he's ended our conflicts in Iraq and soon Afghanistan. The deficit is being reduced, our economy is now growing, and saved us from a second Great Depression." 
O'Malley cites healthcare reform, Obamacare, as a huge achievement that will mean "a person won't die on the street because of an inability to get proper healthcare".
But more than all of that O'Malley believes that the very election of an African-American as president was an important and landmark moment in US history.
He added: "It told kids throughout our country, that the United States is a very large idea and they have a home and a future in this large idea."