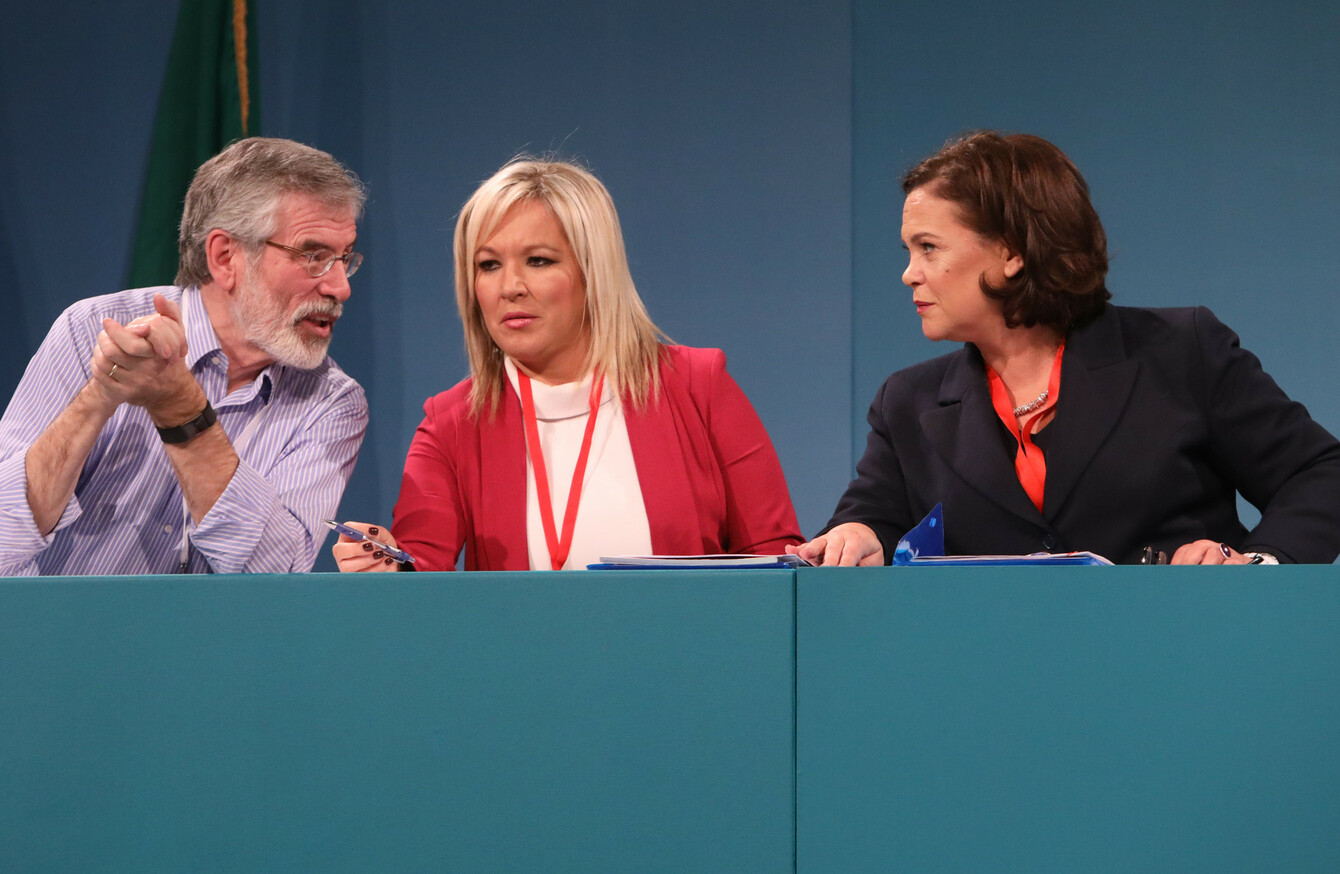 Image: Leah Farrell
Image: Leah Farrell
Updated 8.40pm
SINN FÉIN HAS voted in favour of a motion to allow the party enter government as a junior partner after the next election.
The approval of the motion put forward by the Ard Comhairle of the party paves the way for Sinn Féin to enter government as a coalition partner with either Fine Gael or Fianna Fáil.
Sinn Féin deputy leader Mary Lou McDonald said her party are ready for government, adding that her party are willing to talk to Fine Gael and Fianna Fáil about government formation.
"So this isn't about us saying we are signed up to be a junior partner this is us saying we are willing and able to be part of government," she said, adding Sinn Féin is willing to talk to "everybody".
Earlier today, Fianna Fáil leader Micheál Martin ruled out going into government with Sinn Féin.
Junior partners in government 
McDonald called Martin "obnoxious" for making such a comment, stating:
I don't think it is fundamentally democratic for others who think that somehow they have a divine right to discount others. We present ourselves to the people, we have a democratic mandate, we have a plan for government, we are as capable as any other party. I think Micheál Martin might be better served reflecting on his own record in government and reflect that he is keeping Fine Gael and Leo Varadkar in office as Taoiseach
"I know full well that Micheál Martin and Fianna Fáil don't want Sinn Féin in government. Why would they? They've had it all their own way for almost a century so we understand fully that it's their objective to keep us out but we say very clearly that we have as much right to have the ambition to be in government to lead a government as anyone else," she added.
And I have come to the very firm conclusion that the core social challenges in housing, in health, in ending a system of insiders and entitlement and corruption that those things will not be dealt with unless Sinn Féin is in government.
She admitted that Sinn Féin had departed from their position in the last election, but said that is what politics is about.
McDonald said they are "very serious not just about formulating effective policies but delivering them".
A number of speakers at the Ard Fheis were against the proposal of entering into power as a minority. One speaker said he could give a number of reasons, listing off all the parties who had entered as a junior party – Labour, the Green Party and the PDs – stating that none of them have recovered.
McDonald said the theme of this year's Ard Fheis is "generational change". She said Gerry Adams will make his plans for the future known tomorrow night in his speech, which is due to be broadcast live on RTÉ at 8.30pm.
When asked about Martin's charge that Sinn Féin not disassociating from atrocities in the North, she said that she is an Irish Republican.
This is an Irish Republican party and the fact is that Micheál Martin's own party used to rate itself as a Republican party and they never disassociated themselves from Dan Breen or Seán Treacy or so many, many other members of the IRA back in the day. No party disassociates themselves from who they are and where they come from.
I'm very proud of who we are. I'm also very conscious of people coming out of conflict and the hurt that was done over the last decades of conflict. I don't discount that for a moment. And Micheál Martin knows that.
Micheál Martin also knows that we have now established a peaceful, democratic path for us to co-exist politically right across Ireland and for us to pursue our political objectives and that is what we are about.
"I have no intention of re-fighting the war of a hundred years or the last 40 years with Micheál Martin or anybody else," she said.
McDonald also used her speech to take a swipe at Fine Gael and Leo Varadkar this evening, stating that they stand for the "mé féin society".
She hit out at the Taoiseach's 'Republic of Opportunity' dubbing it a "Republic of Opportunists".
Varadkar's republic only "serves the interests of the privileged is not really a republic at all", she added.
McDonald said this government has made a conscious decision not address the burning issues.
Instead they seek to normalise homelessness. They seek to normalise hospital overcrowding. They seek to normalise deep inequality.
Leo favours tax-cuts for the rich instead of investing in public services.
He has the brass neck to claim we have low levels of homelessness. He has the nerve to tell us that house prices of €385,000 are affordable.
Tell that to the over 8,000 citizens who are homeless tonight. Tell that to the 120,000 household crying out for social housing. Tell that to an entire generation robbed of the dream of one day owning a home.
The Sinn Féin Ard Fheis continues tomorrow where party leader, Gerry Adams, who has lead the party for 35 years, is due to set out his plans for the future in his speech tomorrow evening.