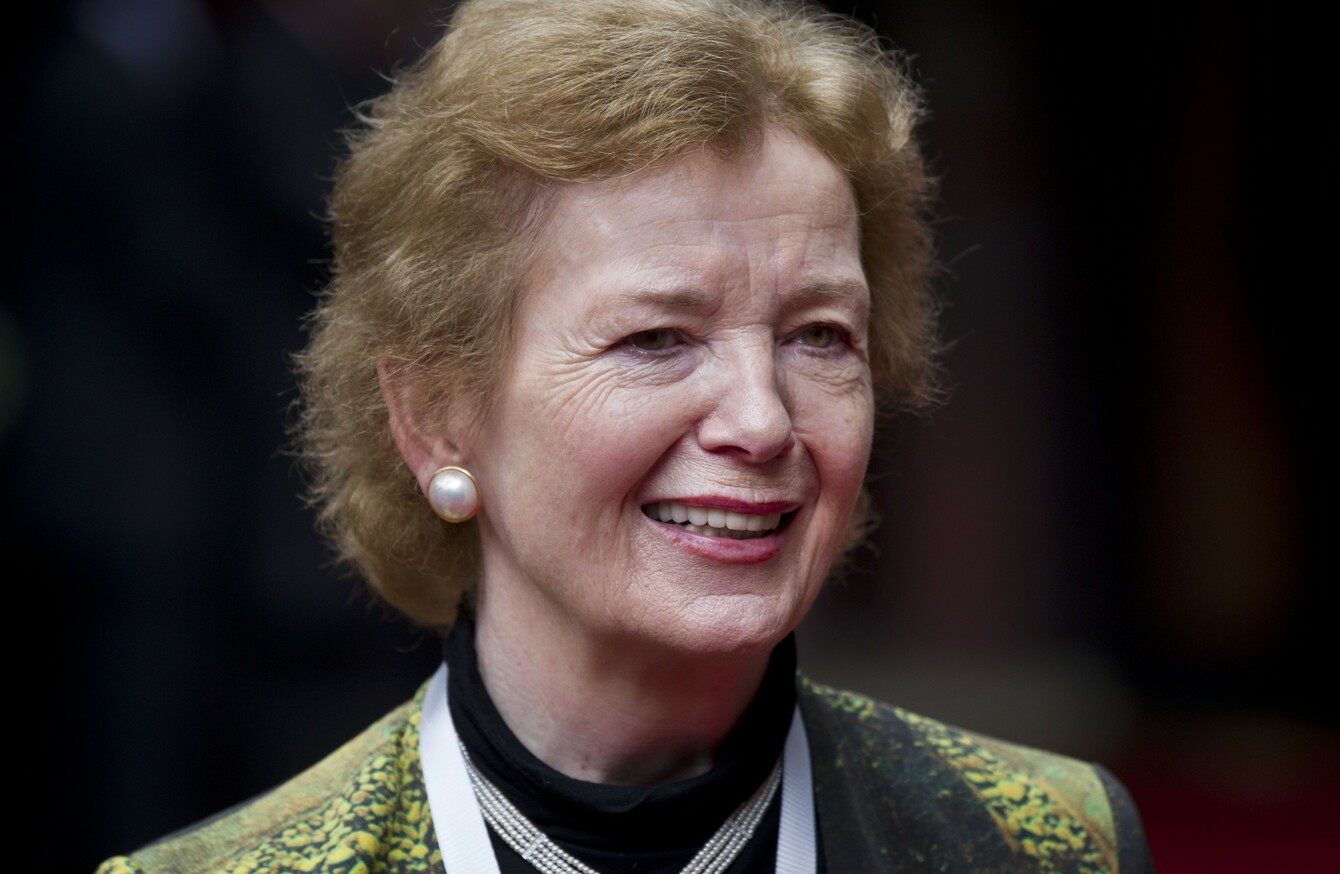 Former President Mary Robinson
Image: Ben Curtis AP/Press Association Images
Former President Mary Robinson
Image: Ben Curtis AP/Press Association Images
FORMER PRESIDENT MARY Robinson has said that it was a mistake to leave her role as President early to take up the position of United Nations High Commissioner for Human Rights.
In an interview with RTÉ's Cian McCormack as part of the Hidden Gems series, Robinson said that, although she's been "very lucky in life", there are some mistakes that she regretted.
She also said that she had allowed former UN Secretary General Kofi Annan to "bully" her into taking the role of high commissioner, and that it was her "hardest decision" not to go for a second term as President of Ireland.
Robinson served as President between 1990 and 1997, before taking up the role as High Commissioner for Human Rights in September 1997. She served in this role until 2002.
When asked how she felt about her long career looking back, Robinson reflected that there was a lot she was happy with, but some things that certainly regretted.
"I think I've been very lucky in life, to be honest," she said. "I've been very fortunate in love, life and family."
I have deep disappointments but I feel much more that I've been very lucky in a life that wasn't planned.
She expressed the wish that she would have wanted to remain President, but also wanted to take the role at the UN.
I then made a mistake – and it was a mistake – to allow Kofi Annan to sort of bully me into coming earlier and not seeing out the last month and a half of my presidency.
This was a regret, and she felt that it changed how some people perceived her. She added:
People felt like I didn't like being President. That wasn't true. It was the hardest decision not to go for a second term.
She did admit, however, that it would have been difficult to do the job with the same conviction for another seven years. Robinson also praised her successor Mary McAleese and current President, Michael D Higgins.
In the Hidden Gems series, public figures go to a place which means a great deal to them, and explain why. Robinson chose Dun Laoghaire pier for this outing, but hints that there is a part of Mayo that is closer to her heart.
"I have a place in Mayo, on a lake, where I do contemplate. It's private, it's safe, it's like a sanctuary. I can mentally walk all around the grounds of our home in Mayo no matter where I am."
This love for Mayo was reinforced with this exchange with a passer-by, Gerry Sullivan, who calls her a "nice lady" before asking if Dublin would win the All-Ireland this year.
Robinson replied: "No, I'm hoping Mayo win. We're the ones who need to win it at this stage."