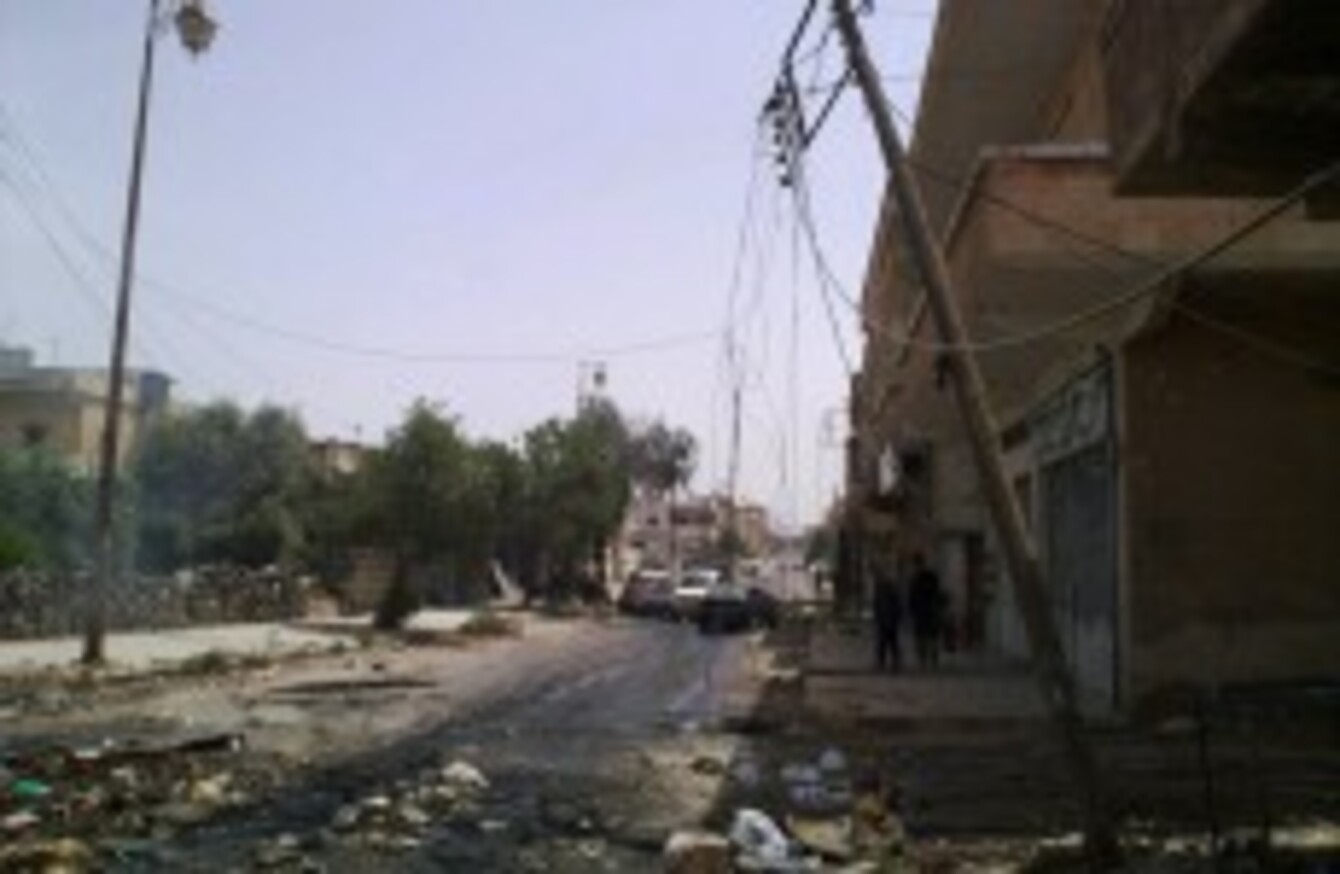 Mobile phone image of a devastated street in Deraa after clashes last week
Image: Associated Press
Mobile phone image of a devastated street in Deraa after clashes last week
Image: Associated Press
AS MANY AS 40 bodies have been found in a mass grave in Syria near a city which has suffered brutal crackdowns on anti-government protests, according to residents and human rights organisations.
The corpses included those of women and children, and five were identified as male members of the same family – all relatives of a leader of the popular uprising in Deraa in the south of the country. Deraa has been the focus of a bloody attempt to stifle protests against President Bashar al-Assad's autocratic regime, with security forces shelling the city from tanks and carrying out raids on houses.
The Syrian government has denied the existence of the grave, saying the reports are "completely untrue", according to the BBC.
But residents told CNN that a local farmer discovered the bodies when he noticed a human hand sticking out of the ground while walking to his olive grove on the outskirts of the city. He fetched other farmers to help and, using a mechanical digger, the group unearthed seven bodies before the Syrian army arrived to take over the area. Soldiers then confiscated witnesses' mobile phones.
Graphic footage alleged to be of the grave site has emerged online, showing twisted, decomposing corpses lying in a deep hole in the earth. However,  it could not be independently verified, Al Jazeera reports.
Radwan Ziadah of the Damascus Centre for Human Rights told the LA Times: "We don't know how many people exactly are in the grave. According to two sources, maybe 40 people were in there. The victims had gunshot wounds, and some of the bodies were without limbs."
Five of the bodies belonged to relatives of Abdullah Abazeed, a prominent figure in the Deraa protests, according to CNN. He said one worker had reported around 20 corpses at the site.
"The security forces have been raiding the house of Abazeed searching for me," he said. "They may have killed them when they found out they were members of my family."
Lebanese human rights activist Wissam Tarif told The Guardian: "Nobody knows who is behind the grave but the fact that there were people with hands tied behind their back and we have seen an operation across the country by the army, security and Shabiha [a militia controlled by President Assad's family] makes us believe the state is behind this."
Hundreds of people have been killed so far in the Syrian protests, which began on January 26. Bashar al-Assad's government has cut off water and electricity to certain cities in an attempt to quell the demonstrations, as well as sending in tanks and troops.