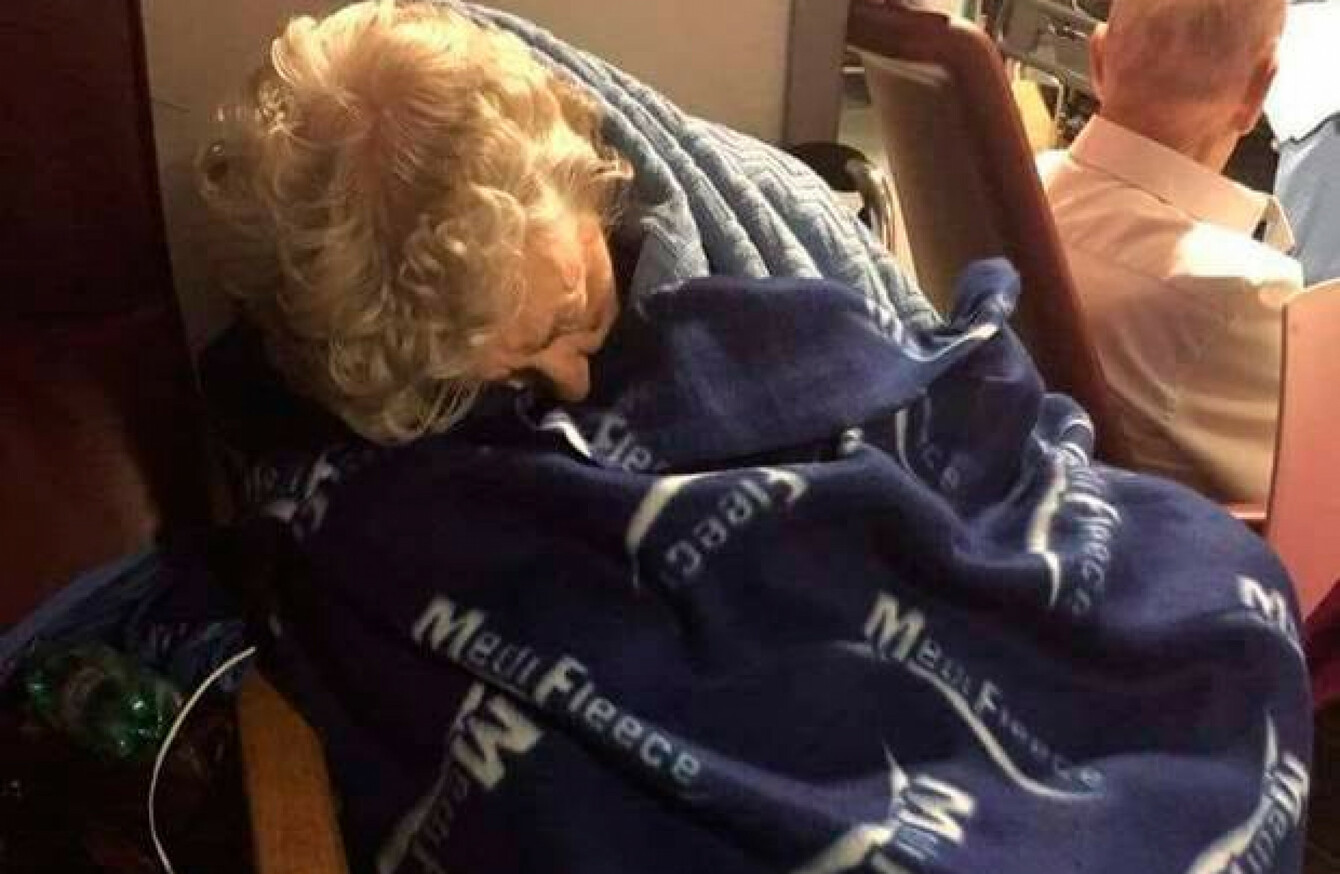 Gladys Cummins in the Mater Hospital earlier this week.
Image: RTÉ/Liveline
Gladys Cummins in the Mater Hospital earlier this week.
Image: RTÉ/Liveline
FIANNA FÁIL'S HEALTH spokesman Stephen Donnelly has hit out at the Government after it emerged that a 92-year-old woman was left on a chair in an Emergency Department for over 24 hours.
Gladys Cummins' daughter Dee contacted Liveline yesterday to share her mother's experience in the Mater Hospital in Dublin. Gladys was forced to sleep on a chair while her children looked after her. The family said it took 25 hours before she was seen. 
Dee told Liveline: "I felt people needed to see this. We talk a lot, between housing and healthcare, but nobody does anything. Rather than be a procrastinator and do nothing, I got up and took a photograph, put in on Facebook and asked people to share it.
"I thought of a Facebook page called the Long Wait. People can put photos of their relatives on this page and the amount of time they spent waiting to see a medic," she said.
"I was hoping [Minister for Health] Simon Harris might do something about it. We know there is no easy solution but surely we can afford people some dignity when they are in an extremely vulnerable position."
Stephen Donnelly said that yesterday's news is a warning to Simon Harris and the HSE that their efforts in ending the trolley crisis have failed.
"We are facing into a winter the likes of which we have never experienced before. Long gone are the days of Health Ministers saying overcrowding is a winter phenomenon due to seasonal flu. 
"The past summer has seen all records in terms of sick people on trolleys being broken. The winter trolley crisis is no more; it's now a year-round crisis and I have yet to see anything from Minister Harris that leads me to believe he or the HSE have a plan to fix it. 
"Minister Harris is now well over two years into the job; he has presided over two full winters, and is now entering into his third.
"No progress was made last year, and I am deeply worried about what lies in store for sick people, and in particular older sick people, if they need to attend our Emergency Departments."