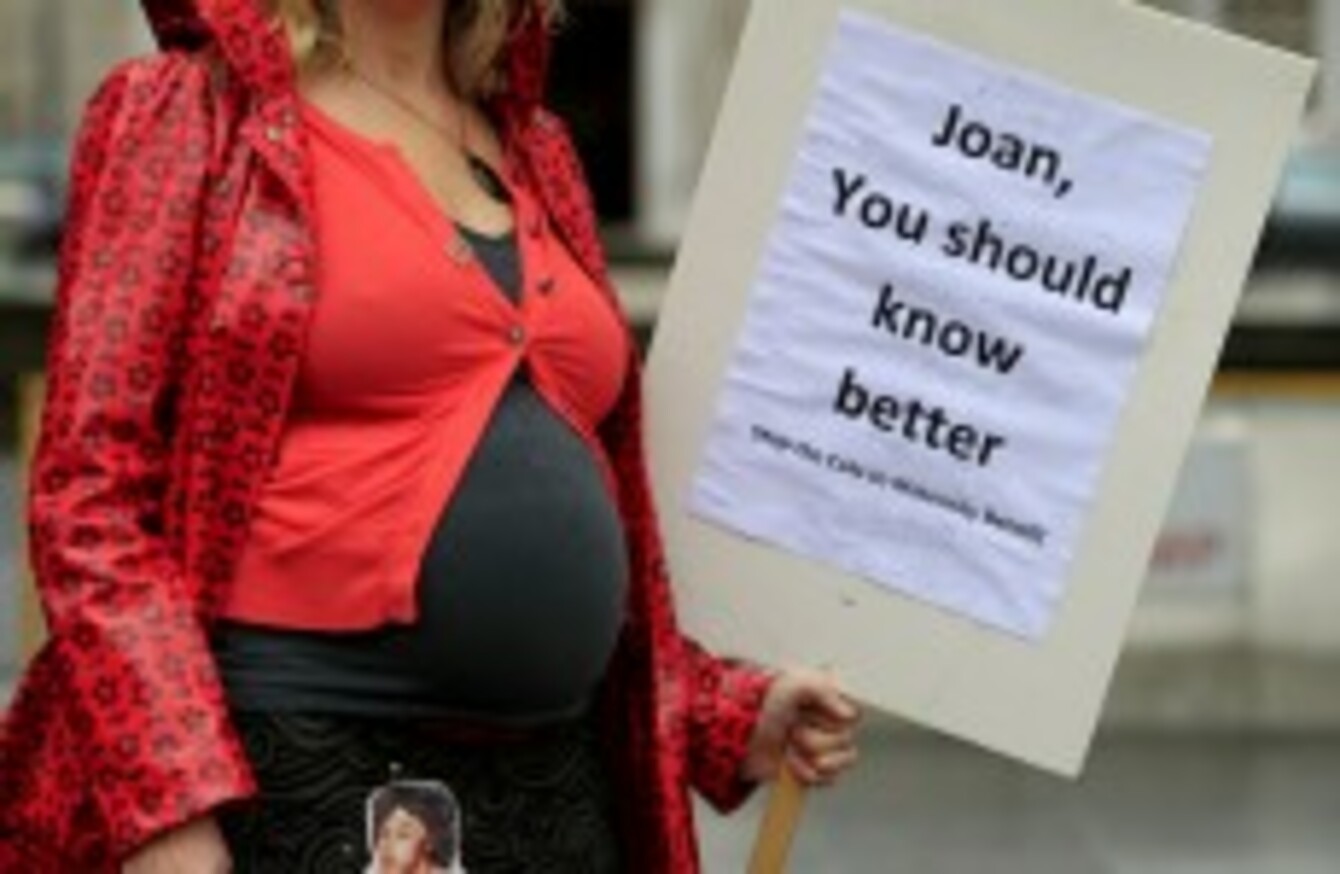 Image: Brian Lawless/PA
Image: Brian Lawless/PA
PREGNANT MOTHERS STAGED a protest outside the Dáil today against proposed cuts to maternity benefit as TDs inside discussed the Social Welfare Bill for the last time before voting to pass it.
The measures announced the in budget will see maternity benefit standarised at €230 per week for new claimants from January next year. The National Women's Council has said that the decision will lead to a "de-facto reduction of €32 per week for the vast majority of women".
Today's protest was organised by the National Women's Council, Action on X, local community groups and NGOs.
Speaking in support of the women today, Socialist Party Councillor Ruth Coppinger said "today's protest is a welcome and correct initiative".
"However it needs to be part of a sustained protest movement against austerity," she said. "Such a movement would be doubly powerful if it embraced a radical left and anti-capitalist programme."
Fianna Fail TD Willie O'Dea said this is "yet another major blow to working women and young families".
"Despite the fact that the Social Welfare Bill has passed through the Dáil today, there is still time for the government to reconsider this additional cut before it kicks in in January," he added.
Protest against cuts to maternity benefit

Source: Brian Lawless/PA

Protest against cuts to maternity benefitst

Source: Brian Lawless/PA Wire

Protest against cuts to maternity benefit

Deirdre McCarthy covers her son Paddy Nevin, 3 years old, from the rain during the protest.Source: Brian Lawless/PA

Protest against cuts to maternity benefit

Sian and Juno (aged 14 months) Muldowney from Dublin.Source: Laura Hutton/Photocall Ireland

Protest against cuts to maternity benefit

Catherine McGowan and her daughter Sophie (aged 1) from Drogheda.Source: Laura Hutton/Photocall Ireland

Protest against cuts to maternity benefit

Source: Laura Hutton/Photocall Ireland

Protest against cuts to maternity benefit

Jacqueline Healy from the National Womens Council of Ireland who is 8 months pregnant.Source: Laura Hutton/Photocall Ireland