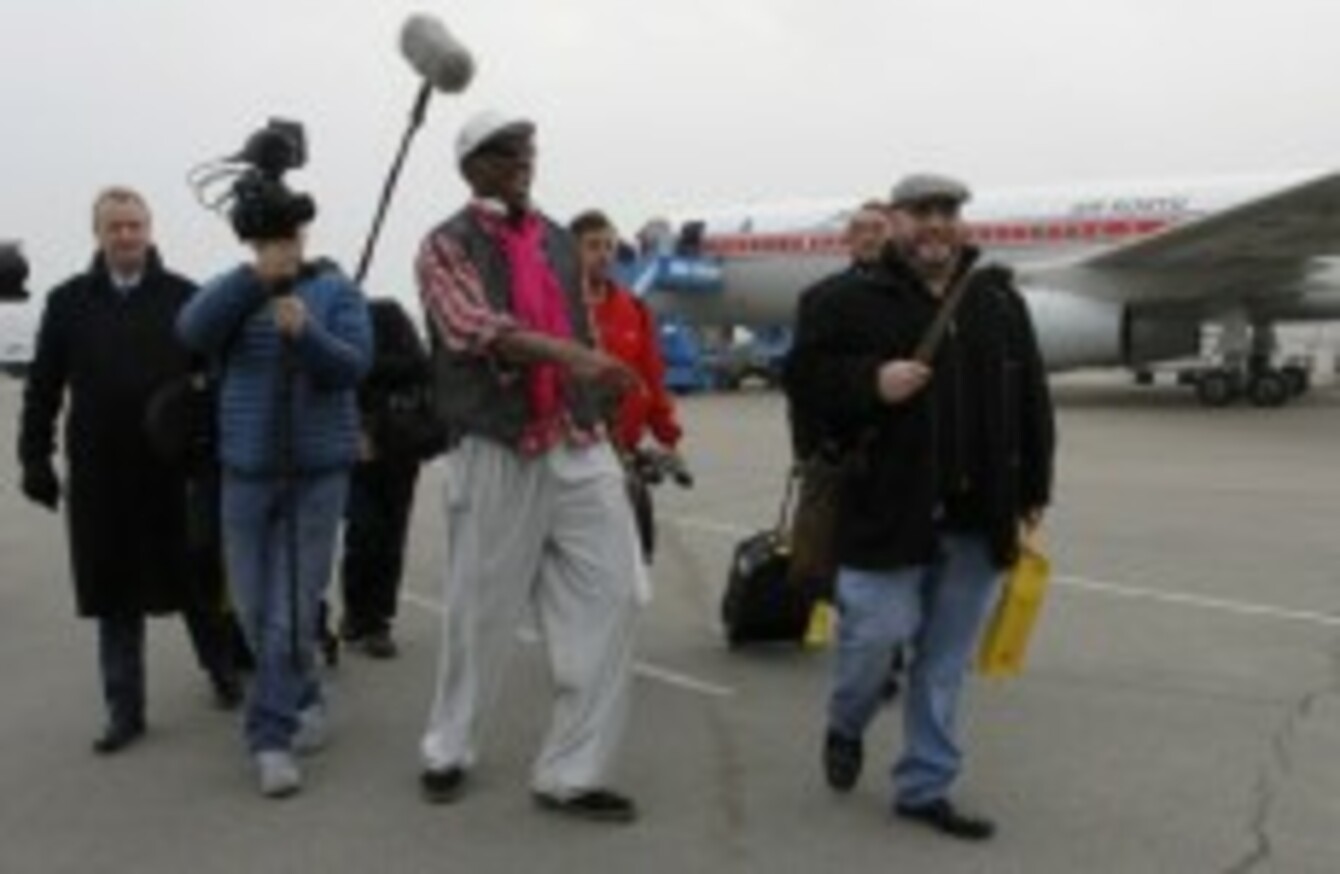 Rodman arriving at Pyongyang airport with his entourage, including Cooper (far left).
Image: AP Photo/Kim Kwang Hyon
Rodman arriving at Pyongyang airport with his entourage, including Cooper (far left).
Image: AP Photo/Kim Kwang Hyon
MATT COOPER HAS said the Dennis Rodman organised basketball match in North Korea may prove to be the catalyst for better relations between the totalitarian nation and the United States.
Speaking to The Last Word on Today FM from Beijing after spending four days in the country's capital Pyongyang, Cooper compared the game to the "ping-pong diplomacy" between the United States and China in the 1970s that softened suspicions between those two nations.
Cooper described the friendship that has developed between the North Korean leader Kim Jong-Un and the flamboyant former NBA star Rodman as "bizarre", given that it would appear that Rodman embodies many of the traits one would assume the North Koreans dislike about the United States:
"The latest in the line has become friendly with somebody who would perceived to be perhaps everything that would be hated by Koreans about Americans. He's non-conformist, he gets into all sorts of trouble in relation to drink and his affairs with women and just his general bad boy behaviour, but for some reason there is something that the North Korean dictator likes," he told the show from which to took leave to make the trip.
"But some people are suggesting that this may be the catalyst for some sort of reconciliation between the US and North Korea, bizarre as that might seem," he added.
Cooper explained that he was accompanying the delegation in North Korea to provide help to a British documentary crew who were covering the basketball game.
He said that his role was to conduct interviews and added that he may write a book about about the friendship between Rodman and Kim.
Cooper explained that while in North Korea he remained aware of their human rights record and spoke particularly about the 1990s famine in the country that is estimated to have killed two million people.
He mentioned their threats of nuclear expansion as a way of getting foreign aid and said that "in those circumstances a basketball game does look like an exceptionally stupid way of trying to mend international bridges".
But added there is precedence for these kinds of events to help:
"Going back to how the relationship between the United States and China opened up in the 1970s in so called "ping-pong diplomacy", when the first visit of Richard Nixon to China came as a result of the goodwill created by a table tennis match about six months earlier."
"Deathly silence"
Cooper also spoke about the basketball match itself and the strange atmosphere that surrounded it. Explaining that, despite the 14,000 Koreans present, there was "deathly silence" ahead of the appearance of King Jong-Un.
He described how the crowd "erupted in a way that you would rarely see" when Kim appeared in an "outpouring of pure joy". The only Irish comparison Cooper could find to their reaction was when Pope John Paul II visited Ireland in 1979.
Their reaction he felt "seems to be utterly spontaneous and genuine".
Whereby the regime may have established control "certainly through fear and terror" he said, this does not seem to be the reason for their feelings today.
Cooper said now it was in large part due to the fact that "they don't understand anything else…they go along with it".
The team he was accompanying were not allowed to film Kim at any point during their visit and had a minder present all times. Although Cooper said that he was sitting only a number of rows from Kim, the cameras were not allowed to point in that direction.
Cooper said that, to his surprise, they managed to negotiate internet access and he was able to phone his wife in Ireland after a number of days but at all times assumed that their conversations were being tapped.
Irish bookmaker Paddy Power is believed to have funded Cooper's trip to Korea but has taken a step back after initially being the main backers of the basketball game.