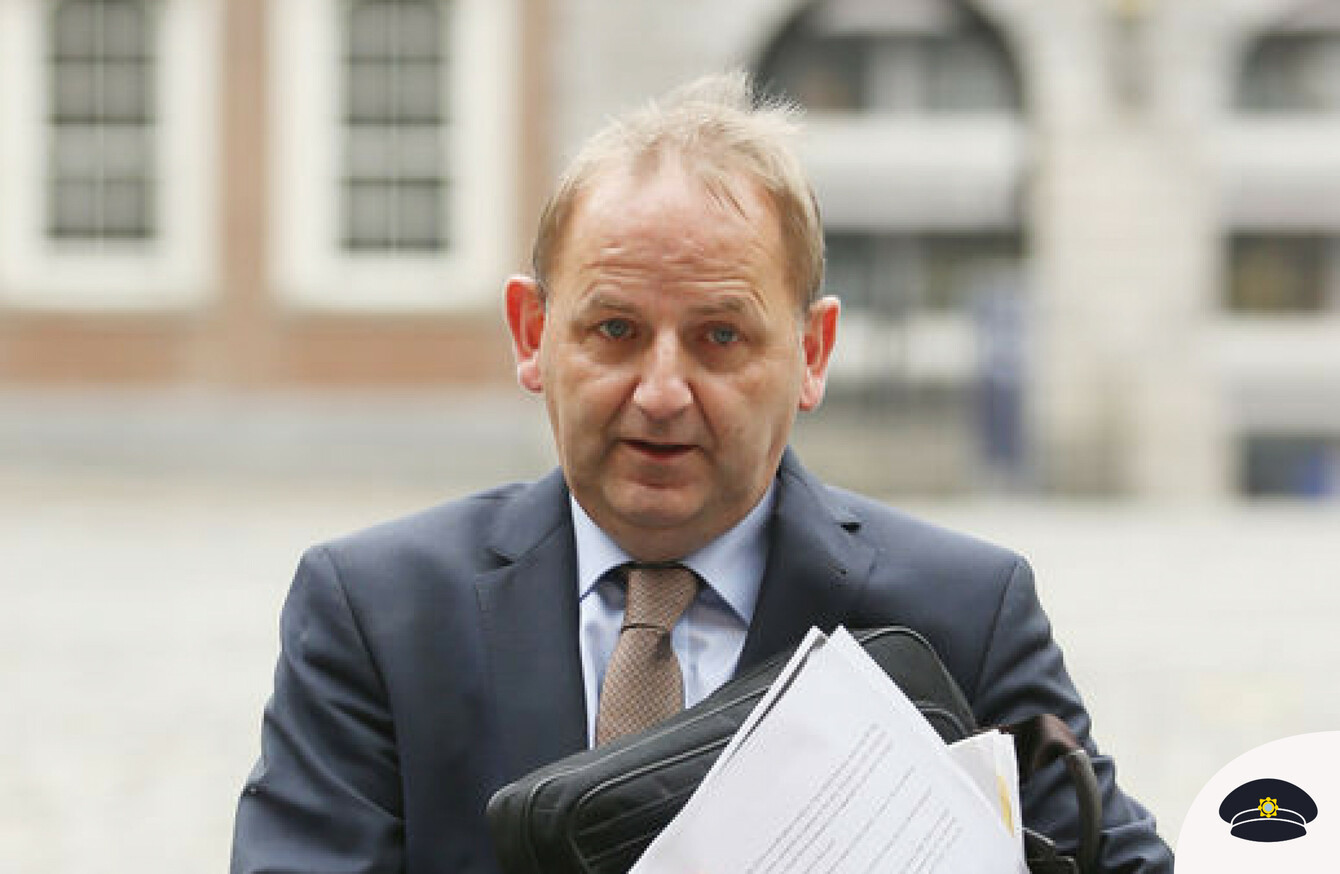 Garda Sergeant Maurice McCabe arriving at the Disclosures Tribunal in Dublin Castle today
Image: Sam Boal/RollingNews.ie
Garda Sergeant Maurice McCabe arriving at the Disclosures Tribunal in Dublin Castle today
Image: Sam Boal/RollingNews.ie
A FALSE ALLEGATION of rape remained on a file about garda whistleblower Sergeant Maurice McCabe until 2017, the Charleton Tribunal heard today.
The allegation was forwarded to the Garda Commissioner in May 2014 by Assistant Commissioner Kieran Kenny, who has since retired, after he received a report from Chief Superintendent James Sheridan.
The Director of Public Prosecutions (DPP) directed in 2007 that no prosecution should be made against Sergeant McCabe following an allegation of inappropriate touching by Ms D in 2007.
A Tusla file on McCabe was subsequently opened after Ms D sought counselling in 2013, to which allegations from an unrelated case were incorrectly added. The tribunal is looking into whether Sergeant McCabe was the target of a smear campaign.
A subsequent report from Sheridan, sent to Kenny after Tusla discovered the error, was not forwarded to Garda headquarters. Kenny said that when he first received the letter from Sheridan about the Tusla notification he was aware of the previous 2006 investigation.
"It was a notification of child sexual abuse and I knew it to be a serious allegation," Kenny said. "I wasn't sure if this was an extension of what had been previously alleged. I wasn't sure," he added.
On 16 May 2014, Kenny wrote to the Garda Commissioner's office reporting the allegation and enclosing correspondence from Sheridan.
On 23 May, Sheridan wrote to the assistant commissioner again to report that Tusla had realised they had sent incorrect allegations and that no further garda investigation was necessary. Tusla asked for copies of documents containing the error to be retracted and destroyed and the original copy to be returned to HSE
"The word destroy was the first word that jumped out at me," Kenny said.
My personal opinion is when a document is generated it's a record, and I don't see any circumstances where I would allow a document to be destroyed.
Kenny said the document should be appropriately filed, not destroyed.
The former assistant commissioner said he thought the Garda Commissioner had been informed of the false allegation and he was unaware this had not happened until he reviewed materials he was sent by the tribunal in 2017.
'Extraordinary error'
Tribunal barrister Pat Marrinan SC said this was "another extraordinary error and failure in relation to Sergeant McCabe that the tribunal is investigating".
"Sitting in the file in Garda HQ was an active file," Marrinan said.
Whoever would read that file would read the notification of abuse and discern that Sergeant McCabe was being accused of a rape offence.
Marrinan said because the error was not reported to Garda HQ, the Garda Commissioner was "left with the view that this was a rape offence that had been investigated in 2007 and no prosecution directed".
Marrinan said there was a file on McCabe at Garda HQ which ran to 3,500 pages.
"I expected that my office would deal with matters as I was always under the impression that the matter had gone to the commissioner's office," Kenny said.
He said minutes of a meeting with Chief Superintendent Sheridan and Superintendent Leo McGinn in Mullingar on 16 July 2014 were not a transcript, but covered "themes" discussed at the meeting.
Kenny said that at the meeting he was seeking "assurance and clarity". He said, as the error had been made by Tusla, "the onus to address that matter with Sergeant McCabe rested with the HSE or Tusla".
The Mullingar meeting also discussed a GSOC review of the original garda investigation in 2006.
Kenny said he could not recall how he first learned that Inspector (later Superintendent) Noel Cunningham had been reluctant to lead the investigation in 2006 as he served in the same division as McCabe.
Kenny said when he took up the post of regional commissioner in 2009, he was aware of McCabe "from the media, his involvement in penalty points issues, and his role in highlighting deficiencies in investigations".
The tribunal continues.
Comments are closed for legal reasons.