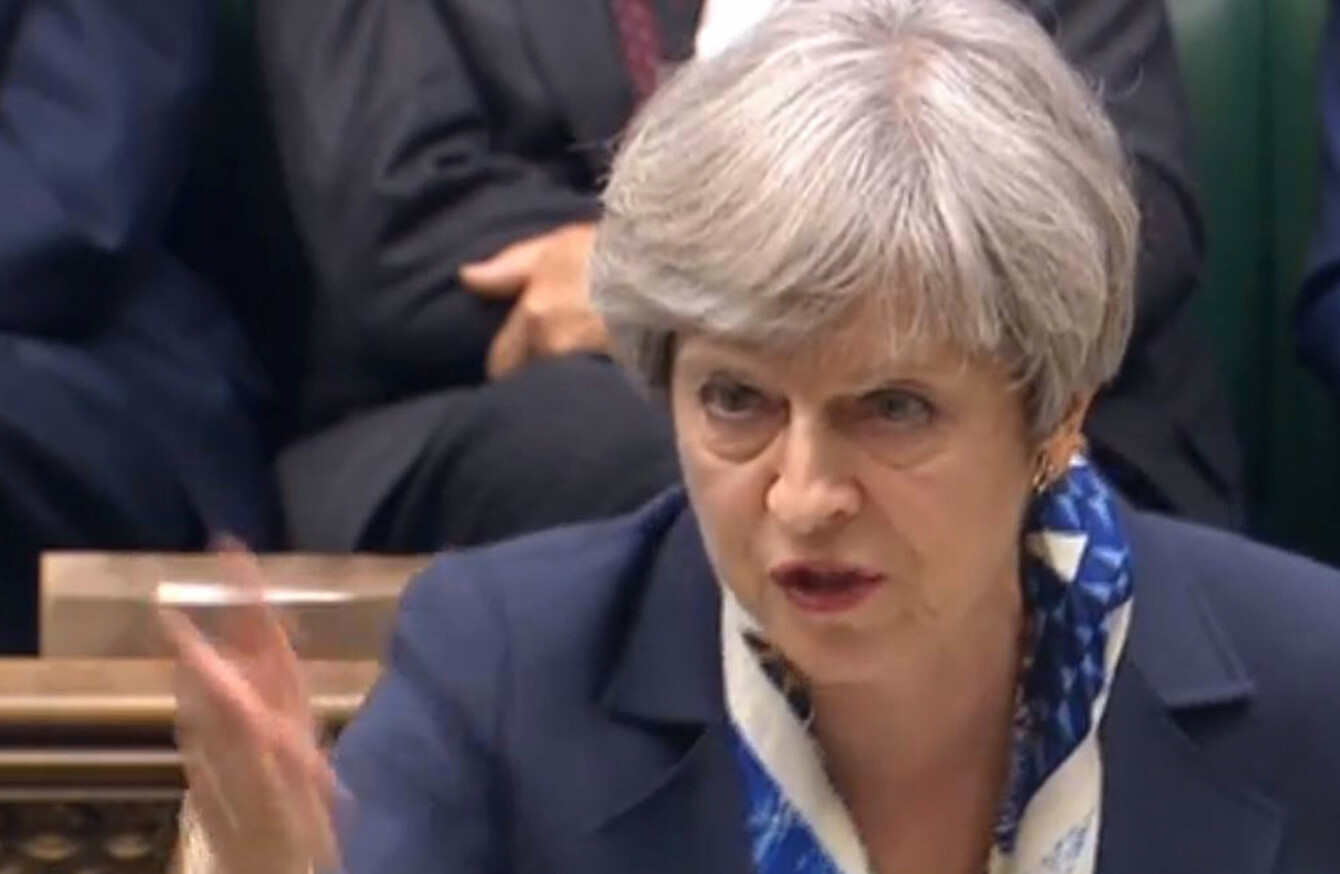 Image: Philip Toscano-Heighton/PA Images
Image: Philip Toscano-Heighton/PA Images
Updated 1.3opm
THE NEW TEXT of a deal to be offered by British Prime Minister Theresa May on the question of the Irish border is expected to be provided today.
Speaking last night, Taoiseach Leo Varadkar said that May had told him in a phone call that the new text would arrive "by tomorrow" and that he was willing to consider them. That deal would be sent to Europe first, and then communicated to Ireland.
The Taoiseach, however, said that any new offer should not be substantially different to the one offered earlier this week, which was vetoed by the DUP.
He said: "We believe the agreement we had on Monday is one that would work for Ireland. Any new language would have to be consistent with that."
The DUP, meanwhile, has said that there is still "work to be done" if it would agree to any border plans. Arlene Foster's party had suggested that Dublin had blocked them seeing the proposed deal on Monday, but this was flatly denied by Varadkar last night.
Meanwhile, Scotland's nationalist leader Nicola Sturgeon accused the British government of being "totally and utterly incompetent" on Brexit, saying the current situation showed that Scotland should be independent.
"This week, this Tory UK Government — strictly speaking, it's a Tory/DUP UK government — has been shown to be dissembling, mendacious and totally and utterly incompetent," First Minister Nicola Sturgeon said at a Scottish parliament session in Edinburgh.
During Leaders' Questions today, Sinn Féin deputy leader Mary Lou McDonald said if the Tories wanted to "sail into the sunset" away from Europe that is their business, but that the Irish government's business includes those in the North.
She said Sinn Féin would "stand shoulder to shoulder" with the Irish government if they stand firm. "You cannot afford a fudge," she told Tánaiste Simon Coveney.
She asked the Tánaiste to commit to the North not being dragged out of the Customs Union and the Single Market.
Coveney said the Irish government has acted "consistently" since the beginning, adding:
I don't intend to move away from that position.
"The core issues agreed at the beginning of this week are not changing," he said.
"Of course we will look at other proposals the UK may offer… but the core meaning of the text needs to remain intact."
With words not usually shared between Sinn Fein and Fine Gael, McDonald said: "I agree with you on all that Tánaiste — we will back you and applaud you for your efforts."
Coveney said he was aware that he had to be cautious in what he said to the House due to the sensitive nature of the talks, but reiterated that the statements made at the beginning of the week still stand.
No white smoke
The European Commission said this afternoon that there was still "no white smoke" on a Brexit deal and set a limit of Sunday for May to return to Brussels with an acceptable deal.
"So far no white smoke. We stand ready to receive prime minister May at any moment in time when they are ready," Margaritis Schinas, chief spokesman for commission chief Jean-Claude Juncker, told reporters in Brussels.
The Vatican sends up white smoke when a new pope is chosen.
But I would like to repeat what President Juncker said on this, namely that this will have to happen this week, in this building. We work for a full week, 24/7, and our week includes Sunday.
Talks between May and Juncker broke up on Monday without a deal after a pro-British party in Northern Ireland that props up the British leader's government objected to a clause about future arrangements for the Irish border.
Time is now running out for a deal on Brexit divorce terms, which would allow the opening of talks on a future trade deal at a summit of EU leaders in Brussels on December 14-15.
Schinas dismissed British newspaper reports that the deadline could be extended into next week as "not correct".
Diplomats from the other EU 27 nations are to meet on Monday and would need to see European Council chief Donald Tusk's draft guidelines for opening the next phase of talks then in order to approve them for the summit, he said.
But EU sources said it was still possible that European leaders could agree at the summit next week that there had been "sufficient progress", in order to give May a win, while postponing their approval of the guidelines for trade talks.
They could then approve those guidelines at EU summits due in February, or failing that in March, sources said.
With Ireland, the EU, and the DUP now playing the waiting game, all eyes are on London and Theresa May to see what offer she makes now.
In a statement last night, Number 10 said "the Prime Minister said how she recognised the significance of this issue to the people of Northern Ireland and Ireland and how this remained a joint priority for both governments, and the EU, to resolve".
She faces conflict within her own party, with pressure from Brexiteers to ditch talks with the EU, and pressure from more moderate MPs who say leaving without a deal would be "highly irresponsible".
- Additional reporting - © AFP, 2017