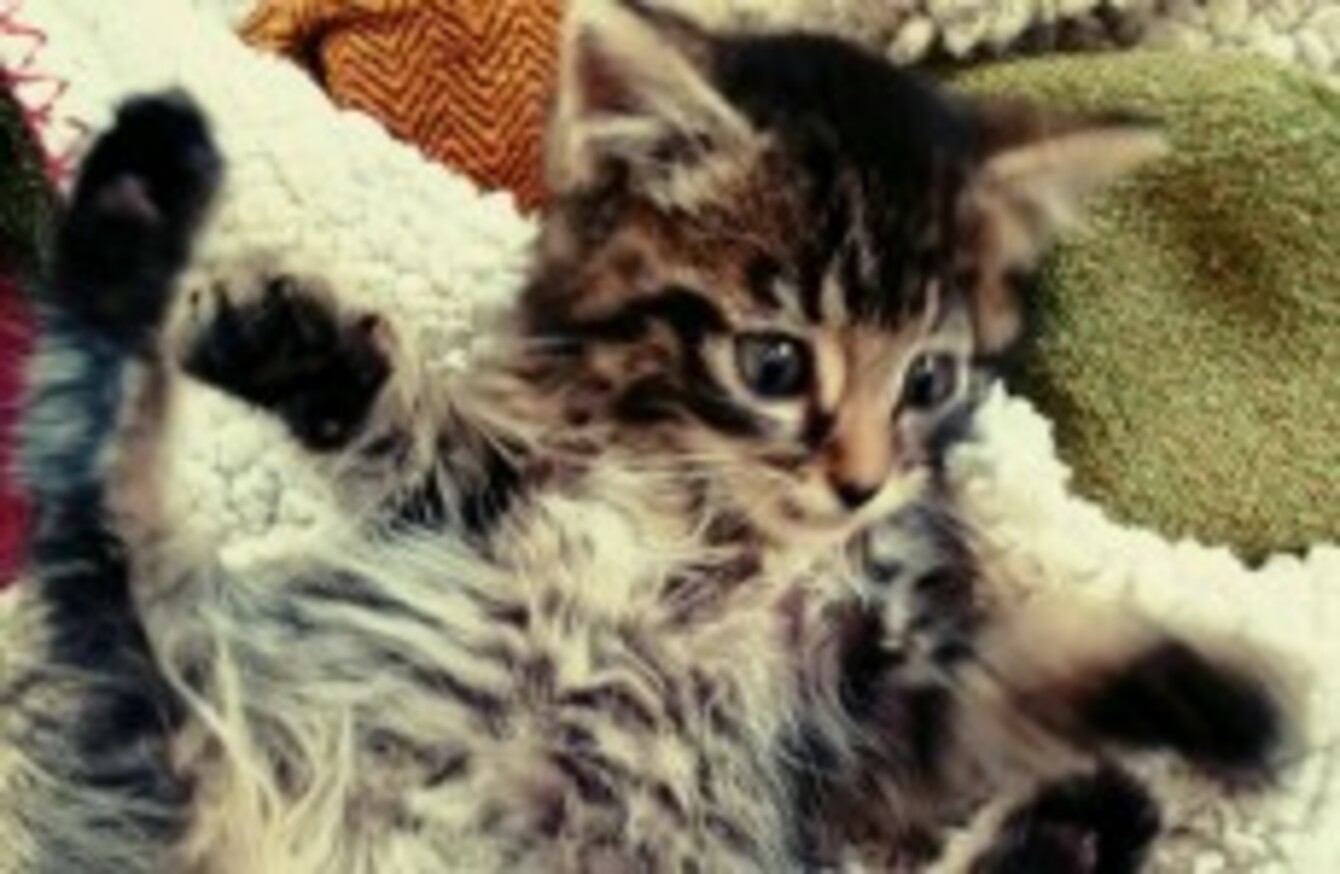 Patrick playing after his surgery
Image: Darragh McDonagh
Patrick playing after his surgery
Image: Darragh McDonagh
Warning: This article contains a graphic image of a horrific injury to the kitten. 
A BRAVE LITTLE kitten who had his tail amputated after its owners skinned it and left it for dead on the roadside in Mayo has been rehomed following a miraculous recovery.
The distraught animal was discovered close to the foot of Croagh Patrick on Reek Sunday in July as hundreds of pilgrims gathered to climb the holy mountain in spite of heavy rain.
The five-week-old kitten's tail had been completely skinned from the base, leaving just raw flesh exposed, which had become necrotic and infected.
The excruciating injury was so localised and precise, it is believed that it can only have been inflicted deliberately with the use of a blade.
The tiny cat was drenched and freezing when it was found on the roadside by Caroline Hopkins, who brought it to her sister, Jacqueline – a veterinary nurse and dog groomer from Castlebar.
"I had never seen a de-gloving injury like that before, where the skin is removed right from the base of the tail. It was horrendous and had already become necrotic, leaving him with just days to live," she explained.
The kitten, who was named Patrick, was brought to a vet and underwent surgery the following day to amputate his tail. The operation revealed that the infection had already spread to the bone.
Patrick, left completely tailless, defied the odds and began his recovery in the care of the veterinary nurse. Last week, having completely healed and regained his strength, he moved to his new home in Galway.
"He may have lost his tail, but he still has a big heart," Jacqueline says.
"The recovery was tough on him and there were complications along the way, but he's a little trooper who kept purring and playing despite all he's been through."
"Loads of people contacted me with offers to rehome him after his story appeared in the media during the summer, but he wasn't ready to go until now. We found a cat-loving home near Tuam and brought him there last week."
Patrick, now four months' old, is reported to be settling well in his new abode and has made friends with his new owners' family of cats.
"He was subjected to such unimaginable cruelty but remained so happy and friendly. You can't help but smile to look at him. I'm glad his tale has had a happy ending," the vet concluded.