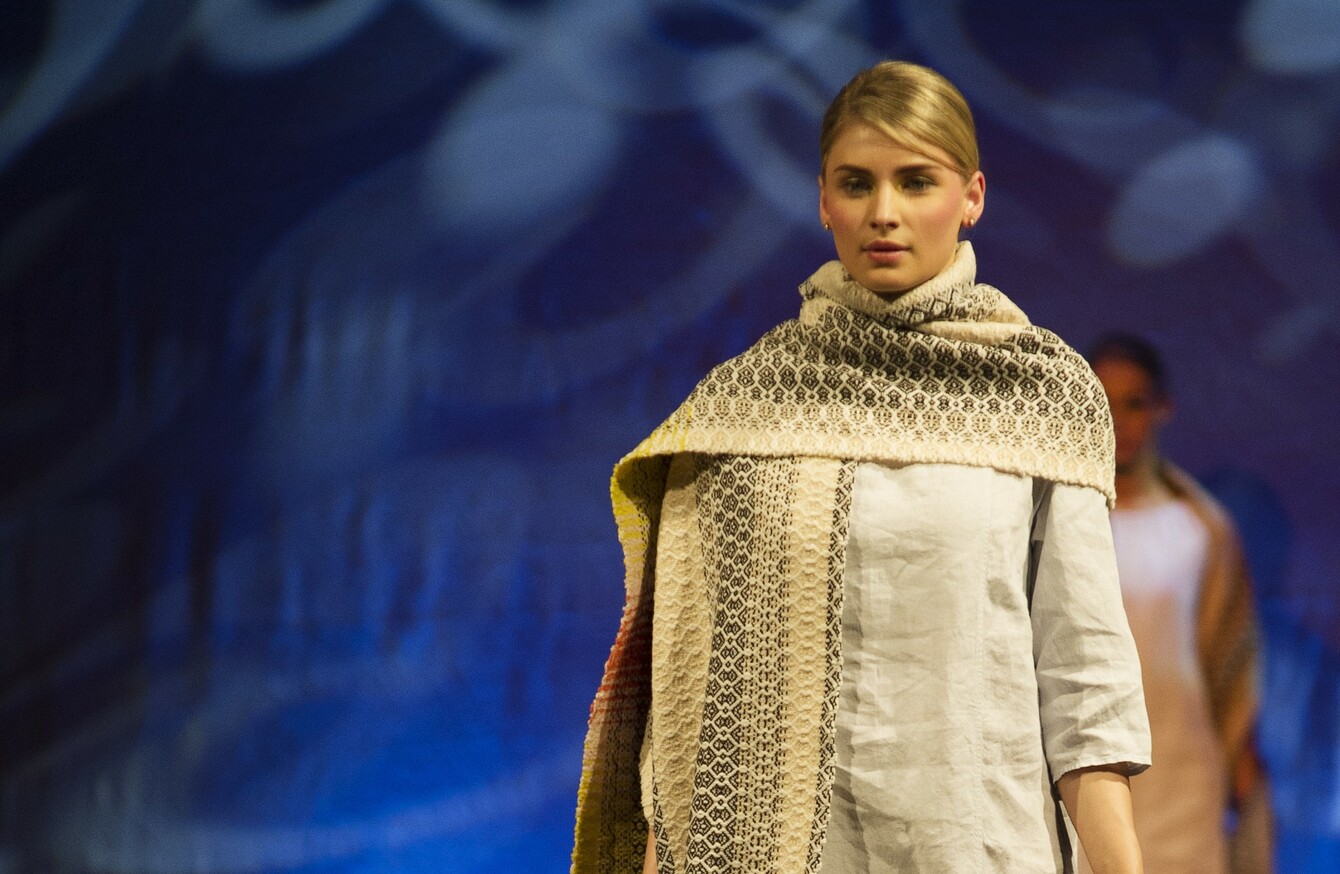 MAYO DESIGNER AND businesswoman Deirdre Duffy has won two awards at the Irish Fashion Awards 2017 for her handwoven scarves, cowls and blankets inspired by colour, Irish heritage and rural Ireland of the past.
"The pattern on my woven pieces is a modified traditional pattern. I wanted to create something new yet familiar, something modern but with a nod to history and what went before," she told TheJournal.ie in an interview about inspiration, international interest and a difficult decision about the future of her fashion line Wild Cocoon.
"I think every aspect of life man-made and natural has something to offer the creative mind."
At the Irish Fashion Innovation Awards, adjudicator Eddie Shanahan said Wild Cocoon's designs drew acclaim from the judges for their "luxurious textures, generous proportions and exquisite use of colour in her throws and wraps".
Deirdre's ability to transform a handwoven heritage product through a strikingly innovative use of colour also won her the overall Innovation Award.
Why handwoven?
After gaining a qualification from NCAD she realised she had a love for making things: "Having specialised in Woven Textiles, I felt it was always on the cards for me to go in this direction."
Between launching Wild Cocoon and graduating, she worked in retail management, building business knowledge and skills outside her creative knowledge.
"I launched Wild Cocoon in January 2016 to coincide with Showcase Ireland and Irish Trade Show organised by the Design and Crafts Council of Ireland."
I began developing the products a year prior to this making sure to take my time to make the correct decisions regarding colour and texture ensuring that my brand values were in line with what I was doing in reality.
Although the non-electric, handmade quality of her pieces are at the heart of her designs, it's a love for the process of weaving and using a loom that she began that process.
"It's just an excellent perk that the carbon foot print of that process is low.
The looms I use are all wooden, hand and foot operated and they are really beautiful in themselves. They are large but fluid and quietly natural, you can see the fabric building in front of your eyes.
Demand over design
When asked whether she'll have to make the decision to lose the handwoven, personal touch to increase the number of scarves and blankets she can sell, Deirdre says that's a decision she's already considering.
She says that the decision isn't so much about the final product, but whether to invest in people and teach them the craft of weaving.
It is actually between building a craft business employing and teaching an artisan process to new employees, or having a mill in Ireland produce the product mechanically at a much faster rate.
"It's a huge decision and won't be an easy one to make."
Deirdre explains the unique process she has for designing her pieces.
I have always been attracted to colour and that is first and foremost my direct inspiration. I put every colour I have together and squint at it and try to see connections without the shapes (I know that sounds a bit nutty.)
She draws the rest of her inspiration from art, interior design, architecture, nature, animals, and agriculture fashion.
That agriculture fashion and rural Ireland forms the essence of Wild Cocoon's branding:
"It's inspired by sheep and cattle tags – even the font we use is replicated from this. Again it offers a new familiarity that creates comfort and a sense of protection for the wearer.
They may not know why something is so comfortably easy to use or wear but it is because it all harks back to the rich heritage of textiles and agriculture of traditional rural life. I think even born city-dwellers have almost unconscious muscle memory of this life. We all share it.
Shopping local
Wild Cocoon sells in 15 markets internationally and online, as well as in various retailers in Ireland including the Irish Design Shop and Cleo in Dublin; Granny's Bottom Drawer in Kinsale; and The Art House on Achill Island.
"There is a large cross-section of people buying my products nationally and internationally. I sell direct via my website worldwide the majority is to the USA and with in Europe alike. I have a distributor for Japan which has proved a great market for me."
When it comes to shopping, does Deirdre feel strongly that people should shop local?
"I do think people should shop local where possible. It's not always practical to say, yes, I think you should shop local.
I would prefer to say that people should shop smart now. Buy local, yes, but buy ethically and in an informed manner. Buy from business that supports jobs and community. Buy from business that are good to staff. Buy from business with a message that you agree with.
"This is true for when your buying milk to buying an engagement ring: no matter the cost."
So what's next?
"That's a big question.
"I have just recently moved into a lovely large studio in Claremorris over a lovely shop, so I hope to grow Wild Cocoon in the next year and at some stage I will have to make that big decision we discussed earlier.
"The great thing about having won two Irish Fashion Innovation Awards is that I now have a validation that I'm going in the right direction and I feel that I can trust my instincts more easily now, something that's not always easy to do when you work alone.
"My main aim with Wild Cocoon is to grow a sustainable business that has something new, fresh, durable and beautiful to offer the consumer for many years to come."