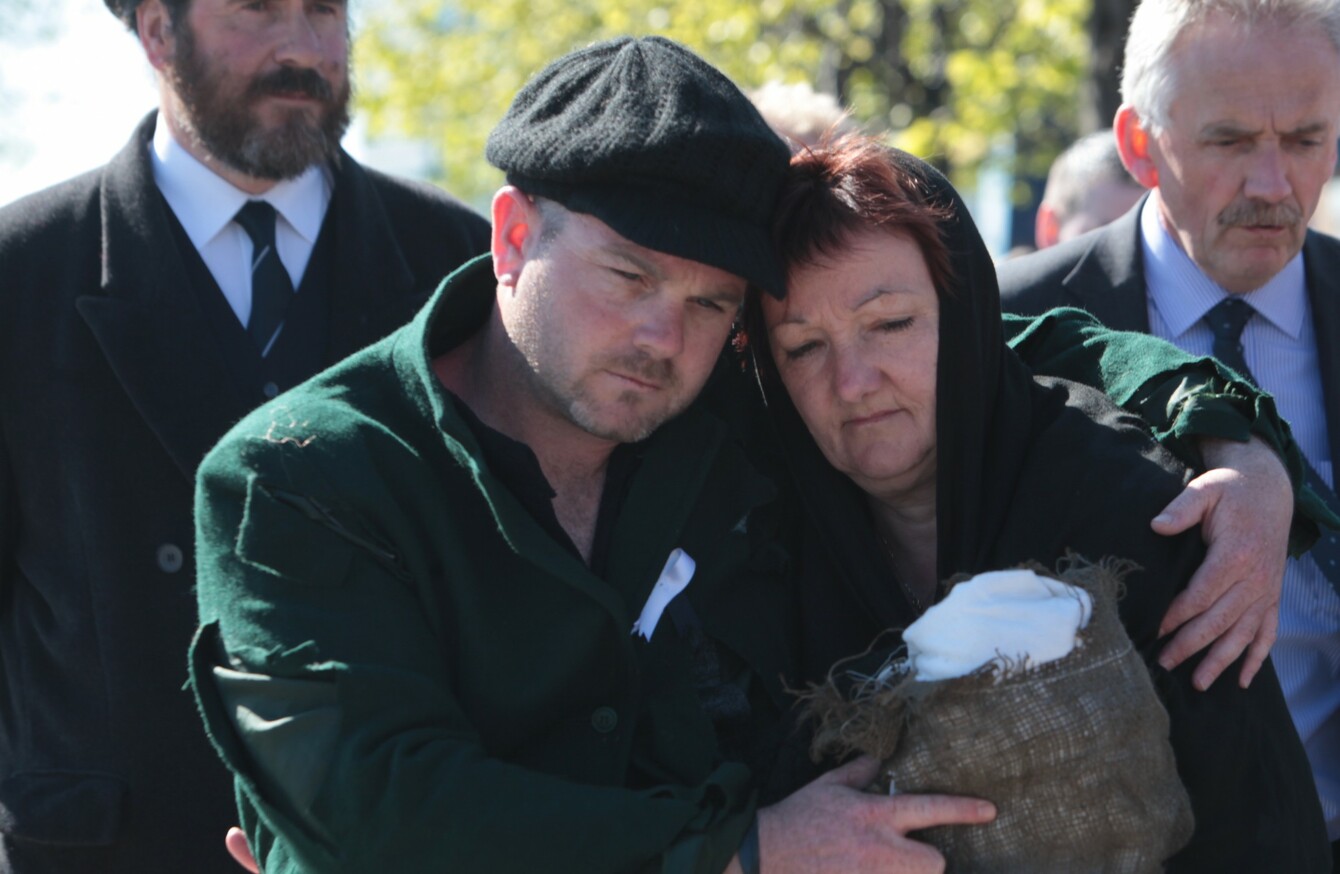 A reenactment at the Famine Memorial in Dublin.
Image: Leah Farrell/Photocall Ireland
A reenactment at the Famine Memorial in Dublin.
Image: Leah Farrell/Photocall Ireland
FROM 1848 – 1850, hundreds of young girls aged between 14 and 18 were sent by boat from Ireland to Australia.
It was during the Famine, and they were orphans, or had no family to support them. Many of them had no siblings.
They lived in workhouses.
Here in Ireland, their story isn't widely told, according to Barbara Barclay, who is researching what happened to the girls, and who their descendants are. But in Australia, she says, they are remembered, and there are even memorials to mark their impact on the colony.
Barclay is from Australia – with one set of great-grandparents from Ireland – and has lived in Ireland for 20 years. She first came across the story when she worked at Hyde Park Barracks in Sydney, where the girls were housed in the immigration depot after their arrival.
She originally looked at their stories for her fourth-year dissertation while carrying out her heritage studies degree in GMIT. The Mayo local now has a scholarship for a research masters so she can continue her work.
'They have thousands of descendants'
In her research, Barclay is trying to find out the fate of the girls who left Mayo. There were 4114 girls who left Ireland overall, from 118 workhouses. Of these, 137 were from Mayo. They travelled on different ships, including The Panama, The Lady Kennaway, and Inchinnan.
"They have literally thousands of descendants," says Barclay of the girls. The descendant of one orphan told her that her relation alone had around 800 descendants in Australia.
"They are quite well known – they were mothers of colonial Australians. They are really forgotten about here  [in Ireland] but the reason they are forgotten is the time and manner in which they left," says Barclay.
Once the girls got into the workhouse "there really wasn't a future for them to get out", says Barclay. Travelling to Australia gave them a chance to try and start afresh.
An Australian monument to the Great Irish Famine is located at Hyde Park Barracks, and includes a glass wall etched with the names of 400 of the girls, including 14 Mayo girls.
The challenge
Because the girls and young women were orphans, many had few, if any family members to remember them.
"My challenge is to try and find where they came from and try and find family and extended family," says Barclay, who thinks that at some point she may use DNA testing to connect the women with their descendants.
Understandably, people's surnames are helping make connections – like the Gillard sisters, who were found to be related to a Frenchman who came to Mayo in 1798, fell in love with a local woman and stayed. Or Maria Lyons from Westport, who Barclay feels is probably related to some of the Lyons family members living in the town today.
Trying to find out more about the young women is "a challenge", says Barclay. It certainly is, as primary documents are hard to find. But she has found out a lot about what they could expect on arrival.
"Some of the girls had a life they didn't dream of," she says. "But some ended up on the streets, in prostitution, or jails. The majority did marry and had many, many children."
The scheme was seen as a way of addressing the gender ratio imbalance in Australia, which was 70 years a colony by this stage. It was emerging from its penal colony past and the new middle-class were setting up life. They wanted domestic servants, and the girls from the workhouses were deemed to be suitable.
And so they were able to apply for this scheme, which would see them being given clothing, and their passage on the ships paid for. They were supervised during their three-month journey from Plymouth to Australia.
It was an assisted migration scheme that was different to the tragic coffin ships that travelled from Ireland to the USA, says Barclay – the death rate on these ships was less than 1%. And there were certain requirements for the girls who wanted to take part.
"Every now and then there are newspaper reports about them – they are a feisty bunch," she says. "They survived a famine, they got themselves through the workhouse."
She says their trip was really highly regulated, and the young girls were "minded start to finish".
Barclay says they were taught skills on the ship. "It was a well-managed scheme with all the best intentions," she says. "Not everything works out perfectly. It was nothing like the coffin ships. There was a parliamentary inquiry at the time and it was commented that the scheme had none of the problems seen on American passages."
The fact that the trip was paid for by the Australian colony was why the British government agreed to take part, says Barclay.
Stereotypes
When they arrived at Australia, the girls went to Sydney, Melbourne or Adelaide, with the Mayo girls in particular being sent to Sydney and Melbourne.
"When they arrived they were housed," says Barclay. "They were put into an immigration depot, dormitory-style. They would have hiring days that were very relegated – they weren't allowed to work in pubs. They were hired out with official agreements that had to be dealt with by the courts if there was a problem."
News reports about court appearances related to those problems shed more light on the girls' fates. These court reports often show the girls' feistiness, says Barclay. "They might have been petty complaints but the girls knew their rights, if they weren't treated properly they went to the court to sort it out. Or their employer might have taken them to court."
She says that the fact the girls came from workhouses and were then sent to work for the burgeoning middle class itself might have led to issues. Their new bosses "were probably not used to having servants", while the girls were paid decent wages but were effectively "thrown in the deep end" into a new world.
"They were Irish and they were Catholic and this was a very Protestant colony," says Barclay. The girls no doubt heard stereotypes about "these are lazy Irish Catholics".
"There was an Irish element in Australia," says Barclay.
There are other articles of employees defending the girls. So the general opinion was these girls weren't considered to be very good and that's why the scheme was ended because they felt there were too many coming out and not enough jobs.
Barclay says that the majority of the women married, had children, and "worked really hard" all their lives. She says people in Australia are very proud if these young women were their descendents – an attitude that has changed over the decades.
Life on the moon
But as much as moving to the Australian colonies represented a new life, it also meant moving to an at times harsh environment.
The difficulties they would have encountered included "the weather, different seasons, the temperatures, the bugs, the spiders " says Barclay.
Everything was different – it was like being sent to the moon, it was a just a completely different life.
She has never heard of any of the girls getting to return home, although in Maria Lyons' 1922 obituary it said that she was delighted that she had lived long enough to see the Irish Free State.
The fact that there are a lot of people in Australia researching their family history has helped Barclay, who makes contact with people through the website Ancestry.com. She also combs through birth, death and marriage records in Australia, and newspaper archives.
There are limited church records for this period in Ireland, with no birth, death and marriage records from the Famine times. So far, she's only been able to find a handful of townlands connected to the girls, because when they arrived in Australia they often gave their address as the workhouse. Most of the workhouse records have been lost or destroyed.
However, as the shipping records were "excellent" in Australia, these have been extremely helpful to Barclay.
"I'm trying to find the story of how it all worked, how it was actually done and then I'm trying to find the families and make connections between the descendants in Australia and where they came from in Ireland," says Barclay of her research.
"One [descendant] to visit last year and I didn't have any relatives, so that's where I might look at in the future," she says, adding that the popularity of 'genealogy tourism' in Australia means people are often looking to visit the land their ancestors came from.
A memorial was erected to the girls who left the workhouse in Ballyshannon, Co Donegal, thanks to the work of local historians, and Barclay would love to raise a memorial for the Mayo orphan girls, to commemorate what they went through.
For more information, visit Barbara Barclay's website.