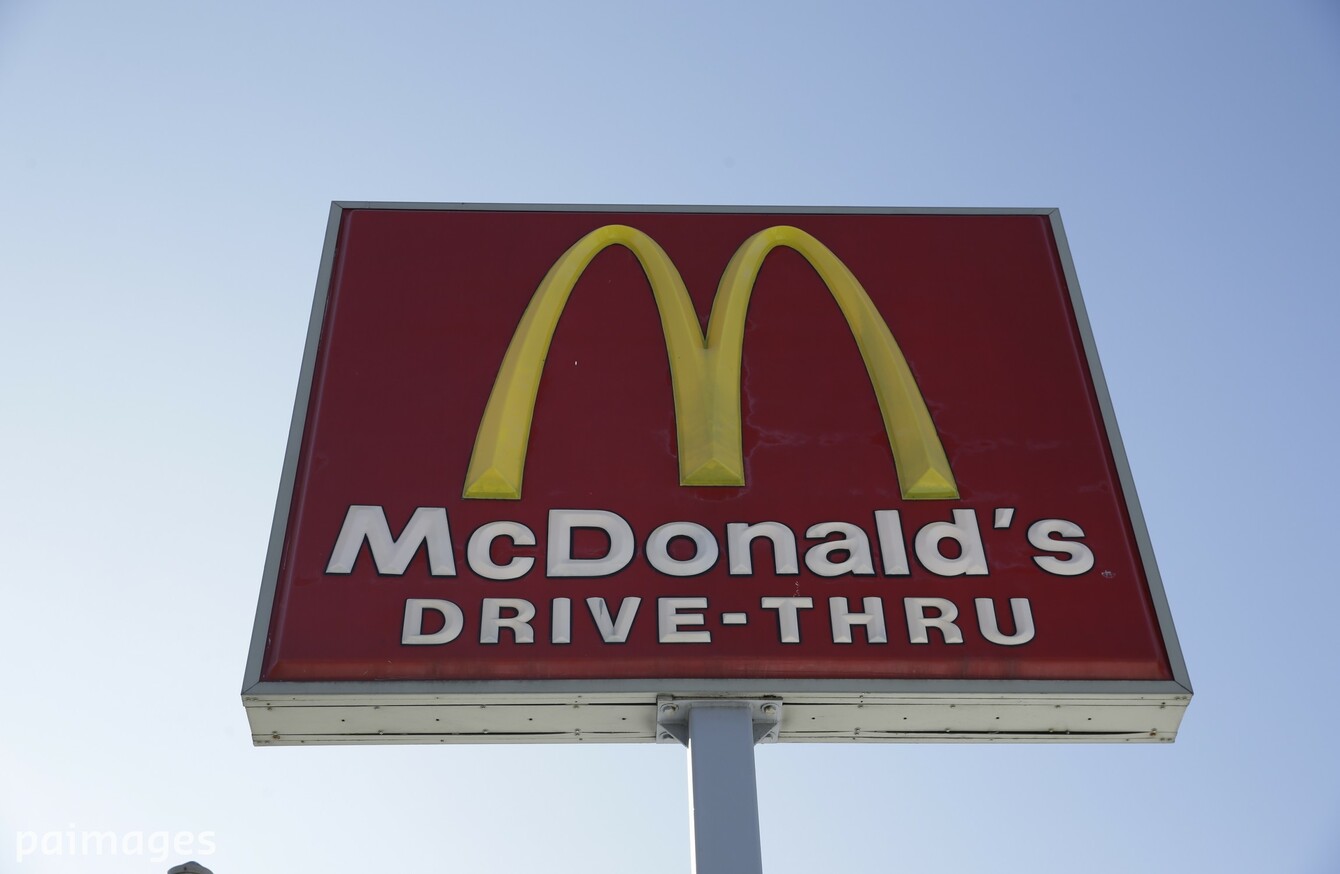 File photo of a McDonald's sign in Chicago.
Image: P Photo/Nam Y. Huh
File photo of a McDonald's sign in Chicago.
Image: P Photo/Nam Y. Huh
THE YELLOW M-SHAPED logo, long noisy queues, children with balloons in their hands: at first glance it seems McDonald's has reopened its doors in separatist hub Lugansk in eastern Ukraine.
But in fact this is only a replica after the building where the US fast food chain once had its restaurant was taken over by rebels and now local entrepreneurs have opened their own cafe – with just a few tweaks.
Its facade has been modified and now reads "Burger", the name of the new restaurant, and it is decked out with a flag of the self-proclaimed Lugansk People's Republic.
Inside, hungry diners cannot tuck into the world-famous Big Mac – but they can enjoy a very similar "Big Mag" burger.
"That's how it goes here: department stores and cafes are taken over by the authorities, they only change the name slightly," said 18-year-old student Nikita, who refused to give his surname due to security fears, enjoying a meal with four friends.
They can't invent anything new.
Nikita and his classmates have been visiting the Burger restaurant regularly since it was reopened two months ago.
The students say they used to come to the McDonald's before the conflict between Ukrainian forces and pro-Russian separatists tore through this industrial region, claiming some 9,500 live since April 2014.
But they complain about the significantly increased prices in the place since it reopened under the new management.
"Now we can afford only two portions of French fries. It has become too expensive here, although initially this place was designed for students," Nikita laments adding that a serving of fries costs some 90 rubles (about one euro).
The US firm, which in 2014 closed all its restaurants in the rebel-controlled areas, said in a statement that they "have nothing to do with business activities in the premises of McDonald's" in the rebel strongholds of Lugansk and Donetsk.
The company has complained to the Ukrainian government about the "illegal seizure of the premises" in the conflict zone.
But local customers say they find the food being served now similar enough to the original.
Dan Bertsch, an American from Virginia in his fifties who arrived in Lugansk three years before the start of the conflict to marry a local woman, is among them.
"In America I do not eat a lot in McDonald's but in Lugansk I think it is nourishing to have a hamburger," said Bertsch, who wore a t-shirt with the image of Russian President Vladimir Putin.
We don't have a lot of food choices in Lugansk because of war.
Anti-US rhetoric
The manager of Burger, 25-year-old Sergei, who gave only his first name, said the higher prices are down to difficulties in getting food delivered to the conflict-wracked region – but he insisted quality has gone up.
"Although there are similarities in our ingredients, we are not McDonald's," he said.
There is a difference in the quality of ingredients, ours are better. We bring them frozen from Finland via Russia.
In Donetsk, another rebel stronghold in eastern Ukraine, two other former McDonald's opened their doors under the name "DonMak" in early July.
Similar to the one in Lugansk, they are located in the former premises of the US chain and offer the same kind of products.
Their opening was a sensation in the de facto capital of the pro-Russian separatists – despite the rebel leadership frequently slamming the United States as an enemy as it emphasises cultural ties with Russia.
Within a few days people were already lining up in queues for over an hour outside the fast-food restaurants in anticipation of their Coke, burger or fries.
Housewife Elena waited 40 minutes in the crowded establishment to place an order for her son.
"Before they opened this place, I always wondered where to go with my child," the 24-year-old said.
Now we can celebrate his birthday here
The fact the restaurant had opened even though rebels denounce any presence of Western influence in the area under their control does not seem to bother the young woman.
"It might be worth opening something Russian-style," she laughed, as she waited for her burger.