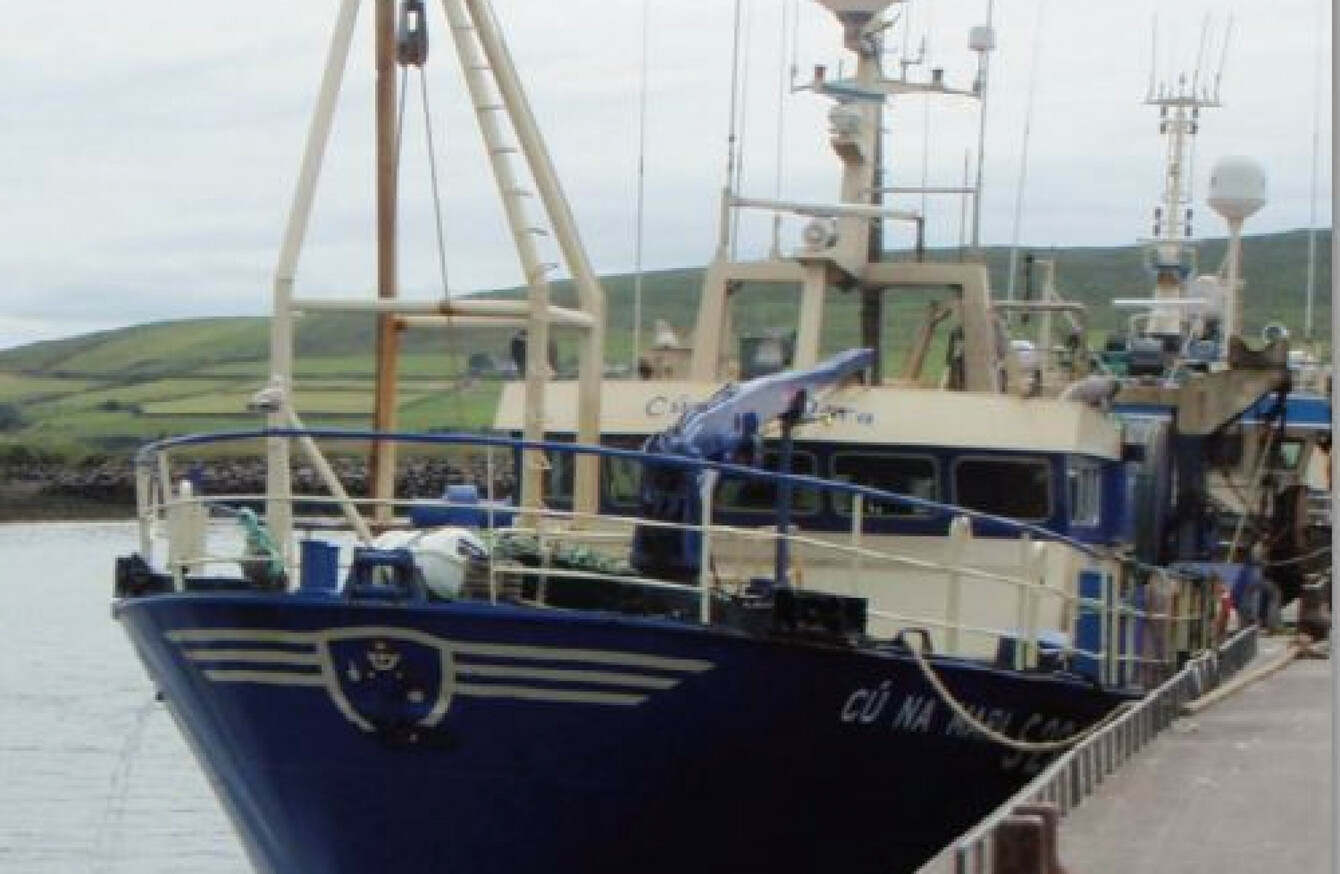 Image: seanm
Image: seanm
THE DEFLATION OF a crew member's lifejacket was a "major impediment" to his survival when he was thrown overboard off the south-west coast, the Marine Casualty Investigation Board (MCIB) has found.
Additionally, a second crew member put himself at risk when he jumped into the water to try save the first man without any lifeline, the MCBI said.
The probe looked into the fatal incident that happened when the FV Cu Na Mara fishing trawler was out to sea west of Slea Head on 30 June 2016.
In the process of transferring over an attachment of nets from the net drum to its towing winch, one of the crew members got into difficulty, went over the stern and into the water.
Despite attempts from the captain and other crew members to rescue the man, he died shortly after being brought back onboard.
The ship had departed Dingle the night before to fish for prawns.
When the crew member was attempting to unclip attachments to the net drum, he got into difficulties, lost his balance and fell into the water.
"He may have struck his head on the clump weight as he fell," the MCIB said.
It estimated that he could have fallen anywhere between 1.5m and 6.5 metres into the water. He'd been wearing a hard hat, boots, oilskins and a lifejacket which inflated when he hit the water.
Another crew member immediately shouted "man overboard" and efforts got under way to bring him to safety with a lifebuoy thrown into the water.
These efforts, however, were "frantic and haphazard", the MCIB said. 
The man managed to kick off his boots and made strenuous attempts to reach the buoy but wasn't able to. A second lifebuoy was thrown but at this stage his lifejacket had deflated. 
The crew member who raised the alarm then jumped in and swam to the man, grabbing hold of him and the second lifebuoy. 
The rest of the crew were able to haul the pair back aboard but, despite administering first aid and emergency oxygen, they were unable to save the man. 
The MCIB said: "The deflation of the PFD [lifejacket] had a major negative impact in the sequence of events and the outcome."
It said it appeared that steel wires protruding from ropes had punctured the air containment bladder of the lifejacket.
The MCIB also said that the second crew member entering the water without a lifeline of his own could have resulted in another fatality.
"The ensuing rescue attempts by the Skipper and the remaining crew were hampered by a number of factors, such as the sea state, the inability to get to him quickly enough whilst his head was above water, and the inability to get a purchase on his unconscious body and lift him up out of the water and onto the deck," it said.