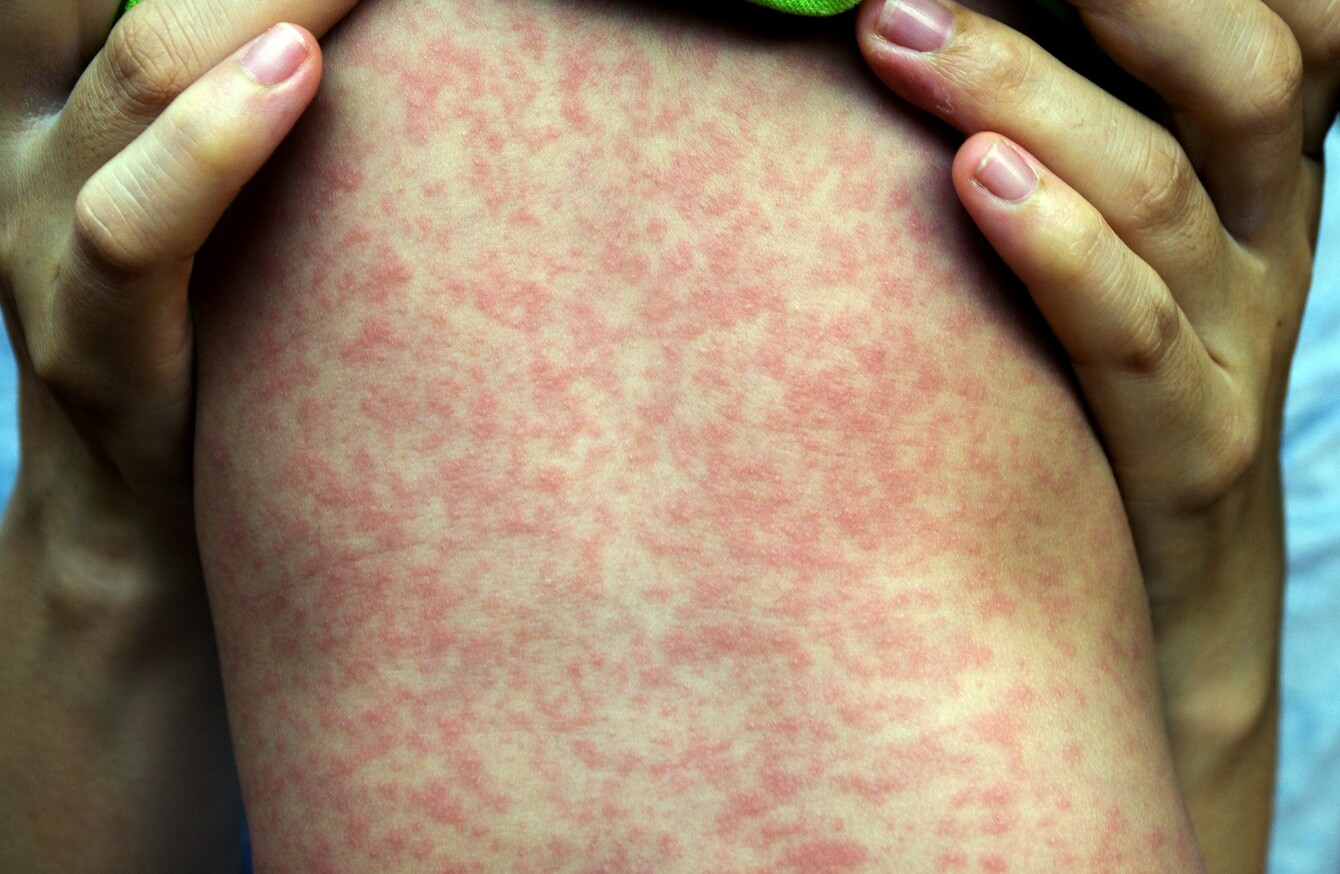 Image: Shutterstock/phichet chaiyabin
Image: Shutterstock/phichet chaiyabin
THE HSE HAS issued a fresh health warning for north Cork and Tipperary after a new case of the measles was identified.
The case is the latest in an outbreak of cases which first came to light in May of this year.
Speaking this morning on RTÉ's Morning Ireland, public health consultant Dr Kevin Kelleher said that people needed to be vigilant and if they suspect that they have been infected with measles they should stay at home.
"This case is still part of the whole group of cases that we've been speaking about for the last two or three months and it just shows how the trend can go on," he said.
There have now been 38 confirmed cases of measles since the outbreak first began.
The latest case concerns an adult and was someone who was out before they knew they had the disease, leading to fears that someone else could have become infected.
They had visited a number of places over the course of a number of days
"Unfortunately measles is quite infectious," said Kelleher.
It does just need a bit of contact like being in the same place as someone for a brief period of time.
The person in question in the latest case had spent time in Mitchelstown in Cork for a few days at the end of July.
They had been at the Livinghealth clinic in Mitchelstown also and had been in Clonmel in Tipperary as well.
Kelleher said that the person who had been infected was doing well, but warned others who may have come into contact with them to remain safe and vigilant.
Outbreak
The latest case, Kelleher said, is directly connected with the outbreak which came to light earlier this year.
34 had been identified last month as a result of the outbreak.
A separate case had to do with the disease being imported by a carrier from another country and was not connected to the outbreak.
Kelleher said that when a person was leaving Ireland to travel abroad, it was important that they get vaccinated against the disease.
"Your measles vaccine is as important as having your passport ready," he said.
"Because there are parts of Europe where people often go on holiday where measles is still endemic.
The cases we're talking about have come about as a result of people travelling to parts of Europe and coming back with measles as a result.
Kelleher said that in the past, one in 10 people would be hospitalised with measles, one in 100 would be put into intensive care, and one in 1000 would die.
Measles symptoms include:
High fever
Cough
Runny nose
Red eyes
A red rash that starts on the head and spread down the body – this normally starts a few days after onset of illness.
Those who develop symptoms should stay at home and phone their doctor, stopping visitors from coming to their house.
The HSE says that the best way to prevent infection with measles is to get vaccinated.