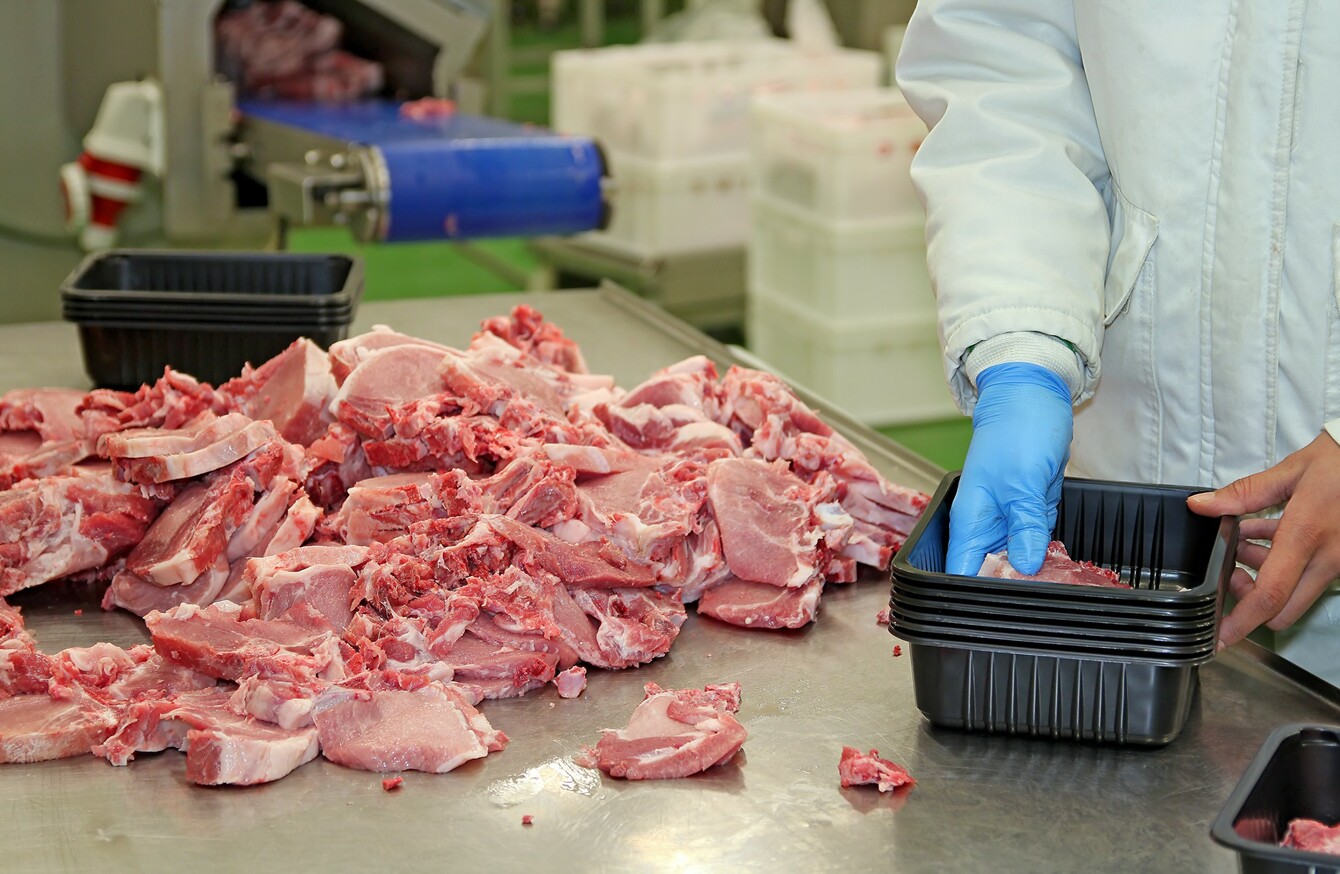 Image: Shutterstock/RGtimeline
Image: Shutterstock/RGtimeline
Updated May 1st 2020, 4:19 PM
THERE ARE SIX coronavirus clusters at meat processing plants across the country, Minister for Agriculture Michael Creed confirmed in the Dáil.
Creed yesterday said that his department was aware of six clusters, five in processing plants and one in a deboning plant. 
A cluster is defined as two cases or more. 
This afternoon, a spokesperson for the Rosderra Irish Meats Group confirmed that some of its workers had tested positive for the virus. 
It comes after Sinn Féin's Brian Stanley, a TD for Laois-Offaly, alleged that 120 workers had tested positive for Covid-19 at a meat processing plant in Roscrea owned by Rosderra Meats. 
Stanley said in the Dáil:
The worse scenario is in the factory in Roscrea, where there has been an outbreak of Covid-19. We want to keep the factories open and we have been very clear about this. There are approximately 350 workers on the factory floor there. Up to 140 of them were out sick throughout last week and 120 tested positive for the virus.
Stanley said that "the first case showed up over a month ago".
"Workers had to battle with management to get measures of any kind put in place, but they are still being denied two-metre distancing on the factory floor. There is congregating and no separation in the locker rooms or washrooms," he said. 
Rosderra Irish Meats Group did not confirm the number of staff that had tested positive for Covid-19. The company confirmed that all staff had been tested at the Roscrea processing plant. 
"We have reconfigured the process with the remaining staff who have been tested and are clear of Covid-19 and are continuing with a scaled down process in the short-term until the staff return. We expect those staff will be returning over the next number of weeks having adhered to HSE protocols," the spokesperson said. 
Meanwhile another meat processing company, Dawn Meats, has closed a facility in Kilbeggan, Westmeath after four cases of Covid-19 were confirmed among staff. 
"When we became aware of 4 confirmed cases of Covid-19 amongst workers in Kilbeggan we decided to defer production in the plant yesterday," a spokesperson for Dawn Meats said. 
"The cases reflect less than 2% of staff at the plant, however the decision was taken out an abundance of caution whilst we review the situation. No production was scheduled today or over the Bank Holiday Weekend, and no decision has yet been taken with regards to deferring any scheduled activity next week."
"The decision will have no impact on our ability to supply customers or receive cattle from farmers throughout our network of plants in the country," the spokesperson said.
Clusters
Creed said that "the processing of meat is important but it is a secondary concern to the primacy of the health of the people working in those plants". 
He said that businesses had introduced social distancing measures and added Perspex screens in factories, as well as providing PPE to staff. 
"I have to say I have been encouraged by that response. There has been engagement by those meat plants. HSE staff and officials from my Department have been involved. The feedback to me is that there has been strong co-operation," Creed said. 
Trade union Siptu has called for mandatory temperature testing and the provision of PPE for all workers in meat and dairy processing plants. 
"In recent weeks we have been raising concerns about Covid-19 related health and safety at meat processing plants. Unfortunately, our fears have now been realised," said the union's manufacturing division organiser, Greg Ennis. 
#Open journalism No news is bad news Support The Journal

Your contributions will help us continue to deliver the stories that are important to you

Support us now
He said that while employers have worked to introduce new precautions, a new approach was necessary. He also called on the Health and Safety Authority to inspect meat processing plants. 
"Failure to do so will put further workers, their families and the wider community at risk. Action must be taken if we are to avert the possibility of the closure of the entire meat and dairy processing industry due to the threat of Covid-19," Ennis said. 
"While there are very real concerns regarding clusters of COVID-19 in some plants, the vast majority of processing facilities have had few or no cases. Processors are going to great lengths to ensure the safety of their workers," he said.
Irish Farmers' Association President, Tim Cullinan, said the clusters were concerning. But he said that "it's important that the processing sector continues to function".
"The food chain needs to stay moving and provide fresh produce to consumers. We need to avoid a build-up of animals on farms which could result in animal welfare challenges," he said. 
"The vast majority of processing facilities have had few or no cases. Processors are going to great lengths to ensure the safety of their workers," he added. 
The latest data from the Health Protection Surveillance Centre shows that there are 630 clusters of Covid-19 in Ireland. 
In recent weeks, there has been considerable concern about clusters in nursing homes and residential care centres. 
With reporting by Garreth MacNamee