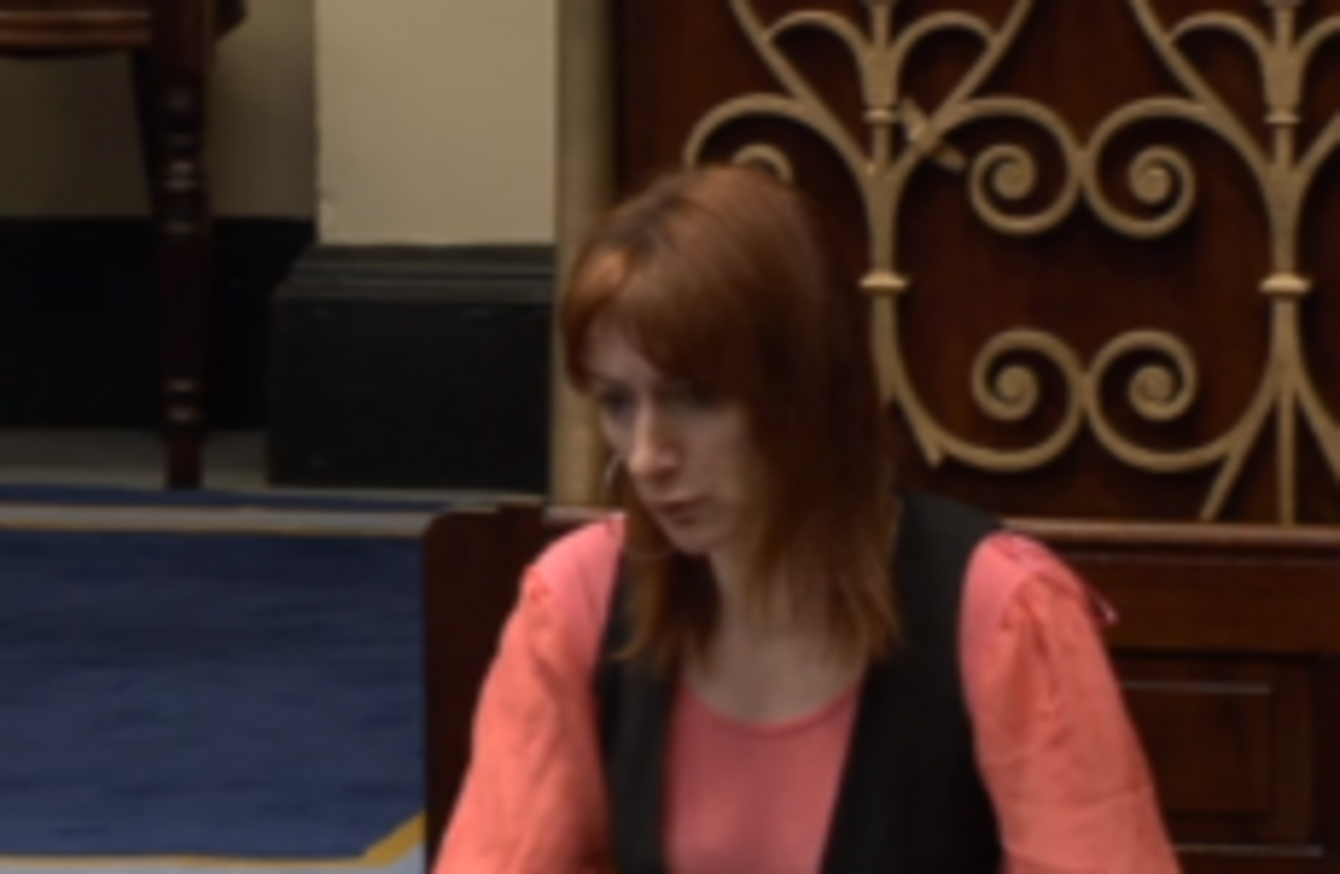 Clare Daly during this evening's debate.
Image: Oireachtas screengrab
Clare Daly during this evening's debate.
Image: Oireachtas screengrab
Updated 10.35 PM
THE OUTSOURCING OF medical card reviews is part of the reason for the "bizarre judgements" being handed down according to Clare Daly TD.
The Dáil this evening resumed debate on a motion calling on the Government to reverse the cuts to discretionary medical cards.
As part of the debate, Daly told deputies that many of the functions of the HSE have been outsourced with the medical cards reviews being undertaken by billing and payment services company Arvato Finance.
The Dublin North TD says that staff at the German owned company have no training in dealing with social care, are often on temporary contracts and are working at minimum wage levels.
She asked Minister of State for Primary Care Alex White TD:
Is it the case that a German company Arvato is now reviewing the medical card situation? Is it the case that they have no training at all, no backup in the community welfare or healthcare office, have no garda clearance, are on temporary contracts, are on minimum wage and lack any knowledge of our health situation?
"Maybe that's one of the reasons we've been getting bizarre judgements. Because the people charged with making those decisions haven't been getting the proper training and wages," she said.
One HSE worker who spoke to TheJournal.ie said that the Arvato staff who are employed on the medical card reviews, "are barely trained with no background in social care, do not work for the HSE, have no garda clearance and are on minimum wages".
The employee also said that the Arvato team based in East Point Business Park in Clontarf also do not have access to a vital computer.
One story that emerged recently concerned a woman who was asked during a review whether her son 'still had Down syndrome'. Amanda Hughes also said that the her re-application was lost by the HSE even though she had tracked her package to the office in Finglas.
The HSE employee also outlined how post is going missing because some is arriving at the Finglas office and is then supposed to be sent onto East Point but is getting lost in between.
Debate
The Dáil motion was tabled by Sinn Féin last night and debate continued this evening with members of the Technical Group having their say.
Backbench government TDs were also present for the debate along with the minister of state.
Independent TD Catherine Murphy said that some people who have received extensions have told her that they are worried they will end when the local and European elections are over.
"They're expected to pay the property tax, they're expected to pay water charges, they're expected to pay the Universal Social Charge, they're expected to pay their household charge but they weren't expecting this. They weren't expecting their vulnerable children to be hit," she told the Government benches.
The motion was defeated when the Government's counter motion was passed by 72 to 36.