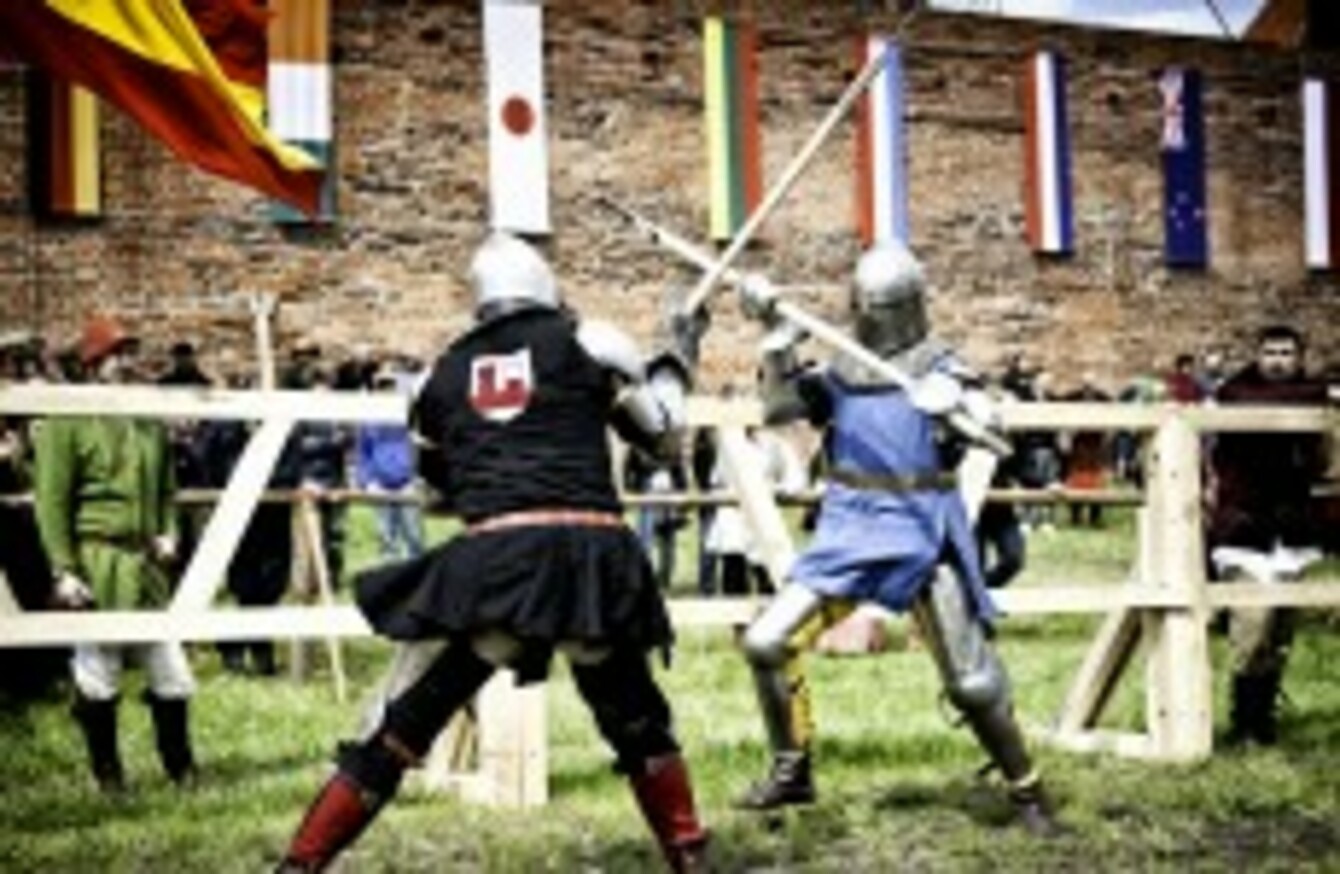 Image: Piotr Postol
Image: Piotr Postol
THERE ISN'T A man or woman among us who hasn't experienced medieval fighting via the movie screen, and occasionally the recreation of historical events even makes it into modern-day pop culture.
But did you know that there are dedicated individuals who practice combat with ancient weapons? As a sport?
You better believe it because there's a full-scale tournament coming to Ireland – and it looks, frankly, violent. It also looks like great fun, if a little intimidating.
This is pure hand-to-hand fighting, full contact with medieval weapons and armour (25 kg worth of combat paraphernalia in all) and little other flair attached.
It's pretty much no-holds-barred, with throws, kicks and headbutts all legal and above board. Not to mention the weapons. Swords, axes, maces, and shields. Gulp.
"I started training for the sport about two or three years ago, and that culminated in the team taking part in the world championships last year in Malbork, Poland," Brendan Halpin, vice captain with Medieval Armoured Combat Ireland (MACI) tells TheJournal.ie. 
Ballincollig native Halpin holds a masters degree in archaeology – it was during his study of ancient weapons and combat archaeology that he picked up a taste for using them for real.
"It was a logical progression of my studies really," he says.
Source: Claregalway Castle/Facebook
The weapons used by the combatants are all recreated in eastern Europe where apparently they're cheaper to reproduce.
"When it comes to full contact stuff, they've been doing it over there for a lot longer than we have here," says Halpin.
So how does it work?
It depends upon the kind of fight. There's two kinds: melee fighting and one-on-one, both fought over the best of three rounds. With the melees it's a case of last man standing – if you hit the ground you're out.
One-on-one is scored like boxing. You score with solid blows only, with points awarded for each.
Frankly, it sounds dangerous.
It's not really, I'd equate it to rugby in terms of risk. The injuries don't come often, but obviously, as with any sport, you've a risk of strains, muscle pulls, that kind of thing. But I've never seen a serious injury.
When it comes to the fight, it's the old adage but it's true, the fighter who loses his temper will lose the fight. It's all about controlled aggression.
In fact Halpin says the most difficult thing involved is the breathing. "You have to train yourself to breathe with this huge visor clamping down on you – it takes a bit of getting used to."
Halpin and his compatriots at MACI have organised the first such combat tournament to hit Ireland for 400 years – and it's coming to Claregalway Castle, Co Galway over the weekend of 19 and 20 September.
It won't be a huge event – maybe  20 fighters, but they're coming from far afield (representatives from the UK, Spain, and even Quebec will be making a bow).
It looks and sounds fascinating, while Halpin's enthusiasm is clear and infectious.
"The first time you go up against someone you don't know you think 'this is the stupidest possible thing I could be doing with my time'," he says.
Then you come out the other side having gone full tilt and it's the best thing – pure adrenaline and exhilaration.