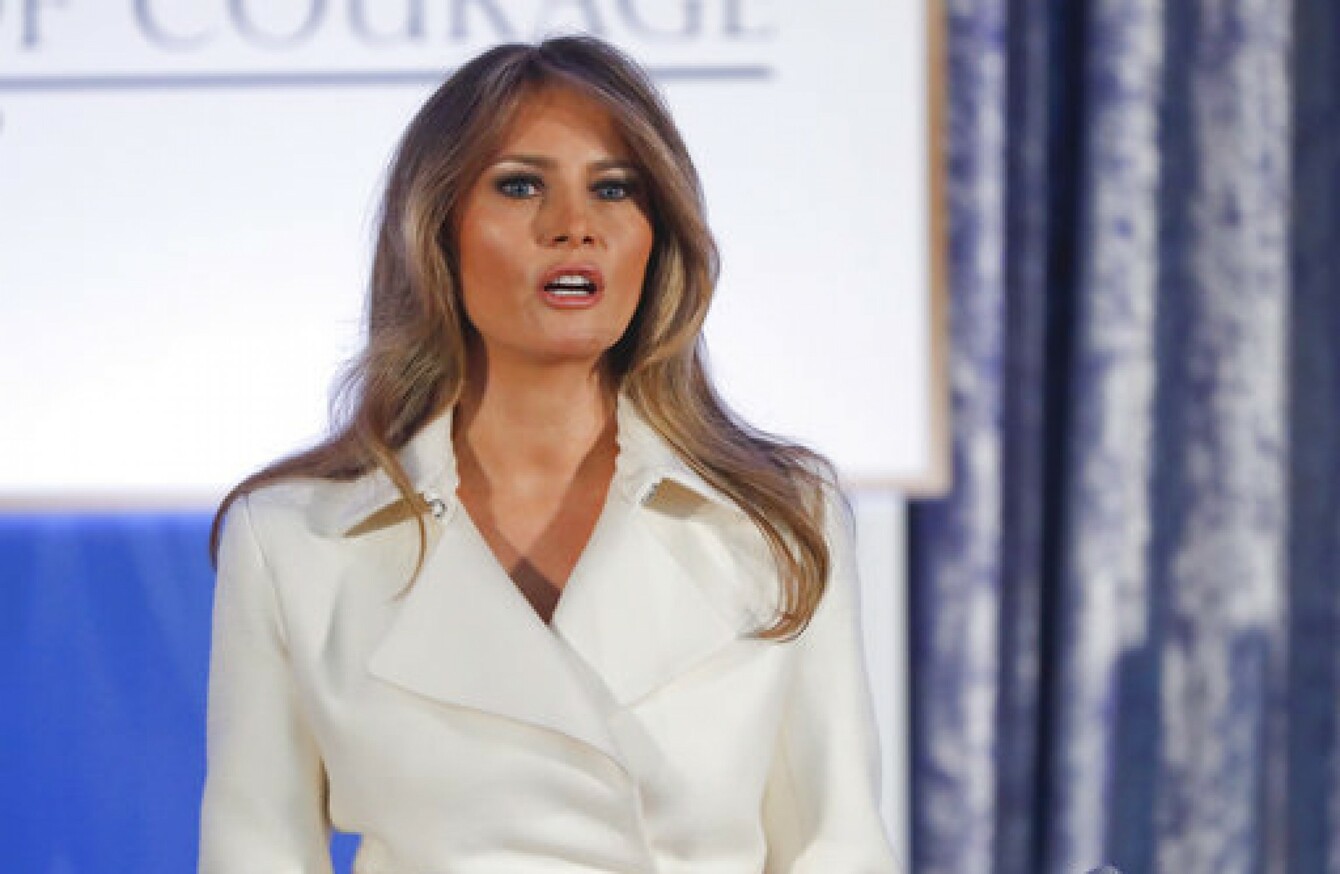 Image: Pablo Martinez Monsivais/AP Photo
Image: Pablo Martinez Monsivais/AP Photo
US FIRST LADY Melania Trump made the case for women's "empowerment" at a ceremony yesterday honoring a dozen activists who have overcome great odds to advance human rights around the world.
In a rare public speech, Melania Trump called for an embrace of diversity, appearing as a "special guest" at the International Women of Courage event at the US State Department.
"We must begin now to challenge old fears, and fight for justice and stand up against evil and injustice wherever it may be," she said as she paid tribute to the 13 women honorees, all but one of whom were present.
"As leaders of our shared global community, we must continue to work towards gender empowerment and respect for people from all backgrounds and ethnicities, remembering always that we are all ultimately members of one race, the human race."
The first lady's vocal support of diversity appeared somewhat at odds with the stance of President Donald Trump's administration, whose "America first" worldview has often cast outsiders as a threat.
Three of the honorees yesterday were from countries targeted by Trump's thwarted travel ban on refugees and travelers from Muslim-majority nations: Iraq, Syria and Yemen.
Praising the strength and courage of the laureates who have fought against gender bias and discrimination, Melania Trump said it is women like them who will "ignite a global battle against inhumanity."
"Together, with the international community, the United States must send a clear message that we are watching," she said.
President Trump's military-dominated budget blueprint, however, calls for State Department funding to be slashed by a third, with "soft" aid programs that promote democracy and human rights seen as under threat.
The Slovenian-born former model turned first lady is so low-profile that a paparazzo in New York called her, in an interview with The Washington Post, "the great white whale."
Yesterday's appearance also fell in the middle of a busy week in the nation's capital for the first lady.
She and President Donald Trump hosted a White House reception Tuesday night for all 100 U.S. senators and their spouses. Melania Trump also planned a third appearance today in Washington, but the White House has not released any details.
After joining Shannon at the State Department, the first lady later appeared at a White House panel discussion on women's empowerment, where Trump introduced his wife, a former model, as a "very highly accomplished woman."
He mentioned that her poll numbers are higher than his, and also said she "feels so strongly about" empowering women.
Since her husband's 20 January inauguration, the first lady has lived mostly at the family's Trump Tower penthouse in midtown Manhattan with the couple's son, Barron, 11.
She often meets the president in Palm Beach, Florida, when he spends weekends at his waterfront estate there.
Trump has said his wife and son will move to the White House after Barron's school year ends.
With reporting from the Associated Press