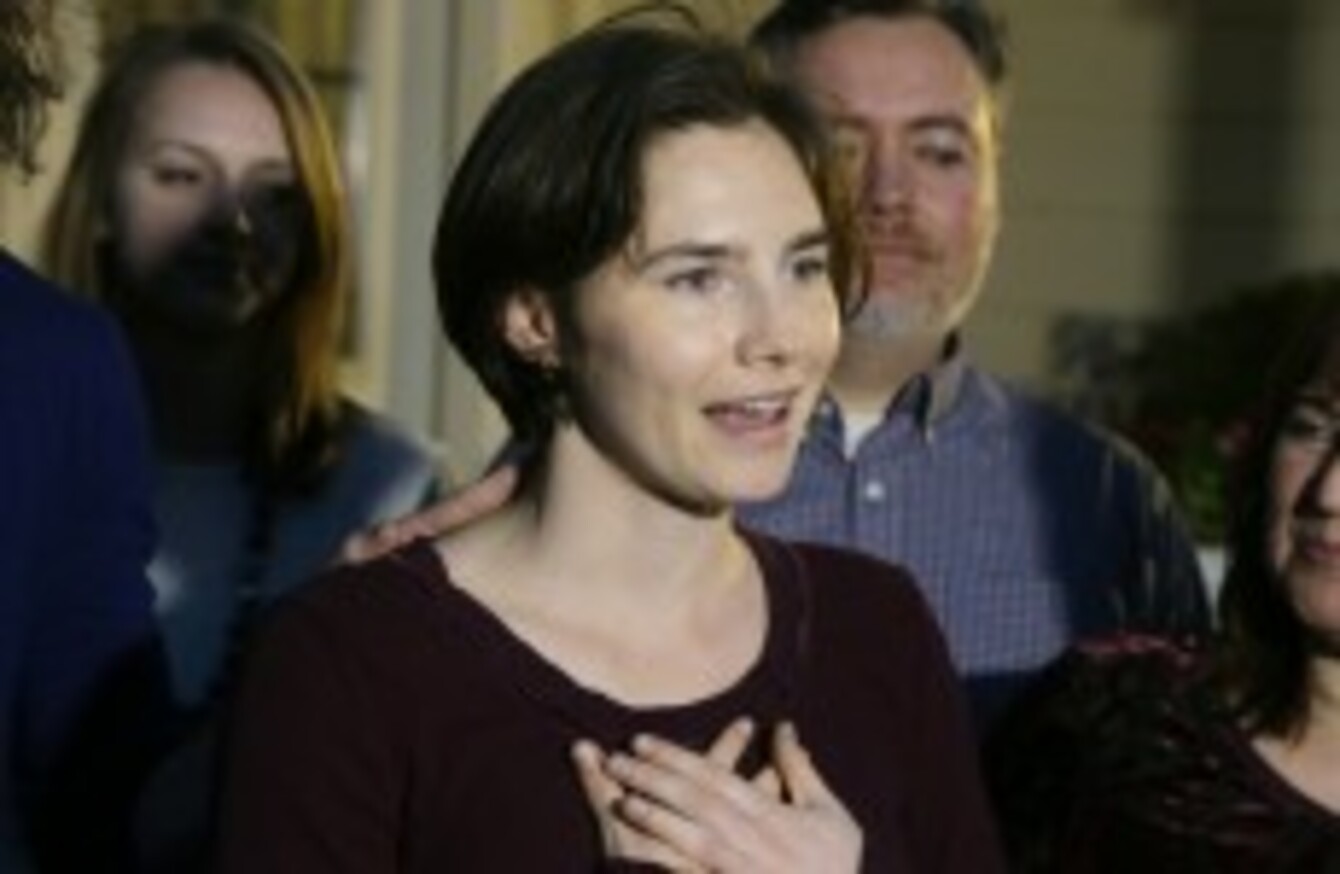 Image: AP/Press Association Images
Image: AP/Press Association Images
THE CASE SURROUNDING the murder of Meredith Kercher at her home in Perugia, Italy was ended on Friday after seven years of legal wrangling.
Amanda Knox and her former boyfriend Raffaele Sollecito had a guilty conviction against them overturned in Italy's highest court.
The legal teams for Sollecito and Knox welcomed the decision after a Florence appeals court convicted the pair last year. 
Here is a breakdown of the key dates in the case since Kercher's murder:
2007
2 November
The half-naked body of Leeds University exchange student Kercher is found in a pool of blood in the cottage she shared with Knox in Perugia, central Italy. Her throat had been slit and she suffered multiple stab wounds.
6 November
Police arrest Knox, Sollecito and Patrick Lumumba, a bar owner. Knox says she was in the house and that Lumumba committed the murder. She later said she made the statement under duress.
20 November
Police in Germany arrest Ivorian immigrant Rudy Guede, who had fled Perugia, after DNA evidence linked him to the murder scene. He is extradited to Italy. Lumumba is released and exonerated.
2008
28 October 
Guede is sentenced to 30 years in jail for the murder and sexual assault of Kercher. His sentence is later reduced to 16 years on appeal. He later went on to state on Italian television that he was innocent and had been wrongly imprisoned. 
2009
16 January  
Knox and Sollecito go on trial for murder. Knox was heavily characterised in the Italian press for her supposed sexual promiscuity, with her diaries being released and scrutinised by the Italian press for evidence of this.
There was also interest in the inconsistencies that occurred in the testimonies given by Knox, including a statement of admission to hearing Kercher's screams and covering her ears, which she later retracted.
5 December
Knox and Sollecito are convicted, sentenced to 26 and 25 years respectively. Knox is defended in the United States as 'an innocent abroad', while it was reported she was confident of an innocent verdict up to the point that the sentence was handed down.
2010
22 March 
The ruling from Guede's appeal says he sexually assaulted Kercher but did not kill her. It says that she was killed during a violent sexual assault involving Guede, Sollecito and Knox.
24 November
Appeal hearings for Knox and Sollecito begin in Perugia. The hearing was quickly adjourned until December of that year as one of the solicitors was not present.
2011
25 July 
Experts tell the court DNA evidence is likely to have been contaminated due to late collection and use of dirty gloves. This related to evidence that the convictions of Knox and Sollecito were based on.
It had been claimed at the first trial that Knox's DNA had been found on the handle of the kitchen knife used in the incident and that Sollecito's DNA had been found on the clasp of Kercher's bra.
3 October 
The appeal court acquits Sollecito and Knox, who returns immediately to the United States. They had been imprisoned for four years at this point.  On Knox's return to her home country she received large cash offers for her first interview. 
2012
14 February 
Italian prosecutors submit a 112-page appeal against the acquittal of Amanda Knox and her ex-boyfriend Raffaele Sollecito.
#Open journalism No news is bad news Support The Journal

Your contributions will help us continue to deliver the stories that are important to you

Support us now
2013
26 March 
Italy's highest court overturns the appeal verdict and orders a retrial. The Italian justice system comes in for criticism for the inconsistencies in the verdicts being returned.
A defamation ruling against Knox for initially accusing Congolese bar owner Patrick Lumumba of the murder was upheld by a court in Italy.
20 September
The retrial begins in Florence, with Knox tried in absentia. She stated at the time that she would not be returning to Italy to face retrial as she was innocent and that she would not be able to finance a trip to Italy to stay in the country for the duration of the retrial.
2014
30 January 
Appeal court reinstates Knox and Sollecito's murder convictions and increases her prison sentence to 28 years.  After this new verdict was handed down Sollecito was caught at a hotel close to the Austrian border with police suspecting him of attempting to flee the country.
2015
25 March
Italy's top court rules that Knox and Sollecito did not murder Kercher, bringing the case to an end.
Going forward
The Italian Supreme Court will release information about their reasoning for acquitting Knox and Sollecito within 90 days.
- Additional reporting by AFP