Image: AP Photo/Tony Avelar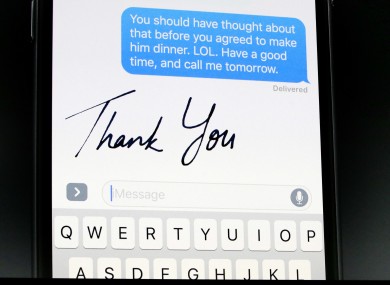 Image: AP Photo/Tony Avelar
APPS ARE DEAD, long live messaging.
If it isn't clear already, the big battle among the major tech players is in messaging. WhatsApp and Facebook Messenger are preparing new features, Google is launching Allo while other messaging apps like Viber, Telegram, LINE and WeChat are also fighting for the same crowd.
Most of us just use the one app for our messaging needs. WhatsApp would probably be the most popular example out there; the fact that it's cross-platform helps significantly and ensures the widest possible reach.
Facebook Messenger is in a similar position, being a web platform too, while Snapchat has photos and videos mostly tied up.
All of them are increasing the number of things they can do as they become more than just places to send messages.
These are slowly transforming from apps into 'platforms', a term you're going to hear over and over again.
On the other hand, Apple's iMessage has been somewhat stuck in the past. While it's used significantly – 200,000 messages are sent per second on the service – it's likely that many people dedicate more of their time to services like WhatsApp since that's where their friends are.
And these services are changing.
Ch-ch-changes
Facebook Messenger has opened up by allowing developers to create apps and is allowing chatbots on the service, WhatsApp is now free and is working on a way for businesses to take advantage of it so it can generate revenue, while Google's Allo is a messaging app that also acts like a personal assistant of sorts.
WeChat, a popular messaging app in Asia, has been doing in China what Facebook Messenger and co are currently attempting, with numerous apps and services connected to it.
And now Apple is the next one to join the party.
Join the crowd
iMessage has been content with just being a messaging service up until now but the next update – which was announced last night –  is significant for two reasons. One is serious, the other is more frivolous but together, they could help get Apple's messaging service up to speed.
The serious change is how it has opened up iMessage to third-party developers, allowing them to build features for it.
The initial demos showed off sticker apps, a takeaway app and a way to order tickets through it. The idea is still in early days, but the period between now and September is enough time for developers to play around with it and develop features.
#Open journalism No news is bad news Support The Journal

Your contributions will help us continue to deliver the stories that are important to you

Support us now
The other, more frivolous method is adding features that make it more fun. That includes things like invisible ink (which requires you to swipe an obscured message/photo to see it), a feature which highlights certain words so you can turn them into emojis, handwritten notes, and the ability to increase or decrease text size. If the last one sounds familiar, it's because Google's Allo announced a similar thing.
If you're wondering what exactly these features bring to the table, it's to make the platform more enjoyable. If you're going to be using something regularly, it needs to be playful and people are more likely to stay on it if that's the case.
This is something that Snapchat is good at and by adding these small features, it gives iMessage something a little different to work with. And if people are hooked, then they will be more likely to use the more serious features.
The real aim for all of these messaging services is for you to live your life through them. Imagine a world where you can complete all the usual actions through the one service.
Ordering tickets for a film, booking a restaurant, editing photos, sending money to friends or family members: these are the features which will become commonplace in messaging in a few years time. Eventually, calling them 'apps' will be a restrictive term as they'll fulfill most of the same actions you carry out on your phone.
Apple is playing catchup in this area, and turning iMessage into a platform is the first step towards rectifying this. There's a battle going on, but the winner will most likely be the user.