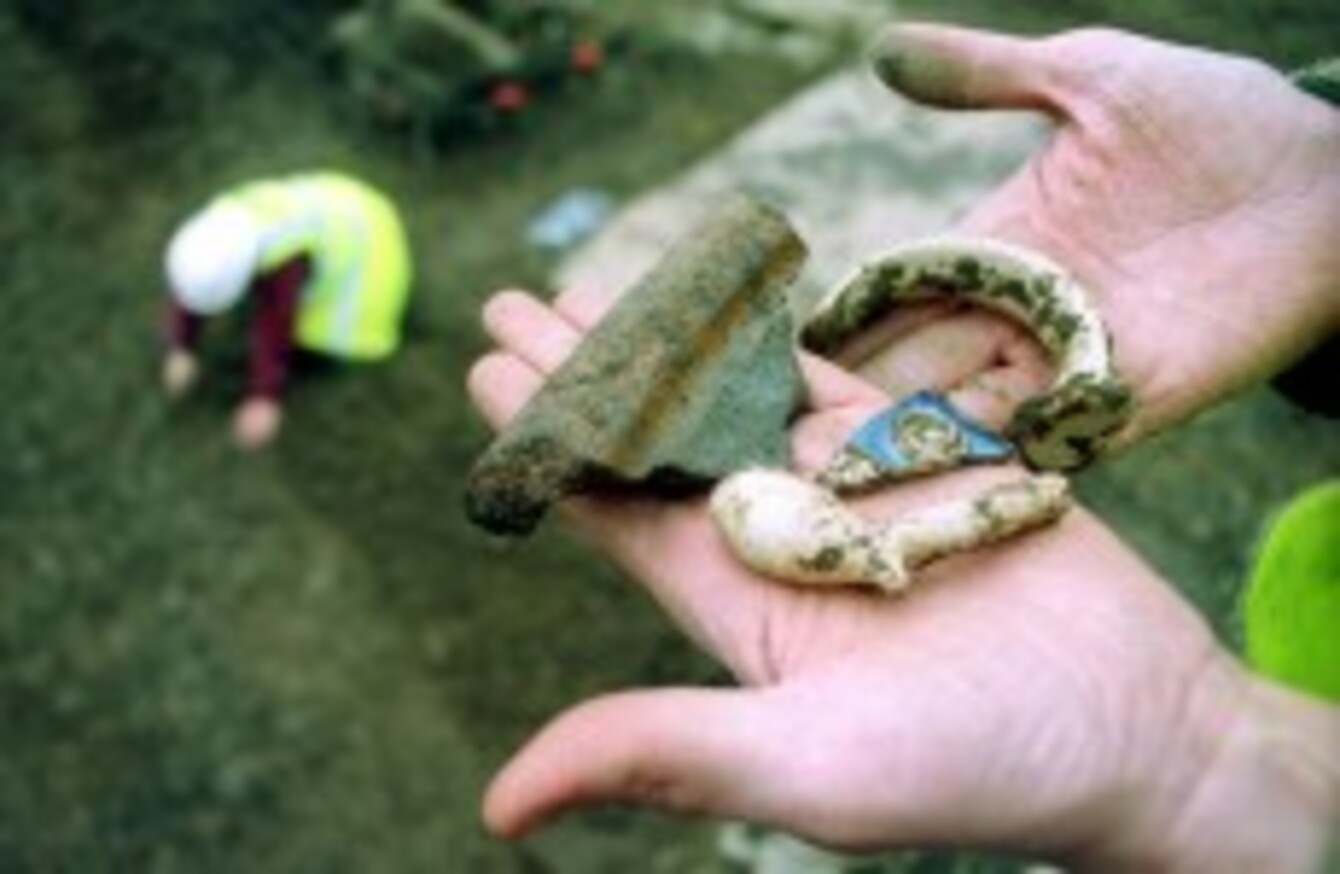 Workers at the James St. archaeology site in Dublin.
Image: Leon Farrell/Photocall Ireland
Workers at the James St. archaeology site in Dublin.
Image: Leon Farrell/Photocall Ireland
UNAUTHORISED METAL DETECTOR users are being warned by Government to avoid archaeological sites as new guidelines are published on the use of metal detection devices.
The Minister for Arts, Heritage and the Gaeltacht, Jimmy Deenihan has said that the new guidelines have been published as a result of evidence of "illegal treasure-hunting and export and sale of unlawfully retrieved archaeological objects".
As a general rule the guidelines set out that it is against the law to engage in general searches for archaeological objects in Ireland using a metal detector unless you have received written consent from the Minister.
Archaeological objects
The guidelines, which can be read in full here, outline what is considered an archaeological object and the explanation includes some of the most common objects found by would-be treasure-hunters including coins, tokens, buttons, clothes fasteners, thimbles and keys. This may include relatively recent 20th century materials.
All objects defined as an archaeological object can only be searched for under a licence and the failure to report the find of such an object can result in a fine of up to €111,100 and/or 5 years imprisonment.
The guidelines also suggest to metal detector users that they may not realise their actions are illegal until its too late:
It may not be apparent until an object has been dug up that it is an archaeological object. In that event, the damage will already have been done and an offence is likely to have been committed.
While the legal position in relation to metal detectors is already set out in legislation, the Minister said there was a need for comprehensive guidance that would be "clear and understandable to the public". He added that the publication of the guidelines would bring about a greater understanding of the potential damage that can result from what many would regard as "a harmless hobby":
Archaeological objects must be excavated in a structured scientific manner, with careful recording of their association with other objects, structures, features and soil layers. Failure to expertly record the context from which an object has been removed results in an irreplaceable loss of knowledge of the past.