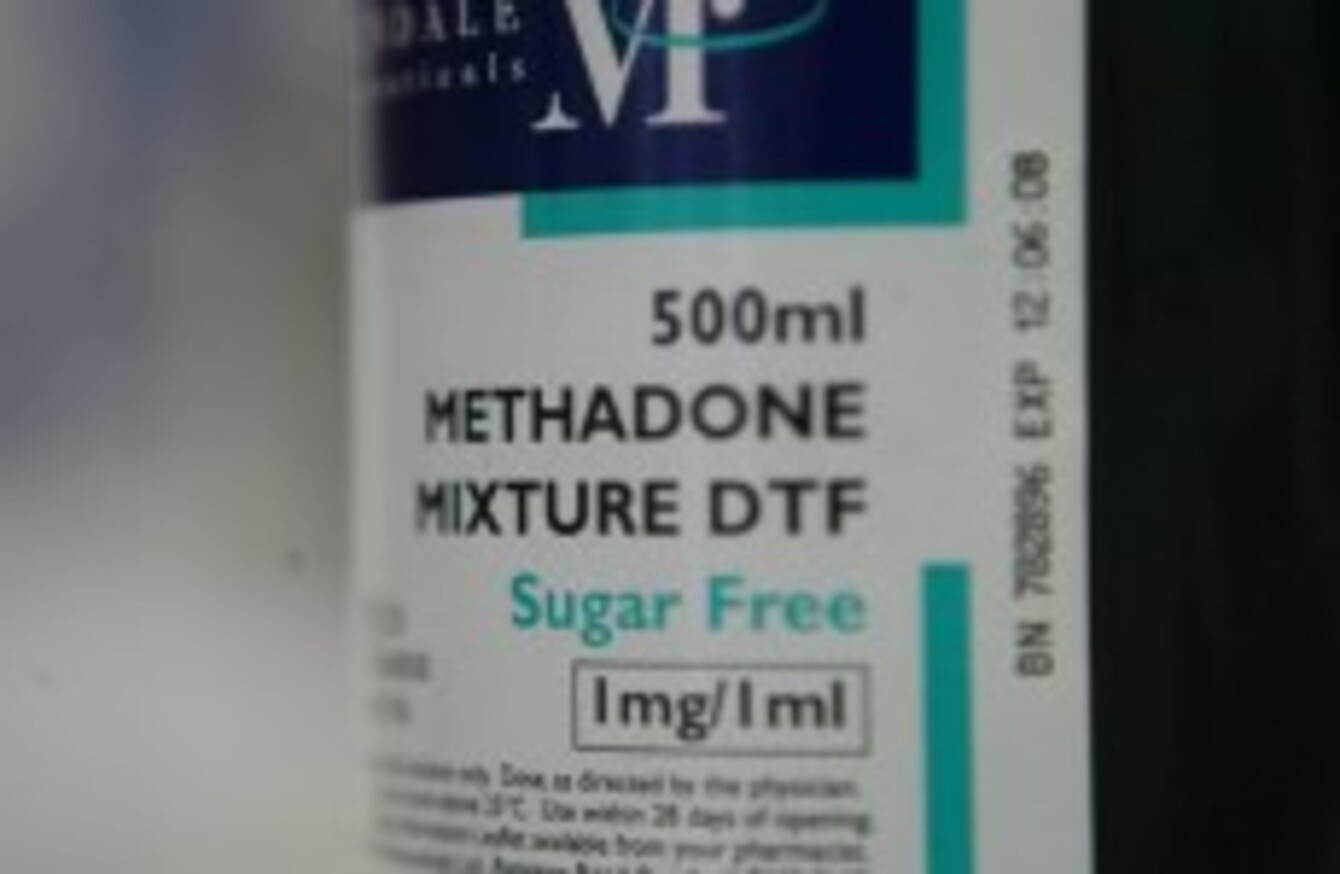 A bottle of methadone in a pharmacy in Dublin city centre
Image: Niall Carson/PA Wire
A bottle of methadone in a pharmacy in Dublin city centre
Image: Niall Carson/PA Wire
MORE METHADONE USERS than heroin users died in one year in Ireland, according to new figures.
The Health Research Board found that 113 methadone users died of an overdose  in 2011, almost double the number of heroin users. At 60, the number of heroin users who died from drug overdoses has been declining for several years now.
The methadone figures have provoked concern for another reason too: the number of users of the prescribed heroin replacement who died doubled in just twelve months.
The comprehensive investigation by the Health Research Board found that the vast majority of the methadone users who died were using other drugs at the same time, which led to many of the overdoses. The HRB suggested that the figures should be investigated, noting that there was a similar increase in methadone deaths in Scotland over the same period.
Around 10,000 people are currently receiving methadone, a green or blue liquid prescribed by certain GPs to reduce cravings for heroin addicts. The figure has increased in recent years. It is estimated that there are around another 10,000 people using heroin.
Tony Geoghegan, the head of Merchant's Quay Ireland which works with addicts, says he believes money is a factor in people using more than one drug at a time.
"Heroin is expensive, but people can buy benzos on the street for 50 cent and a euro a pop," he told TheJournal.ie. "Alcohol is also incredibly cheap; you can buy a can of alcohol for cheaper than a bottle of water".
He cited the lack of support for drug users as another likely reason for the increase in deaths.
"Ireland has been successful in engaging more people onto methadone but where we've been less successful is in providing the support services for them once they're there," he said. "The rationale for the provision of methadone is to take people out of illicit drug use, even if that takes a year or five years, but it's about supporting them, and that hasn't happened here".
Changes in drug use
The use of more than one drug at a time has been one of the biggest changes among drug addicts in recent years, Geoghegan said.
After alcohol, the most common drugs found in polydrug users who died were diazepam, methadone and anti-depressant medication.
"People aren't just using one drug anymore," Geoghegansaid , citing the fact that in the past, there was more of a trend for people to solely use heroin, for example, but these people would never abuse alcohol at the same time. "That's broken down a lot now. Very few people are single drug users. People might use heroin, but they'll also use benzos and alcohol too".
The majority (68 per cent) of the 113 methadone users who died weren't in official treatment, which means they were probably getting 'black market' methadone which is sold on the streets.
Less than half of GPs in the country can prescribe methadone. Those that can must do so on a special prescription pad in a bid to limit the liquid to the patient only and to stop it from being sold on the black market.
The Health Research Board study found a number of dramatic statistics about drug deaths in Ireland; among them, the fact that an average of one person dies from a drug overdose every single day.
The statistics also found that the number of people who have died form misuse of cocaine has more than halved in just four years, down to 23 from a peak of 66.